Here's one the whole family can enjoy: Chicken Tortilla Soup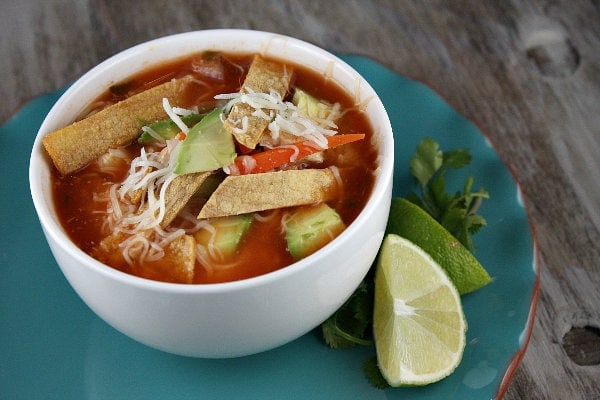 Chicken Tortilla Soup
Yield:
10 servings
Prep Time: 25 minutes
Cook Time: 20 minutes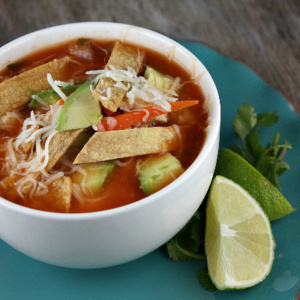 Ingredients:

4 corn tortillas
nonstick spray
salt to taste
6 cups chicken broth
2 cups tomato juice (see *Tips below)
One 14-ounce can diced tomatoes (undrained)
One 8-ounce can tomato sauce
1 large carrot, julienned
One 4-ounce can chopped mild green chiles, squeezed dry
1/2 cup chopped red onion
1/2 cup chopped fresh cilantro
1/4 cup chopped fresh basil
3 cloves garlic, minced
1 tablespoon chili powder
1 teaspoon ground cumin
1 teaspoon garlic powder
4 boneless, skinless chicken breasts, grilled or roasted and thinly sliced
12 ounces shredded Monterey Jack cheese
1/2 large avocado, sliced
1/2 large fresh tomato, chopped
2 tablespoons freshly squeezed lime juice

Instructions:

Preheat oven to 375 degrees F.
Cut tortillas into 1/2 x 3-inch strips, spray them lightly with nonstick spray and sprinkle them with salt. Arrange the tortilla strips in a single layer on a baking sheet. Bake until light brown and crisp- 5 to 7 minutes. Let stand until cool.
Combine the broth, tomato juice, tomatoes, tomato sauce and carrot in a large saucepan and mix well. Simmer for 10 minutes, stirring occasionally. Stir in green chilies, onion, cilantro, basil, garlic, chili powder, cumin and garlic powder. Simmer for 5 minutes longer, stirring occasionally.
Ladle soup into bowls. Add chicken, tortilla strips and cheese to each bowl. Top each serving with sliced avocado and chopped fresh tomato. Drizzle with lime juice.

Tips:

If you are preparing this soup as gluten-free, just be sure to use brands of corn tortillas and chicken broth that are known to be GF.
If you are preparing this soup as dairy-free, leave off the cheese.
If you don't wish to buy a large container of tomato juice, you can purchase a 6-pack of the small 5.5-ounce cans of tomato juice. Use three of those to make 2 cups. Then you'll have 3 leftover cans to use in another recipe.
SOURCE: RecipeGirl.com