If you're watching your weight, this Tuscan Vegetable Soup is a great choice!
It's been a chilly, rainy, 50 degrees here the past couple of days.  Most of you might be slightly envious of that winter temperature since you may be in the midst of some pretty frigid temps.  But for us San Diegan's, 50 degrees is a big deal.  We get out the sweaters, the closed-toe shoes and the (gasp!) jackets.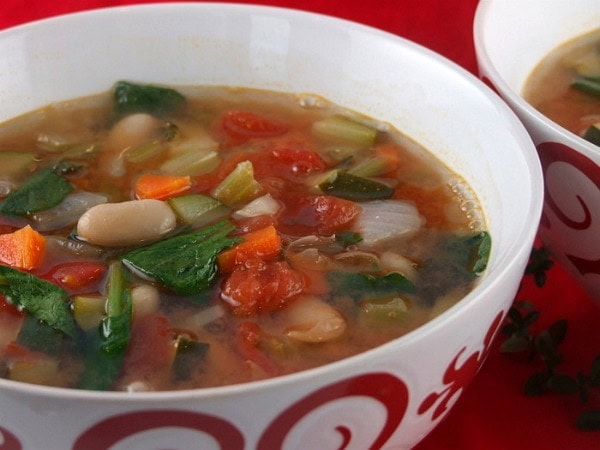 It's time for us to experience some sense of what winter must be like in most of the world.  It really does feel cold… which is why we tend to make soup.  And for those of us trying to make our muffin-tops disappear (that would be ME), we might make Tuscan Vegetable Soup.
Here's the How- To: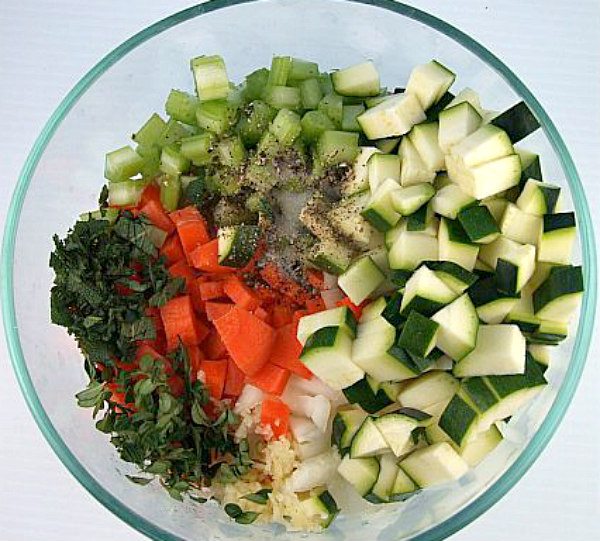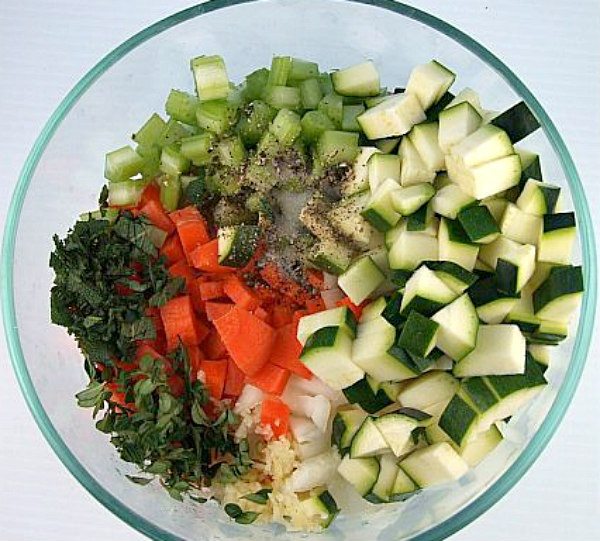 Chop up the veggies.  If you don't like what's in the recipe, then improvise with what you do like.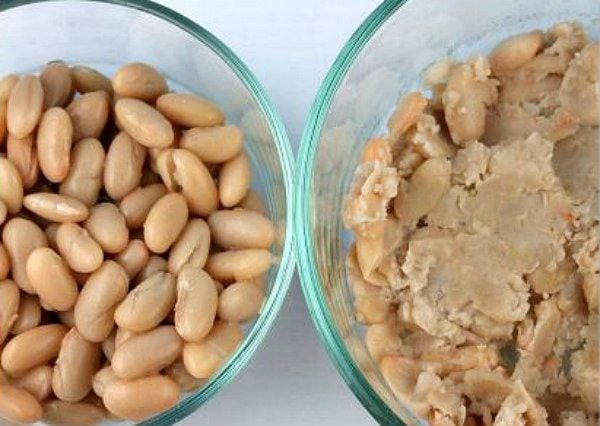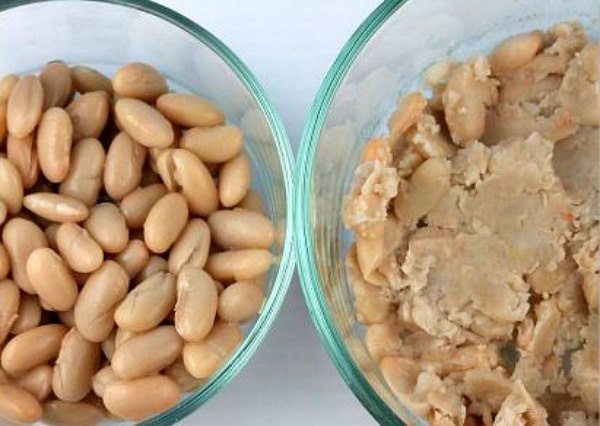 Mash half a can of cannellini beans and keep the other half whole.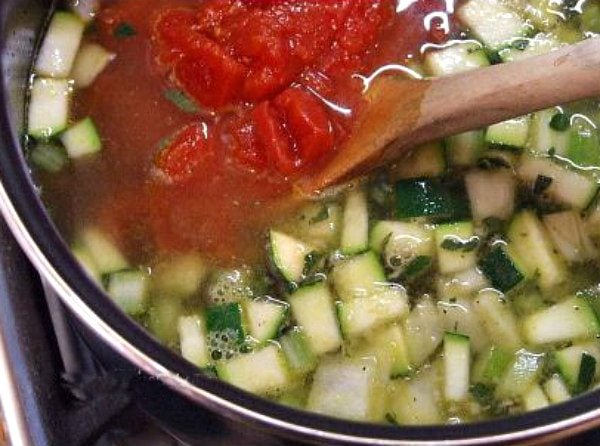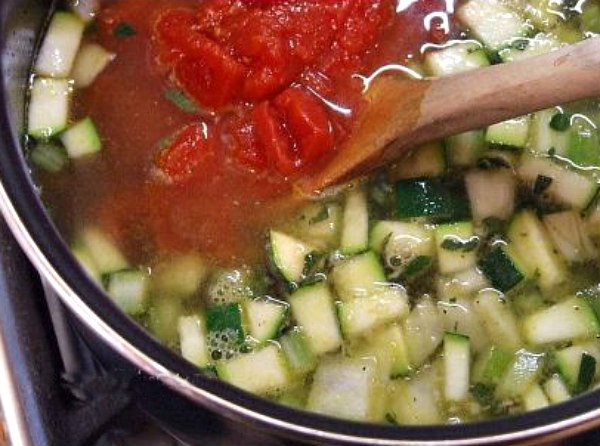 Saute veggies and spices, then add tomatoes and broth.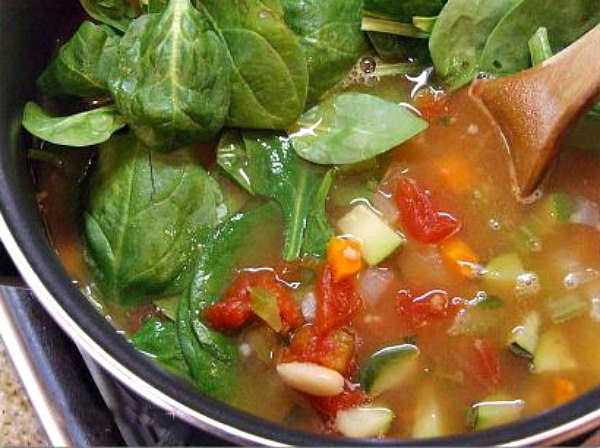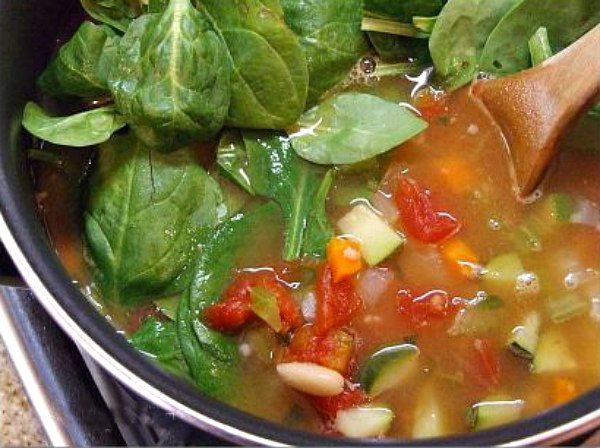 Add beans (smashed & whole) and fresh spinach.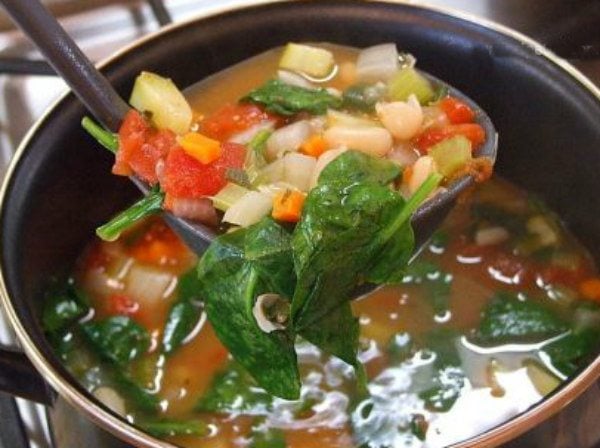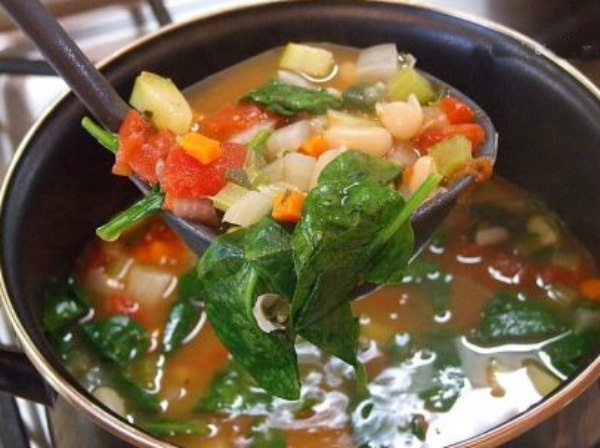 And stir just a bit until the spinach is wilted.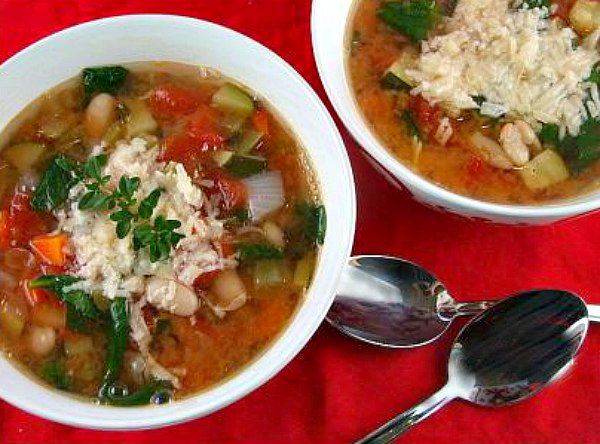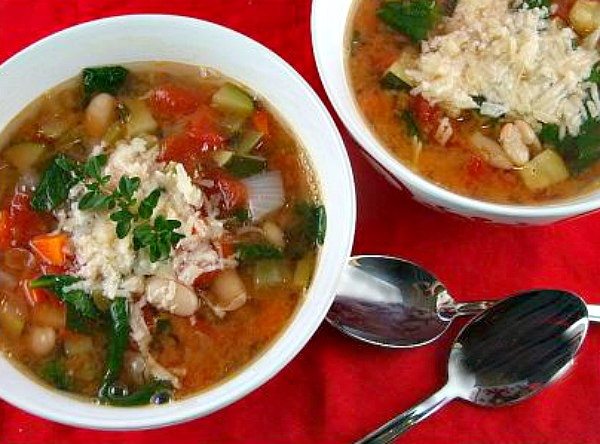 It's a great, low fat, vegetable soup on its own… filling because of those added beans.
Or add some shaved Parmesan for fancy flair and added flavor.  As a self-proclaimed cheese addict, I personally like the saltiness of added cheese.  This soup is a goodie for those who are watching their flabs & folds.  It's perfectly satisfying, and it feels like a treat with its pretty nature.  This might not pass as main-dish dinner fare, but add a slice of whole grain bread and it certainly makes for a nice lunch (on a chilly day).
Tuscan Vegetable Soup
Really great, low cal soup. Very easy to make too! Add chicken to make it more of a meal.
Yield:
4 servings (1 1/2 cups per serving)
Prep Time: 15 minutes
Cook Time: 25 minutes
Ingredients:

1 (15.5 ounce) can cannellini beans (or other small, white beans), rinsed & drained
1 tablespoon olive oil
1 cup diced onion (about 1/2 large)
1 cup diced carrots (about 1 large)
1 cup diced celery (about 2 stalks)
1 cup diced zucchini (about 1 medium)
2 cloves garlic, minced
1 tablespoon chopped fresh thyme (or 1 teaspoon dried)
1 tablespoon chopped fresh sage (or 1/2 teaspoon dried)
1/2 teaspoon salt, plus more to taste
1/4 teaspoon freshly ground black pepper, plus more to taste
4 cups low-sodium, fat free chicken or vegetable broth
1 (14.5 ounce) can diced tomatoes, with juice
2 handfuls baby spinach leaves (about 2 cups packed)
1/3 cup freshly grated Parmesan cheese

Instructions:

In a small bowl, mash half of the beans with the back of a spoon; set aside.
Heat oil in a medium-sized soup pot over medium-high heat. Add veggies and spices (onion thru pepper), and cook, stirring occasionally, until the vegetables are tender, about 5 minutes.
Add the broth and tomatoes and bring to a boil. Add the mashed and whole beans and the spinach leaves and cook until the spinach is wilted, about 3 minutes more.
Serve topped with Parmesan.

Tips:

If you're preparing this recipe as GLUTEN FREE, just be sure to use a brand of chicken or vegetable broth that is designated as GF.

Nutrition:

Nutrition Facts- Amount Per Serving of 1 1/2 cups: Calories 243, Calories From Fat (24%) 59, Total Fat 6.68g, Sat Fat 2g, Cholesterol 7.33mg, Sodium 1191.12mg, Potassium 1250.24mg, Carbohydrates 35.35g, Dietary Fiber 9g, Sugar 8.27g, Net Carbs 27g, Protein 13.5g
Weight Watchers POINTS per 1 1/2 cups serving:  Freestyle SmartPoints with cheese: 3 (without cheese: 1), Points Plus Program: 6, Old Points Program: 6
Here are a few more vegetable soup recipes you might enjoy: