Here's an easy, delicious, healthy soup recipe to try:  Easy Vegetable Soup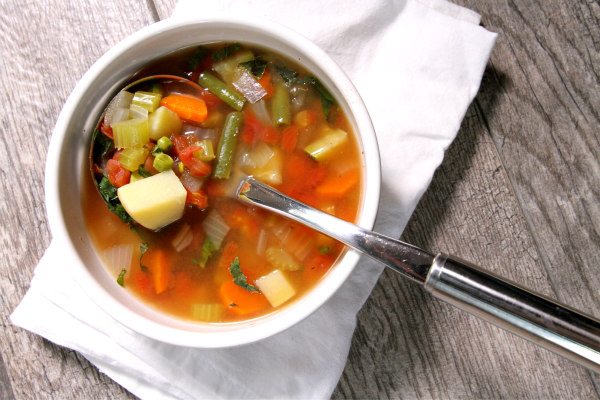 I've been on a mission to make soup once a week– every single week– this winter!  This week I made a very easy vegetable soup- with mostly fresh vegetables inside.  There's a bit of potato in there, so it turns out to be filling.  I love eating soup for lunch every day!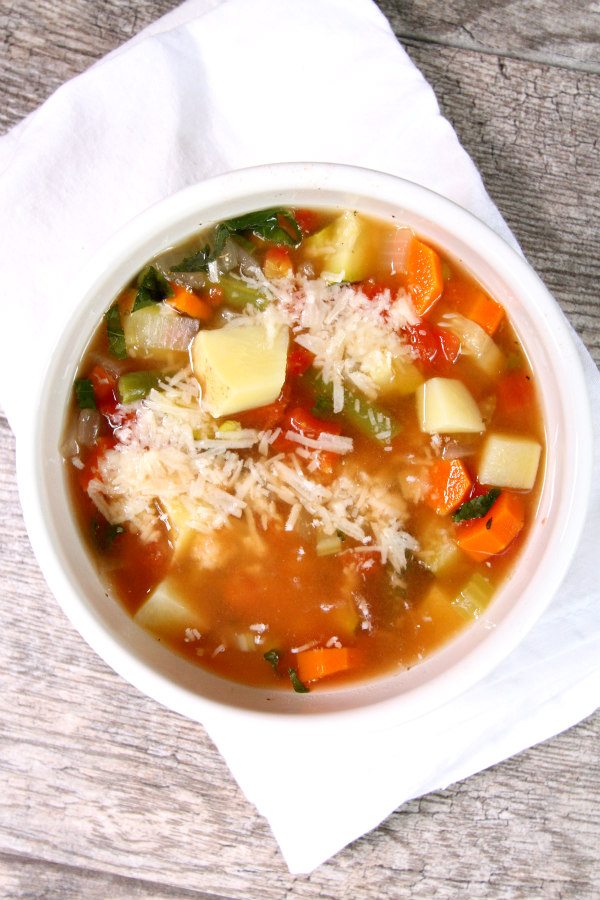 Top it with a little Parmesan cheese, and it's just perfect.  Make a pot at the beginning of the week and you'll have an easy lunch to eat every single day of the week!
Easy Vegetable Soup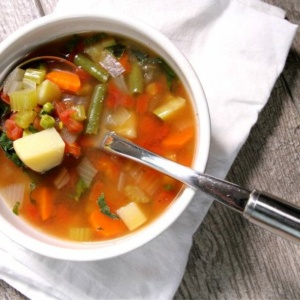 Yield:
8 servings (1 1/2 cups per serving)
Prep Time:25 minutes
Cook Time:25 minutes
Ingredients:
2 medium Yukon Gold potatoes, diced
1 medium onion, chopped
2 large carrots, chopped
2 large celery stalks, thinly sliced
8 cups chicken broth
One 14.5-ounce can diced tomatoes, with juice
2 medium zucchini, chopped
1 1/2 cups chopped fresh green beans
1 cup frozen peas
1 teaspoon dried oregano
1/2 teaspoon salt
1/2 teaspoon ground black pepper
1/2 cup chopped fresh basil
1/2 cup grated Parmesan cheese
Directions:
In a large soup pot, combine the potatoes, onion, carrots, celery and broth over medium-high heat; bring to a boil.  Reduce heat to low, cover and simmer until the potatoes are just tender- about 10 minutes.
Add the tomatoes, zucchini, green beans, peas, oregano, salt and pepper.  Continue to simmer until the vegetables are tender- about 10 minutes longer.  Remove the pot from heat.  Top individual servings with 1 tablespoon fresh basil and 1 tablespoon cheese.
Tips:
If you are preparing this recipe as GLUTEN-FREE, just be sure to use a brand of chicken broth that is known to be GF.
Nutrition:
Nutritional information per serving (servings size 1 1/2 cups):  calories: 132, fat: 2.6g, saturated fat: 2.1g, cholesterol: 9.9mg, sodium: 1404mg, potassium: 976mg, carbohydrates: 22g, fiber: 5.6g, sugars: 6.2g, protein: 7.2g
Weight Watchers POINTS:  Freestyle SmartPoints: 2, SmartPoints: 3, PointsPlus: 3, Old Points Program: 2
SOURCE:  RecipeGirl.com (adapted from Weight Watchers One Pot Cookbook)
Here are a few more vegetable soup recipes you might enjoy: