To celebrate the arrival of our autumn, here's some Autumn Vegetable Soup.
It's finally, finally, finally starting to get slightly chilly in the air here in San Diego- but only at night and early in the morning. The AC is off and the windows are open, letting in some of that welcome chill to cool us off on our- otherwise- hot days. Of course, we're still in flip flops and tank tops, and taking occasional dips in the pool. But at least it feels like autumn at night.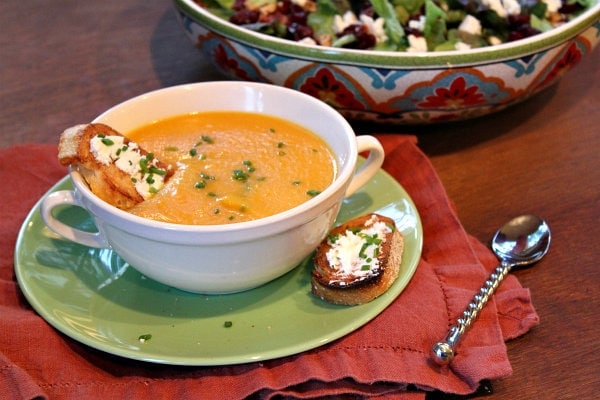 This recipe has been in my to-try folder for a very long time. I have no idea who gave it to me, but I messed with it slightly, and that's the version I'm sharing with you. This yummy creation is Weight Watchers- friendly and easily gluten-free adaptable.  149 calories for a cup of soup + the rest of the nutritional info is included in the recipe below.
My family crinkled their noses when I told them I'd be offering them Vegetable Soup for dinner. Their skepticism soon changed though. Keep reading.
Here's how you make it: Cook onions in a small amount of oil.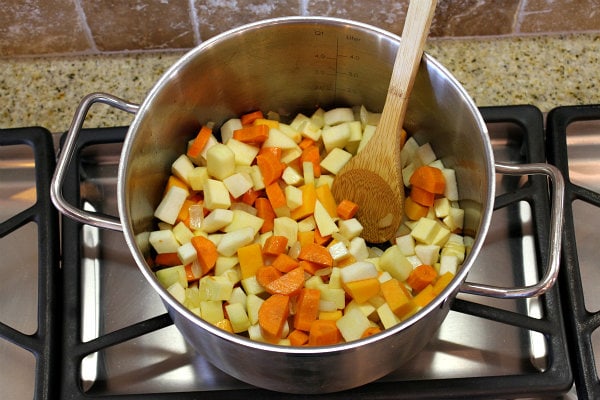 Add mega fall vegetables- like butternut squash, carrot and sweet potato. There's also an apple! And even turnips (though I promise you can't taste them).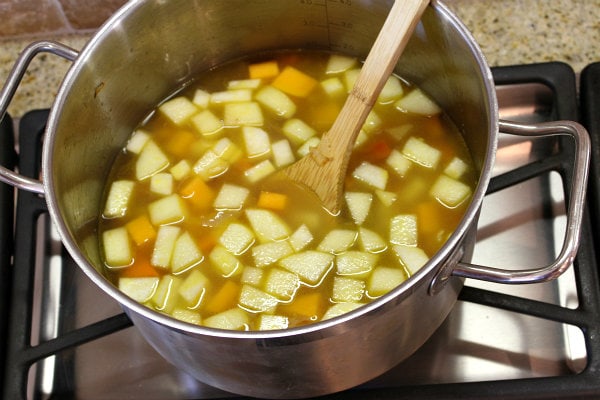 Add broth and boil it all under tender.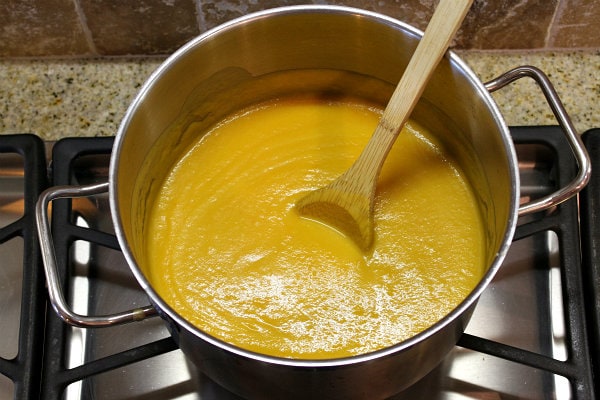 Puree it in a blender, food processor or super-cool Blendtec.  Sweeten it with maple syrup and spice-it-up with cayenne pepper.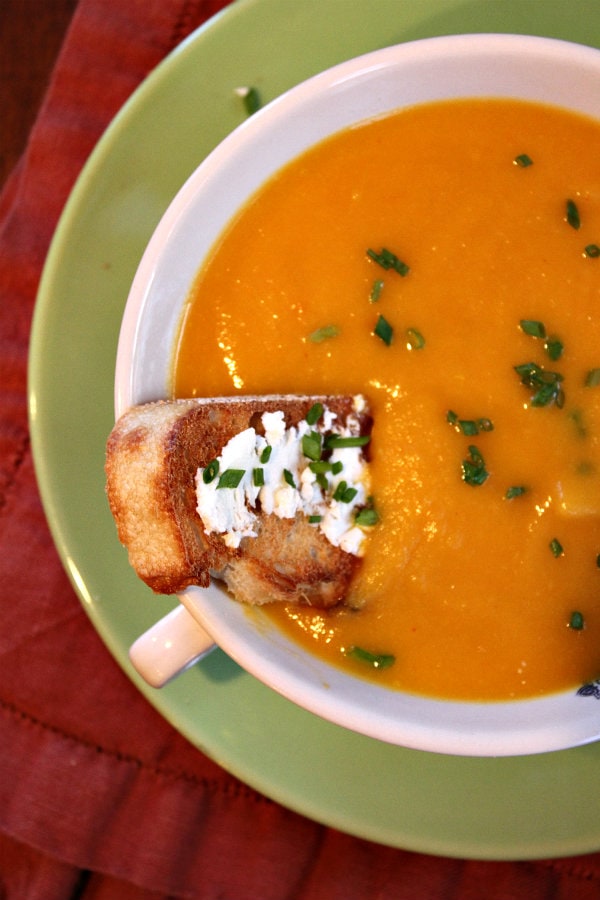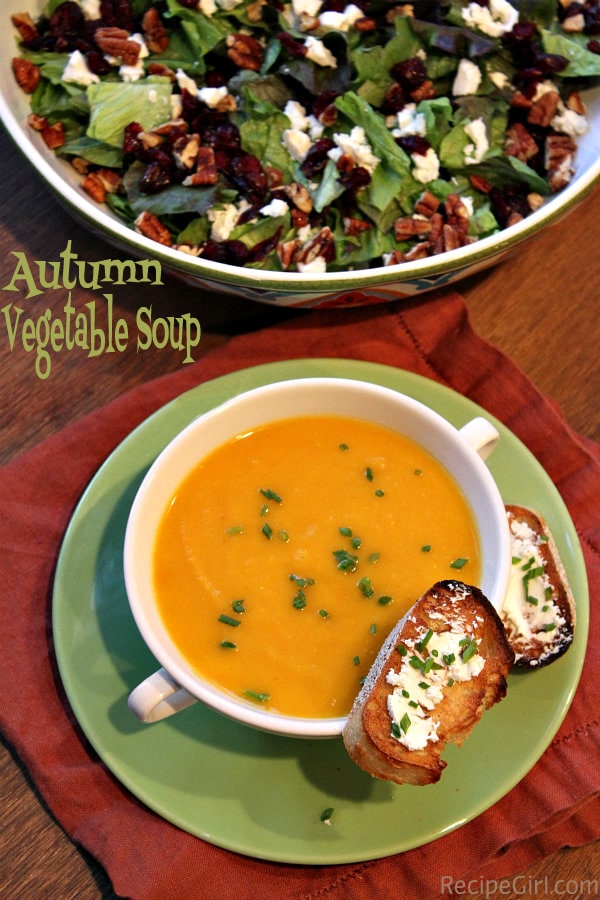 I made some toasts with goat cheese and chives.  They made for excellent dunking material.  The soup turns out to be very creamy.  It's lightly sweetened and has a hint of spice from the cayenne (you can make it as spicy as you want).
And the family update- they actually loved it.  A lot… which is a big surprise considering that they pretty much always balk at the idea of soup-for-dinner.  And hey, I got my 11-year-old to eat some veggies.  Willingly!  Yee hah.  This recipe is a keeper.  And it's going to make good leftovers for lunch too!
P.S. The salad pictured is: Mixed Green Salad with Apple Cider Vinaigrette (which my husband fell in love with- I have to admit, I loved it too!)
Autumn Vegetable Soup
Yield:
6 servings (1 cup per serving)
Prep Time: 35 minutes
Cook Time: 45 minutes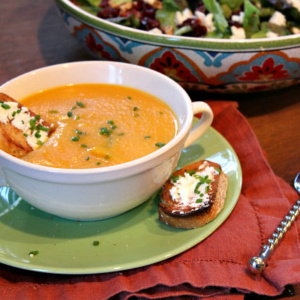 Ingredients:

1 tablespoon extra-virgin olive oil
1 cup coarsely chopped onion
1 cup peeled, cored and coarsely chopped Granny Smith apple
1 cup peeled and coarsely chopped turnip
1 cup peeled and chopped butternut squash (seeds discarded)
1 cup coarsely chopped carrot
1 cup peeled, chopped sweet potato
5 cups vegetable (or chicken) broth
1/4 cup maple syrup
1/8 teaspoon cayenne pepper, or more to taste
salt, to taste

Instructions:

For soup: Heat oil in a large saucepan on medium-high heat. Add onion and sauté until translucent. Add apple, turnip, squash, carrot, and sweet potato; sauté 5 minutes. Add the broth, bring to a boil and simmer, stirring occasionally, about 30 minutes or until vegetables are tender. Cool slightly.
When cooled, puree with a handheld mixer, food processor or blender. Pour the pureed soup back into the pan and re-heat until warmed. Add syrup, then cayenne pepper and salt, to taste.

Tips:

To prepare this soup as gluten-free, just be sure to use brands of broth and maple syrup that are known to be GF.
For toast toppers, cut 6 slices of baguette and toast them. Spread 1/2-ounce of goat cheese on top of each; sprinkle with chives. Use as a dunker for your soup!

Nutrition:

Nutritional Information per 1-cup serving: (does not include any added salt or baguette slices) Calories:

149, 

Fat:

2.8g, 

Saturated Fat:

.4g, 

Sugar:

13.9g, 

Sodium: 93.9g, Fiber:

4.1g, 

Protein:

3g, 

Cholesterol: 0

mg, 

Carbohydrates:

30g

WW POINTS per 1-cup serving:  Freestyle SmartPoints: 3, Points Plus Program: 4, Old Points Program: 2
SOURCE: RecipeGirl.com
Here are a few more vegetable soup recipes you might enjoy: