A lovely salad recipe: Mixed Green Salad with Apple Cider Vinaigrette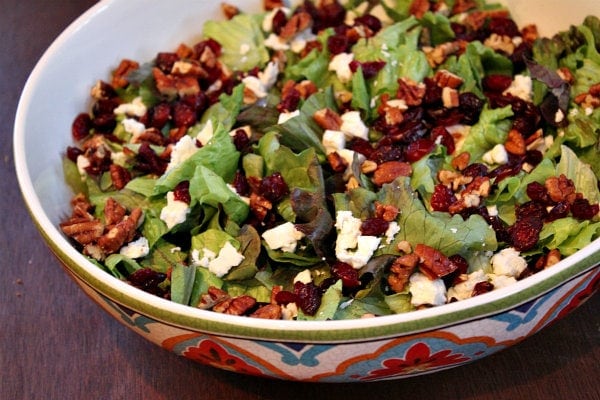 Mixed Green Salad with Apple Cider Vinaigrette
Yield:
4 servings
Prep Time: 15 minutes
Ingredients:

APPLE CIDER VINAIGRETTE:

1/4 cup apple cider vinegar
2 1/2 tablespoons granulated white sugar
1/4 cup extra-virgin olive oil
2 teaspoons minced onion
1/8 teaspoon paprika

SALAD:

1/3 cup chopped pecans, toasted- see *Tips below (or candied pecans from Trader Joe's!)
One bunch red leaf lettuce, chopped, washed and dried
1/3 cup crumbled feta cheese
1/2 cup dried cranberries

Instructions:

Prepare vinaigrette: Microwave the vinegar in a medium-size, microwave-safe glass bowl at HIGH 1 minute, or just until hot. Add sugar, and whisk until dissolved. Add the next 3 ingredients and whisk until blended. Store in the refrigerator until ready to toss with the salad.
Assemble the salad: Place the lettuce in a large bowl. Top with the cheese, cranberries, and toasted pecans. Drizzle with the Apple Cider Vinaigrette and toss just before serving.

Tips:

To toast the pecans: Place pecans in even layer in a shallow pan. Bake pecans at 350°F. for 15 minutes or until toasted, stirring once.