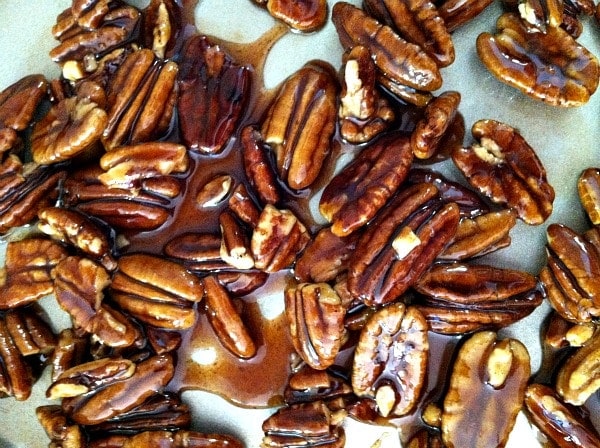 Candied Pecans
Use these for snacking or cocktail parties... or my favorite- chop and add to salads!
Yield:
1 1/2 cups
Prep Time: 15 min
Cook Time: 8 min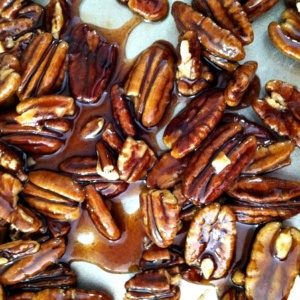 Ingredients:

1 1/2 cups pecans
1/2 cup granulated white sugar
1/2 cup water
1/2 teaspoon ground cinnamon
1/4 teaspoon salt
1/2 teaspoon vanilla

Instructions:

1. Preheat the oven to 350 degrees F. Spray a nonstick rimmed baking sheet with nonstick spray, or line with parchment paper.

2. In a medium saucepan, stir together pecans, sugar and water over medium heat. Stir in cinnamon and salt. Continue to stir until the mixture becomes very syrupy and begins to reduce. Watch the heat and turn it down, if needed. Stir in the vanilla. The syrup will begin to get darker, but don't let it burn. Stir until the syrup has reduced so much so that there is very little left besides coating the pecans (see photo). The whole process should take about 5 minutes, give or take a minute or two.

2. Spread the pecans out on your prepared baking sheet. Bake for 3 minutes, then check for crispness. Bake an additional 2 to 3 minutes, if needed. Keep a close eye- you don't want them to burn!

3. Cool completely, then break apart.