Nice side dish to serve with roasted pork tenderloin: Acorn Squash with Orange Pecans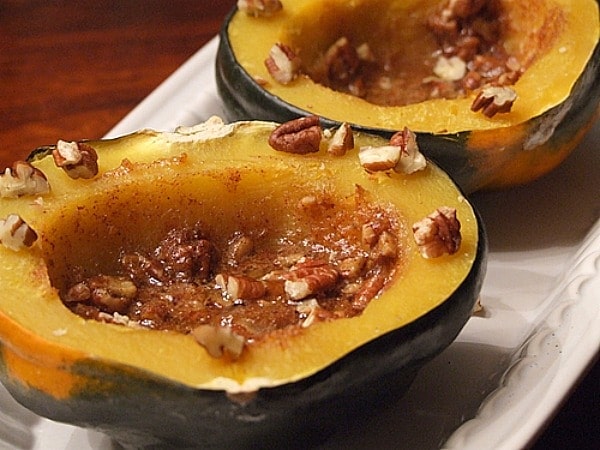 Acorn Squash w/ Orange Pecans
Delicious for dinner with roasted chicken on a cold wintry day!
Yield:
4 servings
Prep Time: 15 min
Cook Time: 60 min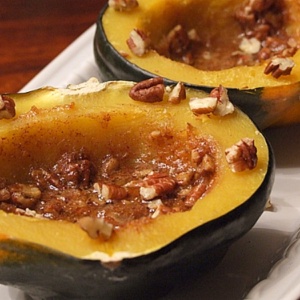 Ingredients:

2 medium acorn squash, halved lengthwise & seeded
3 Tablespoons butter, at room temperature
2 Tablespoons light brown sugar, packed
1/2 teaspoon ground cinnamon
1 Tablespoon orange zest, finely grated
1/4 cup orange juice, freshly squeezed
1/2 cup pecans, roughly chopped

Instructions:

1. Preheat oven to 375°F.

2. Place squash, cut-side-down, in a large shallow baking dish and fill with water to come 1/2 inch up the sides. Bake until tender when pierced with a knife, about 40 minutes.

3. Turn the squash cut-side-up and place in a clean baking dish. In a small bowl, cream together butter, brown sugar, cinnamon, and orange zest and juice; mix in the nuts. Divide the butter mixture evenly among the squash cavities. Continue baking, uncovered, until lightly browned, about 20 minutes longer. Serve hot.