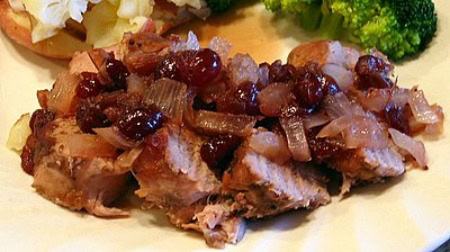 Cranberry Pork Tenderloin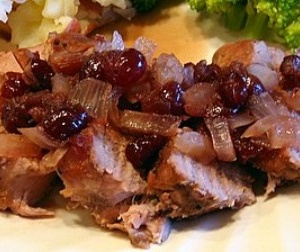 Yield:
6 servings
Prep Time: 10 min
Cook Time: 1 hr, 10 min
Ingredients:
1 (15-ounce) can whole-berry cranberry sauce
1 (5.5-ounce) can apricot nectar
1/2 cup granulated white sugar
2 teaspoons cider vinegar
1 teaspoon dry mustard
1 teaspoon salt
1 medium sweet onion, chopped
2 pounds pork tenderloin
Directions:
1. Preheat oven to 350° F.
2. In a medium bowl, combine all ingredients except pork. Place pork in a casserole dish. Pour ingredients over pork. Bake 1 hour 10 minutes with the dish covered.
3. Slice into medallions and spoon sauce over meat.