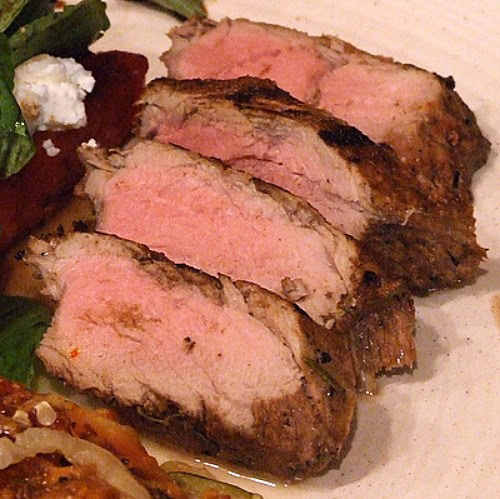 Balsamic- Rosemary Grilled Pork Tenderloin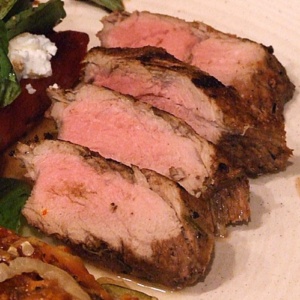 This pork tenderloin recipe turns out so tender and moist. It's great for grilling. I use an instant-read thermometer and pull it off the grill at 150 degrees. Perfect!
Yield:
6 Servings
Prep Time:10 min
Cook Time:15 min
Ingredients:
4 Tablespoons balsamic vinegar
1/2 cup extra virgin olive oil
2 teaspoons crushed garlic
3 Tablespoons chopped fresh rosemary
3 Tablespoons chopped green onions
1/4 cup freshly squeezed lemon juice
1 Tablespoon cracked black pepper
1 Tablespoon sea salt
2 pounds pork tenderloin
Directions:
1. Combine marinade ingredients in a large zip baggie. Add tenderloin and massage to work marinade into meat. Refrigerate in marinade for at least 6 hours.
2. When ready to grill, take zip bag out of refrigerator and let sit at room temperature for about 30 minutes before grilling. Preheat grill to medium-high. When ready to grill, oil the grate and wipe down to remove any residue so grates are clean. Remove pork from marinade and arrange on grill. Brown on all sides and cook through (firm to the touch), 8 to 12 minutes total, or until internal temperature in center reaches 150°F.
3. Remove tenderloin from grill and allow to rest 5 minutes before slicing.
Tips:
*Use an instant-read thermometer to check temperature of meat.
Nutrition:
Nutritional Information per serving:
Serving size: 5.25 ounces
Calories per serving: 241
Fat per serving: 10.7g
Saturated Fat per serving: 2.55g
Sugar per serving: .33g
Fiber per serving: .5g
Protein per serving: 32g
Cholesterol per serving: 98.28mg
Carbohydrates per serving: 3.23g
WW POINTS per serving:
Points Plus Program: 6 Old Points Program: 5.5