Everyone needs this recipe on hand to make for barbecues and potlucks:  Old Fashioned Macaroni Salad.  A great, classic, no-frills recipe is what I have here for you.  It's the best!
There is a short video showing you how to make this recipe toward the end of this post.  Then you can scroll to the bottom of this post to print out the complete recipe and make it at home.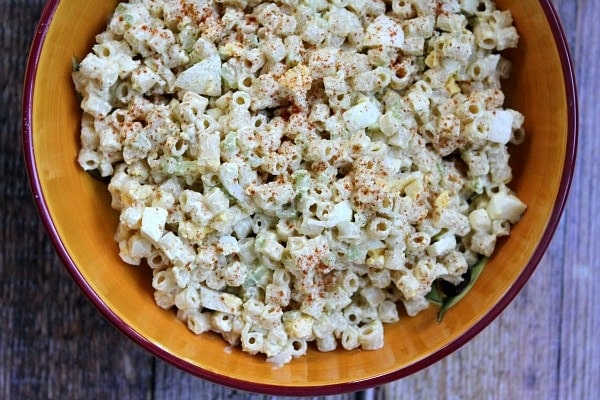 For as long as I can remember, my mother has been making a similar version of this simple, classic macaroni salad recipe.  It has always been my favorite.  I don't want anything fancy in my macaroni salad, so the simplest version works best for me.
You must begin with the small noodles with the hole in the middle (otherwise known as ditalini).  I suppose you could use small elbows too, but I personally love the little guys.
I toss my macaroni salad with a mixture of mayo, mustard and onion powder.  I mix in a small dose of chopped celery and green onions.  Chopped hard-boiled egg is folded in at the end.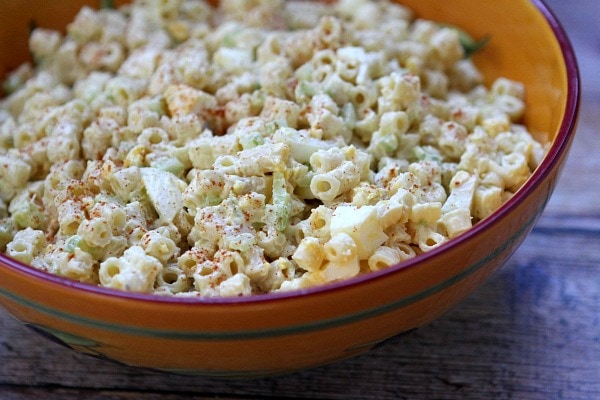 I could seriously eat loads and loads of this stuff.  Since that's not such a good thing, I like to make this salad when we have company coming over.  It needs to be devoured so I'm not tempted by a large bowl of leftovers!
Have you ever tried the macaroni salads that they sell in the deli section at your grocery store?  They're over-slathered with a thick mayonnaise dressing, and the flavor is just not there.  It tastes like it is mass-produced because it is! Yuck.
Making it at home is infinitely better.  You can control the amount of dressing you add to the salad.  It's totally your preference whether you like it heavily dressed or not.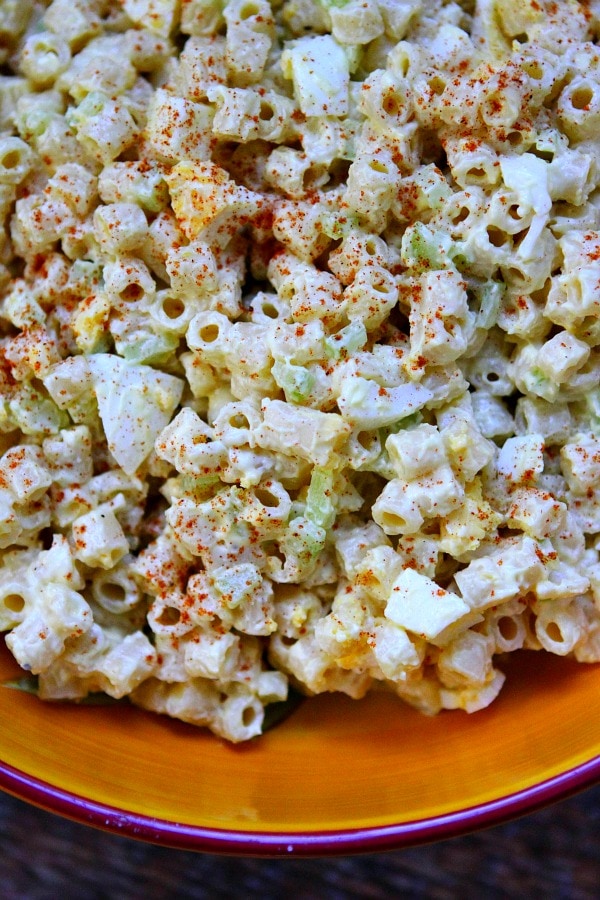 And just for the record, Mom never would add celery and green onion to her macaroni salad.  She doesn't care for anything crunchy.  But I chop them up quite small… they just add a little something extra to the recipe.
This salad is always a big hit- gobbled up quickly and hardly ever any leftovers (yahoo!)
Click below to watch a short video showing you how to make this recipe, then scroll to the bottom to print out the complete recipe.
Old Fashioned Macaroni Salad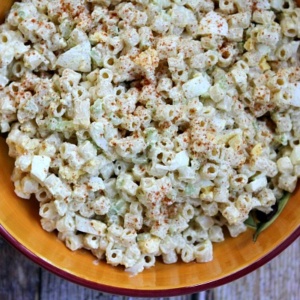 Yield:
10 servings
Prep Time:20 minutes
Cook Time:10 minutes
Ingredients:
2 cups macaroni (I use ditalini)
1 1/2 cups mayonnaise
2 stalks celery, finely chopped
4 green onions, chopped (green and white parts)
1 1/2 tablespoons mustard
1 tablespoon onion powder
salt and pepper, to taste
4 hard boiled eggs, chopped
paprika, for garnish
Directions:
Prepare the pasta according to package directions.  Rinse under cold water and set aside to drain well.
In a medium bowl, whisk together the mayonnaise, celery, green onion, mustard, onion powder, salt and pepper.
Place the drained, cooled pasta in a large bowl.  Add the mayonnaise mixture and stir into the pasta until well combined.  Gently stir in the chopped egg.  Sprinkle with paprika, cover with plastic wrap, and chill for at least a couple of hours before serving.
SOURCE:  RecipeGirl.com
Here are a few more macaroni salad recipes you might enjoy: