This recipe has been featured in a post on The Recipe Girl blog: Three Cheese Bacon Mac and Cheese.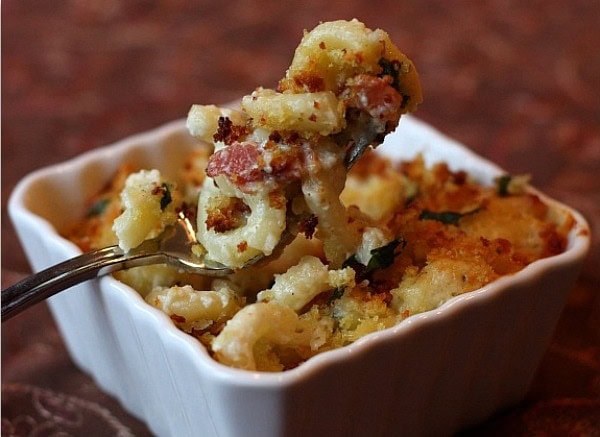 Macaroni & Cheese with Bacon
This dish was dubbed a "crowd favorite" at one of my neighborhood's Gourmet Club parties. It's even better when heated up as leftovers on day two.
Yield:
12 servings
Prep Time: 30 min
Cook Time: 50 min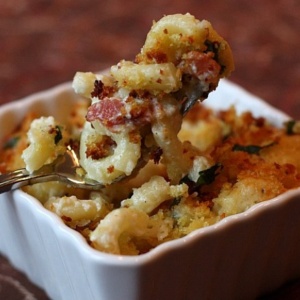 Ingredients:

CRUMBLY TOPPING:
2 cloves garlic
3 Tablespoons finely chopped parsley
6 slices white bread, crusts removed, torn into pieces
2 Tablespoons butter, melted

MAC & CHEESE:
12 ounces (1 package) center-cut bacon, chopped into 1-inch pieces
3 Tablespoons butter
1 pound pasta (elbows or shells), cooked until very al dente- still the slightest bit crunchy (or 2-3 minutes less than the suggested cooking time on the box)
5 1/2 cups whole milk, heated until warm
1/2 cup all-purpose flour
1 1/2 Tablespoons chopped fresh thyme
1 teaspoon mustard powder
1 teaspoon red pepper flakes
3/4 teaspoon kosher salt, or more to taste
1/2 teaspoon freshly ground black pepper
1/4 teaspoon ground nutmeg
12 ounces (or 4 cups) sharp white cheddar cheese, shredded & divided
8 ounces herb & garlic flavored Chevre cheese (goat cheese), crumbled
1/2 cup grated Parmigiano Reggiano cheese

Instructions:

1. Preheat oven to 375 degrees F. Butter a 3 to 4 quart casserole dish.

2. Prepare breadcrumbs: Place garlic and parsley in the bowl of a food processor fitted with the steel blade and pulse until they're minced. Add bread pieces and pulse until bread turns into crumbs and mixture is combined. Pour in butter and pulse until mixed in. Remove breadcrumbs to a bowl and set aside.

3. In a large skillet, sauté bacon until it is almost crisp. Remove bacon to paper towels to drain. Spoon out oil from pan, reserving about 1 Tablespoon of bacon drippings. Add 3 Tablespoons butter to the bacon drippings and heat to medium. When butter sizzles, add flour and cook, stirring, for 1 minute. Slowly pour hot milk into flour-butter mixture while whisking. Continue cooking, whisking constantly, until mixture bubbles up and becomes thick. Remove pan from heat and stir in thyme, mustard powder, red pepper flakes, salt, pepper and nutmeg. Then stir in 3 cups cheddar and Chevre and Parmigiano cheeses.

4. Stir cooked pasta and cooked bacon into the cheese sauce. Pour mixture into prepared casserole dish. It will be very soupy. Sprinkle remaining cheddar onto the pasta. Scatter herbed breadcrumbs over the top.

5. Bake until browned on top, about 30 minutes. Check at 15 minutes to make sure the breadcrumbs aren't browning too quickly (if they are, just place a sheet of foil loosely over the top). Transfer dish to a wire rack to cool for 5 minutes. Serve.

Tips:

*This recipe can easily be halved to serve 6 instead of 12.
*Leave out the bacon to make this a vegetarian dish
*Leftovers are wonderful- just reheat in the oven or microwave.