Here's a recipe that will be a big hit with your family for dinner:  Bacon and Broccoli Macaroni and Cheese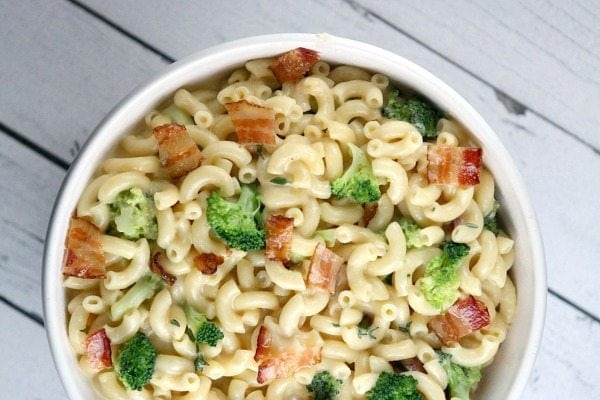 The best thing about deciding that comfort food is going to be the star of your dinner table is that anything goes 🙂  My usual choice for comfort food is PASTA.  Pasta is a once-in-a-while treat for us.  For the most part we avoid eating it a lot at home, saving the carb-loving splurge for dinners out instead.  I almost never order mac and cheese at a restaurant for fear of coming home a couple pounds heavier, but for some reason it feels okay to make it at home.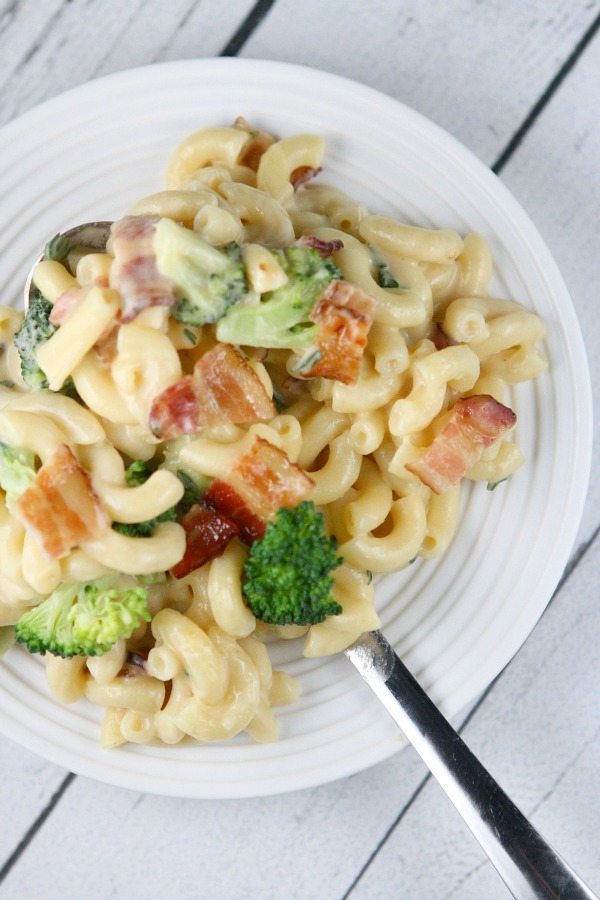 Last weekend called for comfort food.  It was snowing lightly, and we were feeling like a good macaroni and cheese, comfort-food type dinner might warm us up just right.  This version of mac and cheese sports a simple cheddar cheese sauce (though you can use any cheese you'd like), and a generous amount of broccoli florets and crispy bacon.  It's creamy and perfect.  It's pure comfort food indeed!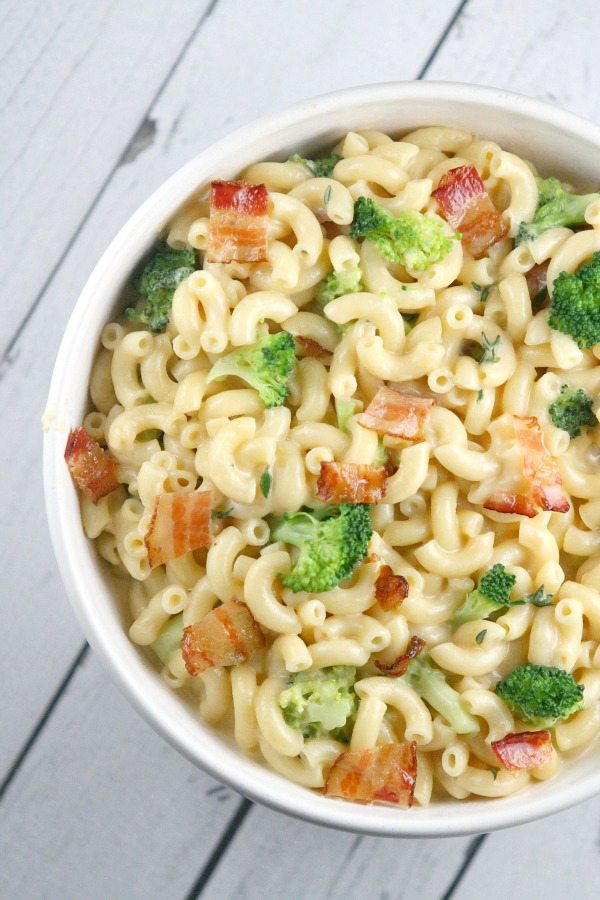 This dinner warmed us up and filled our tummies with the pasta (and bacon) that we crave so often.  It's not over-the-top indulgent but it's comforting, and it was a big family hit.
Bacon and Broccoli Macaroni and Cheese
Try using a combination of your favorite cheeses in place of the cheddar cheese.
Yield:
4 servings
Prep Time: 30 min
Cook Time: 15 min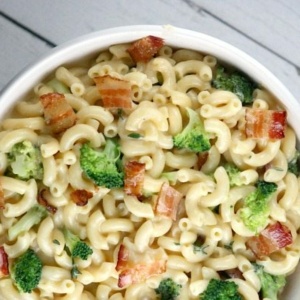 Ingredients:

8 ounces uncooked elbow macaroni
2 cups small-chopped broccoli florets
1 1/2 cups milk (any)
2 to 4 teaspoons Dijon mustard (depending on how strong you want the flavor)
1 tablespoon Worcestershire sauce
1 1/2 teaspoons chopped fresh thyme
3 tablespoons butter
2 tablespoons Gold Medal® All-Purpose Flour
2 cups shredded medium or sharp cheddar cheese
6 slices crisp, cooked bacon (chopped)
salt and pepper, to taste

Instructions:

1. Cook pasta according to package directions. Add broccoli during the last two minutes of cooking. Drain.

2. In a medium bowl, whisk together the milk, Dijon, Worcestershire and thyme.

3. Melt the butter in a medium skillet over medium heat. Whisk in the flour and cook for 1 minute. Whisk in the milk mixture, and bring to a boil. Keep whisking until the mixture has thickened a bit. Whisk in the cheese and stir until melted.

4. Stir the pasta/broccoli and bacon into the sauce. Spoon into dishes and serve immediately.
More macaroni and cheese recipes you might enjoy:
Beer Macaroni and Cheese by A Spicy Perspective
Spinach Macaroni and Cheese by RecipeGirl
Slow Cooker Macaroni and Cheese by Brown Eyed Baker
Skillet Macaroni and Cheese by RecipeBoy
Homestyle Macaroni and Cheese by RecipeGirl