Homestyle Macaroni and Cheese
I eat a lot of great food.  Trust me when I say that I eat well and I don't deprive myself of what I'm craving.  So once in a while, I feel like I have to give my body a break and hold off on eating certain things.  I can give up sugar for a week or two.  I don't like to give up wine, but that happens once in a while as well.  And limiting carbs every so often is good for whittling down my love handles.  But there is one thing that I have a very tough time giving up:  CHEESE.  I love cheese.  I love cheese of every kind, color and nationality.  It's part of my happy existence, and I just can't say no to it all that often.  Because of that, I tend to buy GOOD cheese.  I love the gourmet cheese section at specialty markets, and I'm in heaven when I'm lucky enough to actually spot a cheese shop!  So you probably wouldn't be terribly surprised to learn that I absolutely adore a good, homemade Macaroni and Cheese.  I.Love.The.Stuff.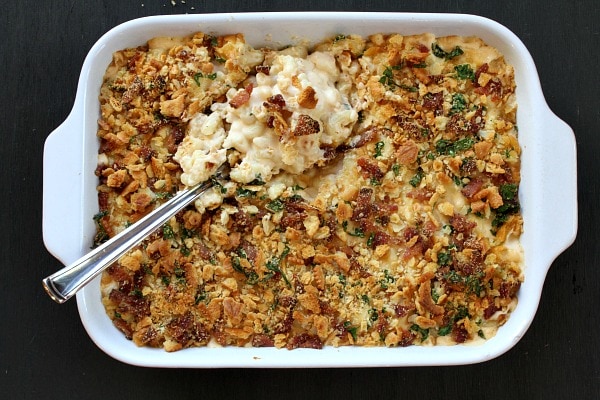 For this macaroni and cheese, I used an aged sharp cheddar.  The sharper the better, as far as I'm concerned.  I love the tangy flavor.  I don't have a particular brand that I stick to, but I happen to enjoy Cabot's varieties quite a lot.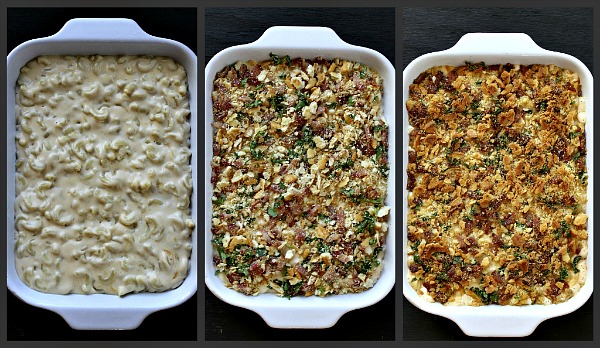 Pictured above: the Mac and Cheese is made on the stovetop and then transferred to a baking dish.  I topped this one with a bacon and butter-cracker crumb topping.  Finished off in the oven in just 20 minutes, it browns nicely and comes out hot and bubbly… and very cheesy!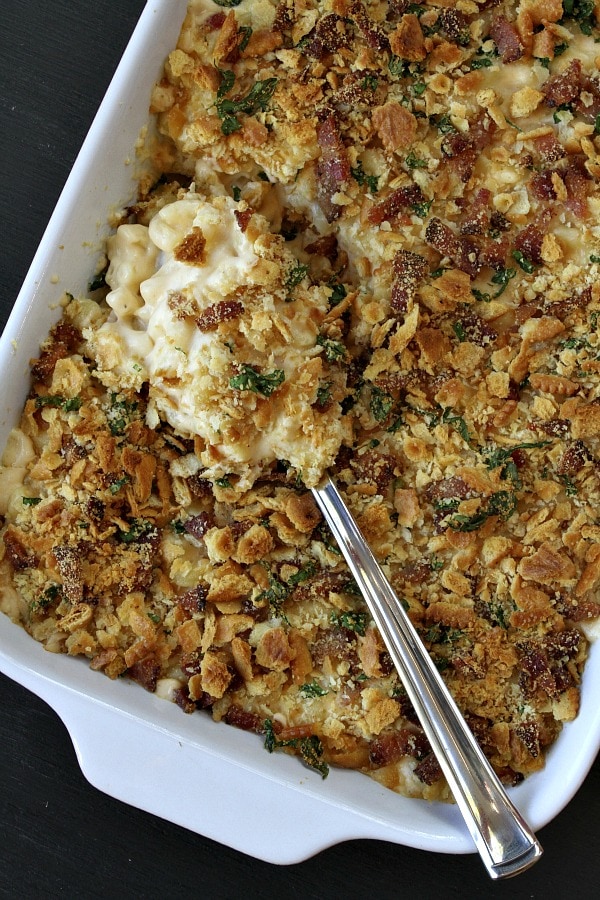 I made this one night for dinner last week… when I just so happened to have placed my body on a temporary carb-ban.  Let's just say that the ban was totally over once this came out of the oven.  I couldn't resist my own homemade Macaroni and Cheese.  How funny is that?!  After a few major bites, I was delivered into Cheese Heaven and Beyond.  It was totally worth it to cave into the craving.  My husband loved it too.  And I delivered leftovers to the lucky neighbors next door (spreading the Cheese Love).  My son, however, informed me that my Mac and Cheese was TOO CHEESY!  What the heck?  Who is this boy… cause he's totally not mine if he thinks something has TOO MUCH CHEESE?  I can't even relate.  Crazy kid.
Yield: 8 servings
Prep Time: 25 min
Cook Time: 30 min
Homestyle Macaroni and Cheese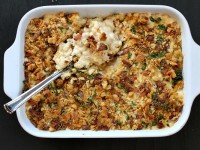 Ingredients:
MAC AND CHEESE:
2 cups small (dry) elbow macaroni (or another small pasta)
1/4 cup salted butter
3 Tablespoons All Purpose Gold Medal® Flour
2 cups milk
One 8-ounce package cream cheese, softened
1 Tablespoon Dijon mustard
salt and pepper to taste
8-ounces shredded sharp cheddar cheese
TOPPING:
20 Ritz crackers (or another buttery cracker), crushed
4 slices bacon, cooked until almost crisp (then chopped)
1 heaping tablespoon finely chopped fresh parsley
Directions:
1. Cook the macaroni using package directions; drain.
2. Preheat the oven to 400 degrees F. Place a rack on the lower-third rung in your oven. Spray 2 1/2- quart baking dish with cooking spray.
3. Melt butter in a large saucepan over medium heat. Whisk in the flour. Cook until smooth and bubbly, stirring constantly. Whisk in the milk, cream cheese, Dijon mustard, salt and pepper. Cook for 3 to 5 minutes or until thickened, stirring constantly. Stir in the cooked pasta and cheddar cheese.
4. Spoon the cheesy macaroni into the prepared baking dish.
5. In a small bowl, mix the topping ingredients. Sprinkle the topping evenly over the top of the cheesy macaroni. Bake for 20 minutes, or until golden brown.
Other delicious-looking Macaroni and Cheese recipes on these fabulous food blogs: 
Bacon and Pea Macaroni and Cheese by Confections of a Foodie Bride 
Spinach Macaroni and Cheese by RecipeGirl
Avocado Mac and Cheese by Two Peas and Their Pod 
Macaroni and Cheese Egg Rolls by Taste and Tell 
Chorizo Mac and Cheese by Simply Recipes 
41 Responses to "Homestyle Macaroni and Cheese"
Leave a Comment