If it weren't for cheese, there's no doubt in my mind that this food blog would be called SkinnyGirl instead of RecipeGirl.  Pasta is welcome in my life any old time, but cheese is something that I seriously couldn't live without.  There is nothing like the tang of a fantastic hunk of aged sharp cheddar, the flavor of a soft, fresh goat cheese, or the creaminess of a wedge of French brie.  I love them all.  That's okay though.  I enjoy cheese much more than I'd enjoy being a SkinnyGirl.  I suppose I could learn to live in moderation of this delicious evil, (and I do most of the time) but that's not always terribly easy to do.  My family is into cheese too, and they're really into pasta, so recently I whipped up a new dinner for us:  Cheese- Stuffed Shells with Creamy White Sauce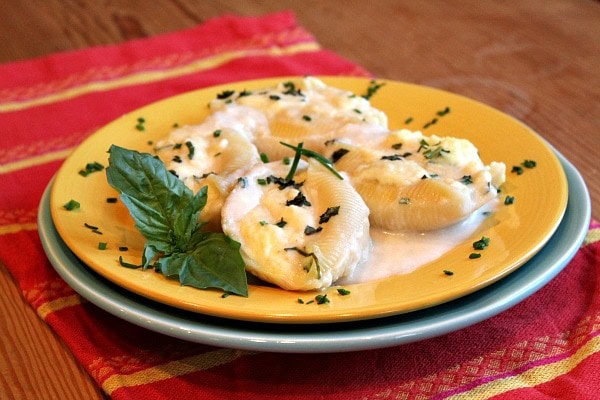 The shells are stuffed with a mixture of ricotta, shredded cheese (I used white sharp cheddar) and feta cheese.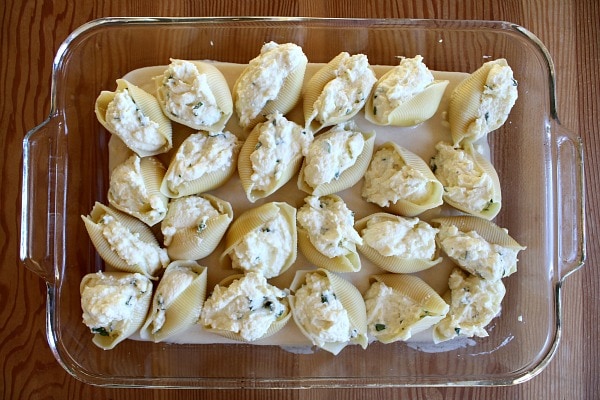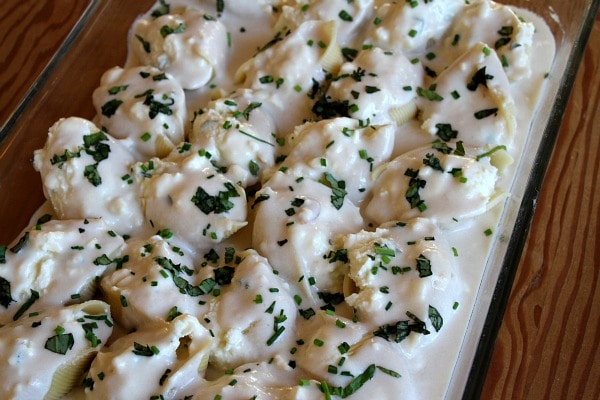 They're topped with a simple homemade cream sauce (Bechamel base minus the nutmeg… with the addition of feta cheese).  A sprinkle of fresh basil and chives goes on top, and then into the oven for 30 minutes.   Note:  You could certainly use marinara sauce instead of cream sauce, if you'd like.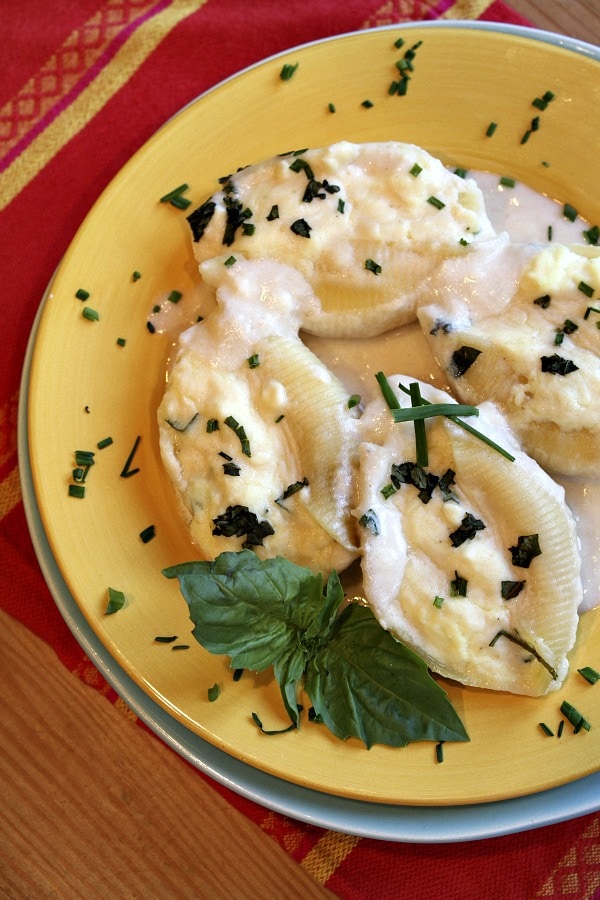 It's a great dinner- both husband and kid- friendly.  The melty cheese- stuffed pasta shells are delicious dunked in that creamy, cheesy sauce.  We ate them with a big green salad to help balance things out.  And just for the record… since I have a zillion people ask me… I'm not related to, I don't know, nor have I ever met SkinnyGirl or HungryGirl.  For some reason, people think we're like sisters or buddies or business partners or something.  Nope!  I'm pretty sure that neither of them would eat these Cheese- Stuffed Shells with Creamy White Sauce either.  And I would imagine it's not likely they eat much cheese!  Of course they're famous and I'm not, but… who's happier and gets to eat cheese too, really?!   Just sayin…
Three Cheese Stuffed Shells with Creamy White Sauce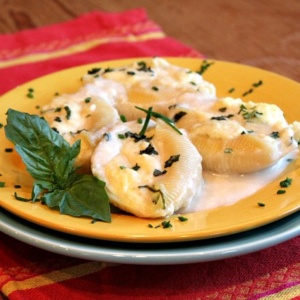 Yield:
24 Stuffed Shells (serves 6 to 8)
Prep Time: 35 min
Cook Time: 30 min
Ingredients:
SHELLS:
24 large pasta shells, prepared according to instructions, then rinsed and cooled
FILLING:
30 ounces ricotta cheese
4 ounces feta or goat cheese crumbles, chopped finely
3/4 cup shredded cheese (mozzarella, sharp white cheddar, gouda, fontina)
1/3 cup chopped basil
2 large eggs
salt and pepper
SAUCE:
5 tablespoons butter
4 tablespoons Gold Medal® All-Purpose Flour
2 cups whole milk
2 cups low fat milk
2 teaspoons salt
4 ounces feta or goat cheese, chopped finely
TOP:
2 tablespoons chopped fresh basil
1 tablespoon fresh chives, chopped (optional)
salt and pepper
Directions:
1. Prepare the filling: In a large bowl, mix all of the filling ingredients together. Season with salt and pepper.
2. Prepare the Sauce: In a medium saucepan, heat the butter over medium-low heat until melted. Whisk in the flour and stir until smooth. Over medium heat, cook until the mixture turns a golden sandy color, about 6 to 7 minutes. Meanwhile, heat the milk in a separate pan until just about to boil. Add the hot milk to the butter mixture 1 cup at a time, whisking constantly until very smooth. Bring to a boil- stir and cook for 8 to 10 minutes, then remove from heat and stir in the salt and cheese. Set aside until ready to use.
3. Assemble the shells: Preheat the oven to 350 degrees F. Spray a 9x13-inch pan with nonstick spray. Pour about 1 1/2 cups sauce into the bottom of the pan. Fill the shells with the cheese mixture and set them in the pan (6 rows x 4 rows). Drizzle the remaining sauce on top. Sprinkle basil and chives (if using) on top, then sprinkle with salt and pepper.
4. Bake 30 minutes, or until the shells are hot and bubbling and heated through. Leftovers keep well (and my husband says they're even better the next day!)
Tips:
*I always make a few extra shells since some of them inevitably tend to break apart while boiling.
*Substitute marinara sauce for the white sauce, if you'd like
Visit these other delicious stuffed shells recipes on the blogs: 
Kale and Ricotta Stuffed Shells by A Food Centric Life
Buffalo Chicken Stuffed Shells by SugarCrafter
Cheesy Spinach Stuffed Shells by Eat Live Run 
Pesto Chicken Stuffed Shells by What's Cookin, Chicago? 
Taco Stuffed Shells by Buns in My Oven