This recipe has been featured in a post on The Recipe Girl blog:  Cheesy Baked Penne.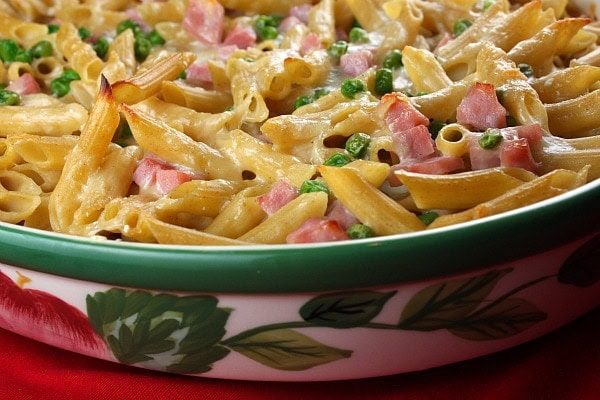 Cheesy Baked Penne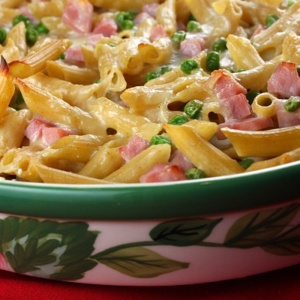 Perfect for using up leftover ham, this creamy, cheesy, comfort-food dish is completely family friendly.
Yield:
6 servings
Prep Time: 25 min
Cook Time: 45 min
Ingredients:
SAUCE:
4 cups 2% milk
1/4 cup unsalted butter
1/4 cup all-purpose flour
1/8 teaspoon ground nutmeg, or freshly grated
freshly ground pepper, to taste
PASTA:
1 pound penne pasta, cooked until al dente
1 cup peas, frozen
1 1/2 cups ham, diced
1 cup Provolone cheese, diced
1 cup Parmesan cheese, freshly grated
Directions:
1. Prepare sauce: Heat milk in a medium saucepan until small bubbles form around the edges. In a larger saucepan, melt butter over medium-low heat. Add flour and stir well. Continue to cook, stirring, until thick and smooth, about 2 minutes. Slowly begin adding hot milk to the large saucepan, whisking constantly while adding. Sauce will start out lumpy and become smooth as milk is incorporated. Stir in nutmeg and freshly ground pepper. Turn heat up to medium and bring sauce to a simmer for an additional 2 minutes. Remove from heat and set aside while you prepare the pasta.
2. Preheat oven to 350 degrees F. Butter a shallow 2 1/2-quart baking dish.
3. Assemble the dish: In a large bowl, toss cooked pasta with the sauce. Stir in peas, ham, provolone and 3/4 cup of the grated Parmesan. Scrape the mixture into the baking dish and sprinkle with the remaining Parmesan.
4. Cover with aluminum foil. Bake 25 minutes. Uncover and bake until sauce is bubbling around the edges and the center is hot (about 10 minutes more). Remove from the oven and let cool for about 10 minutes before serving.
Source: RecipeGirl.com (Adapted from Real Food)