Ham and Cheese Manicotti is the ultimate comfort food dish that is a perfect dinner for the holidays and winter season!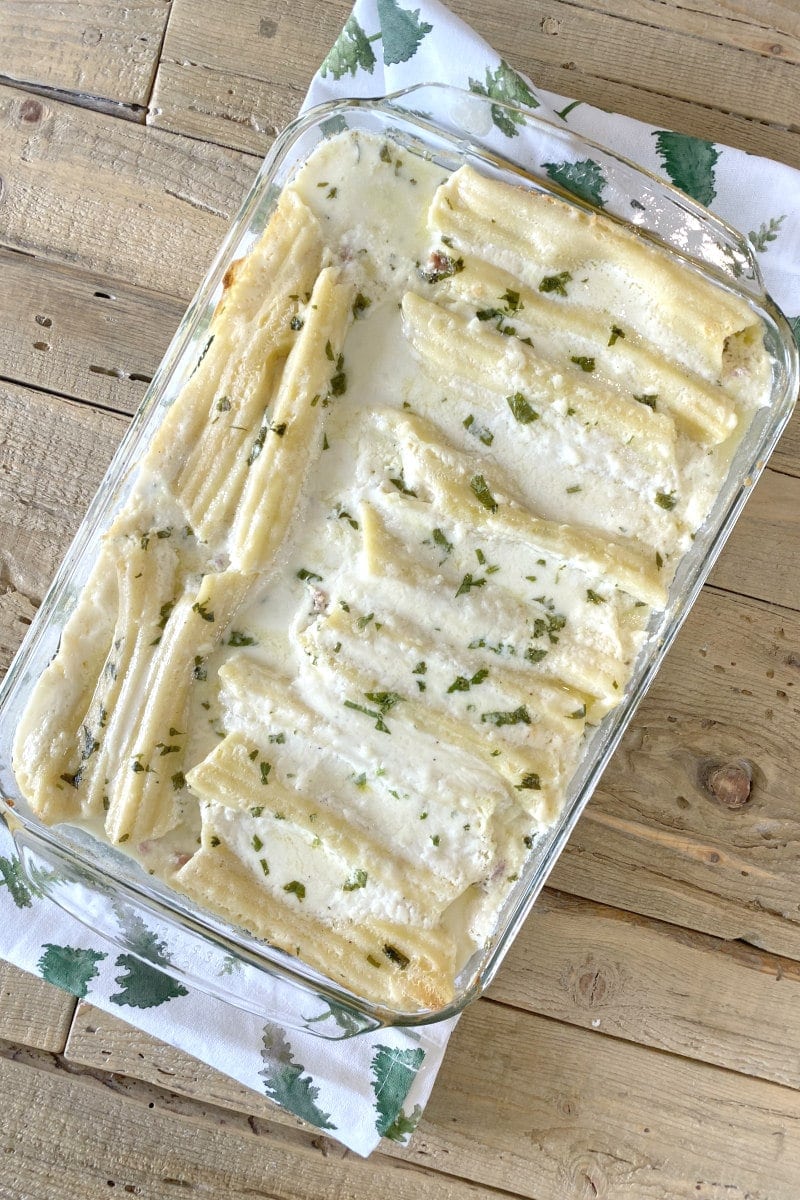 Making manicotti for dinner on Christmas day has been a tradition in my family for many years. It's so easy to make, everyone can help, and you can easily double the recipe to feed a lot of people.
This year, I'm going to change things up by introducing my family to my newest manicotti recipe: Ham and Cheese Manicotti. It's a delicious pasta dish that will appeal to everybody, and it's very simple to make. That's a big-time bonus during the busy holiday season. With nonstop entertaining and hosting, I appreciate simple ingredients and easy-to-prepare recipes.
This is a recipe I've created in partnership with Eckrich using their line of deli meat,- specifically Ham Off the Bone. From their naturally hardwood smoked sausage crafted with just the right blend of spices, to top quality deli meats, Eckrich's versatile and delicious products are a great solution for easy entertaining. And their deli meats are 100% gluten-free too! I found my Eckrich Ham Off the Bone at my local Walmart deli, but there is a store locator on their website that you can use to find where their products are sold near you.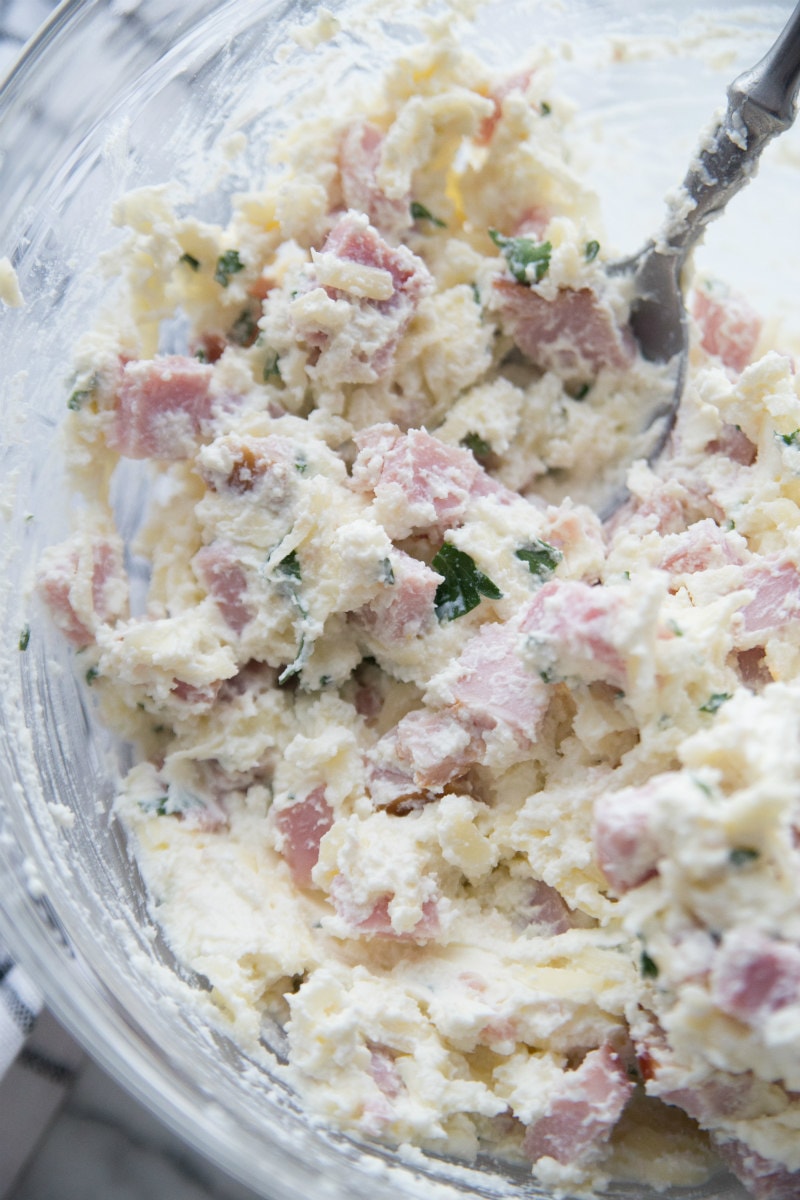 How to make Ham and Cheese Manicotti:
The filling is made of chopped Eckrich Ham Off the Bone, ricotta cheese, cream cheese, Swiss cheese, parsley and pepper. When you pick up your deli ham, just ask them to cut it on the blade that will give you the thickest slices of the Eckrich ham. Then you can chop it up, and it will be perfect for adding to the cheeses to make the filling. The manicotti noodles are cooked al dente, just shy of being soft enough to eat. This will give them a texture that is perfect for holding in your hands to stuff the noodles.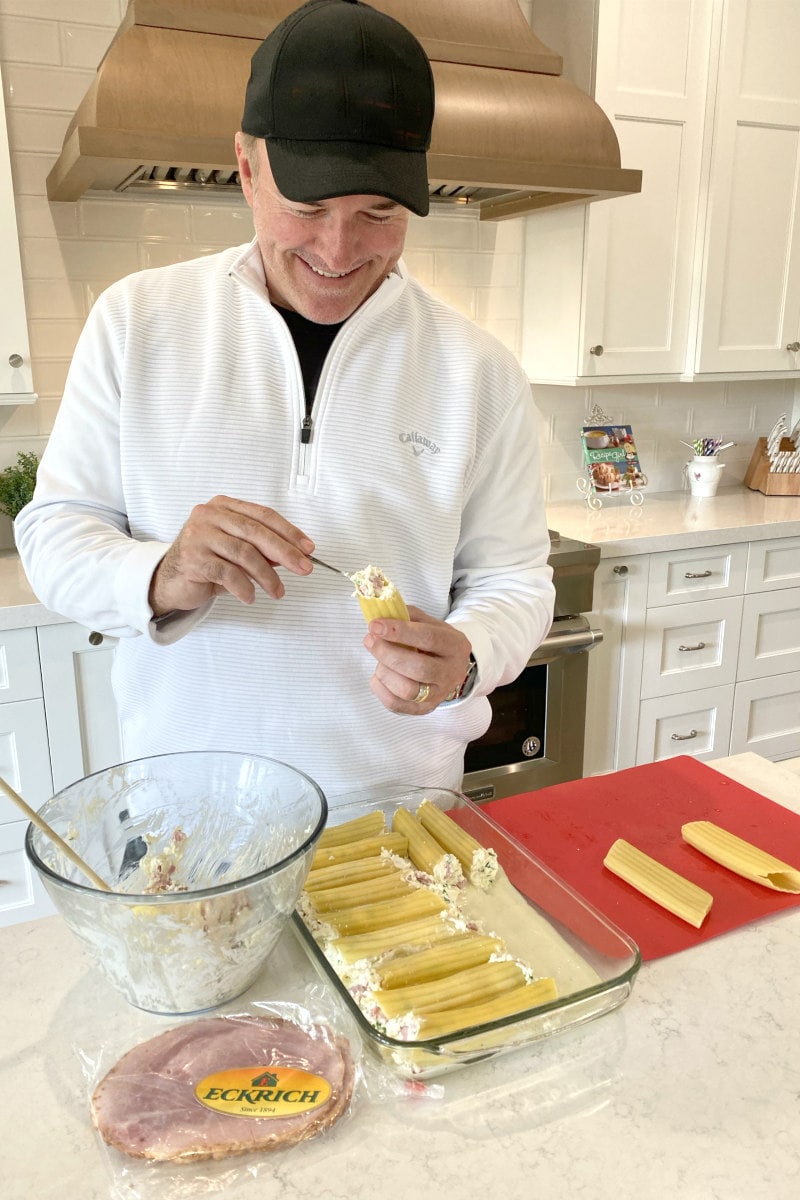 Then grab your family members and put them to work! Have them stuff the noodles. It's not difficult to do, and it's fun to get everyone involved. This recipe makes 14 stuffed manicotti noodles, which feeds seven people. It's easy to double everything in the recipe to feed 14 people if you have a larger crowd.
Classic stuffed manicotti uses a marinara sauce to cover the noodles. We're using a béchamel cream sauce in this Ham and Cheese Manicotti recipe. It's a simple white sauce flavored with a little bit of nutmeg. And it is a nice pairing with the flavor of the Eckrich ham and all of those cheeses! It's also very easy to make. You can make the sauce before stuffing the noodles, and then just let the sauce sit at room temperature to thicken some more.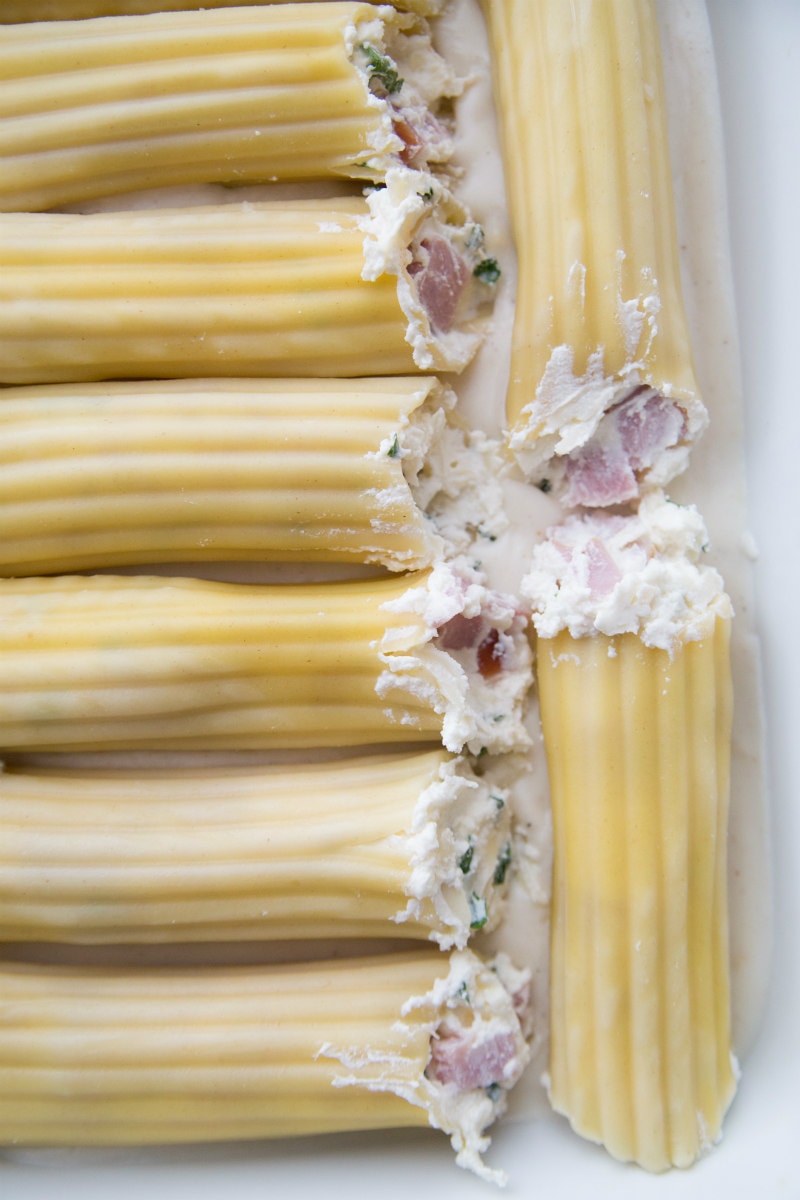 The stuffed noodles are placed onto a thin bed of the cream sauce.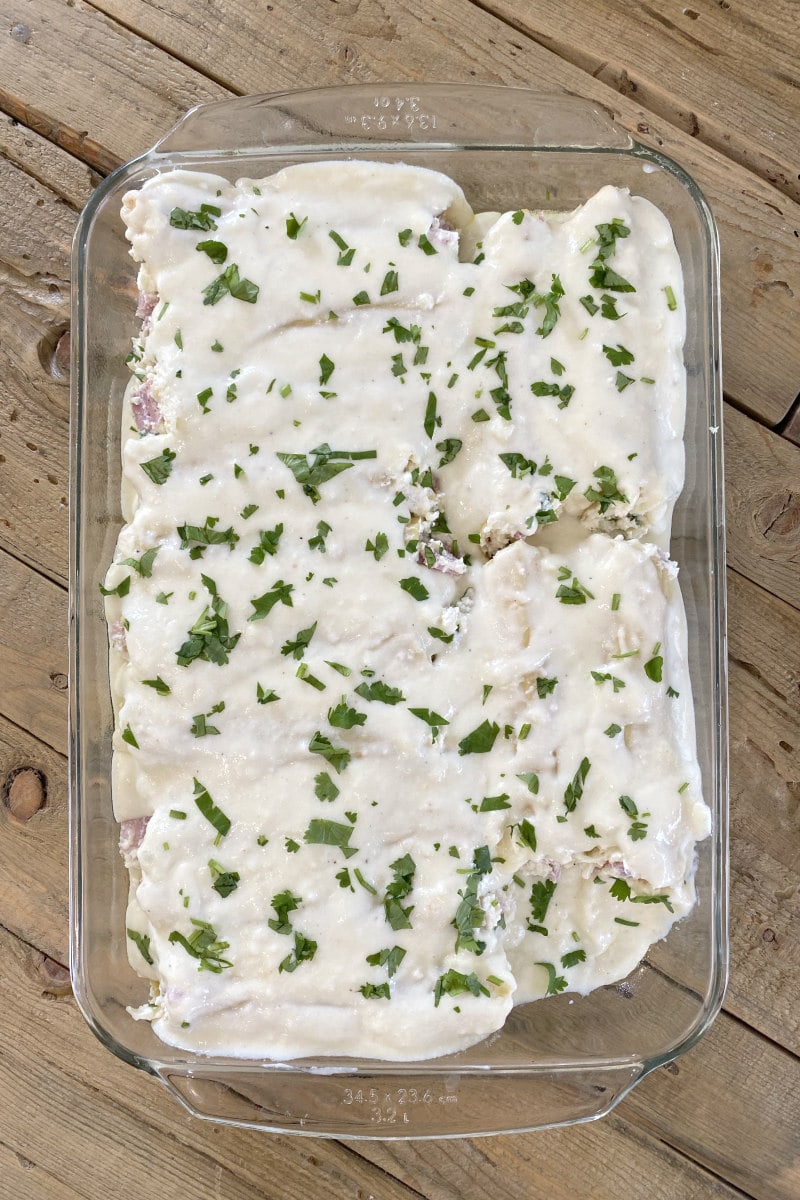 The rest of the cream sauce is drizzled on top to cover the stuffed manicotti noodles. Then, a little bit of fresh parsley is sprinkled on top of the sauce, just to keep things festive looking.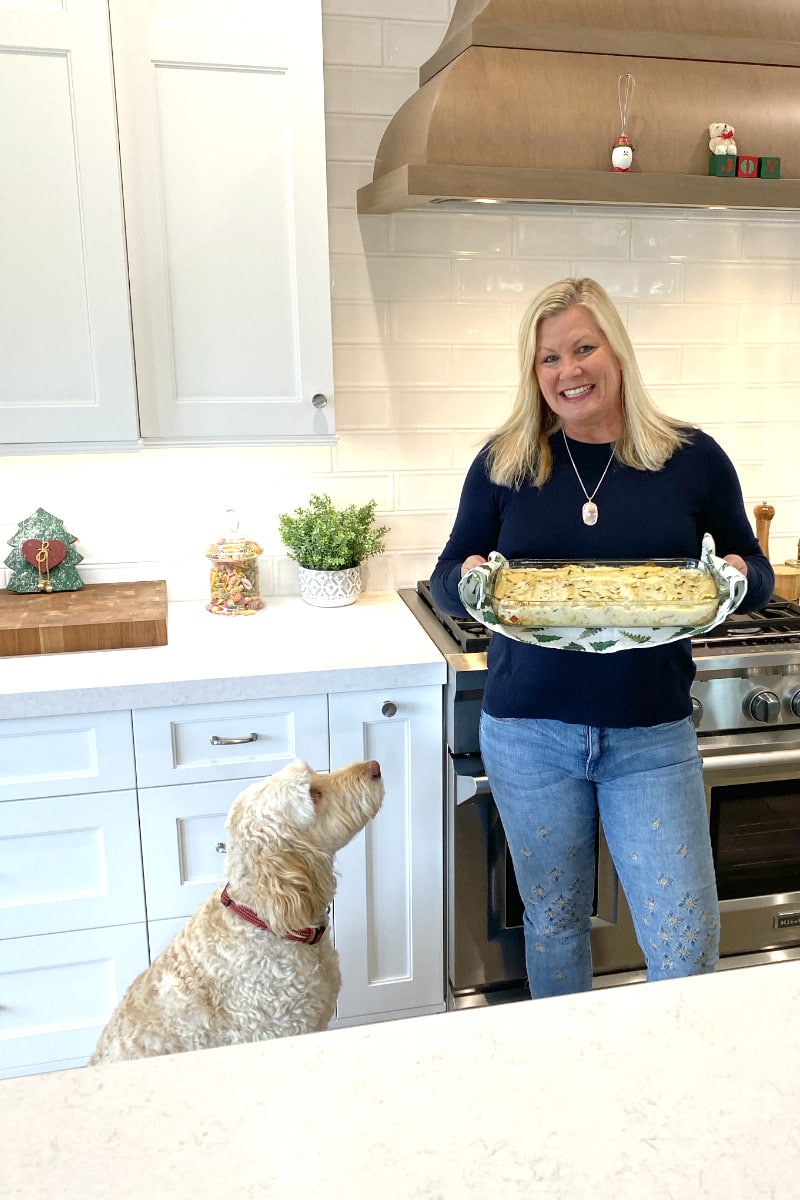 As I mentioned, this recipe makes one big pan of stuffed manicotti. Use two pans if you're doubling things. Leftovers of this Ham and Cheese Manicotti are fantastic, so don't be afraid to heat some up the next day and enjoy!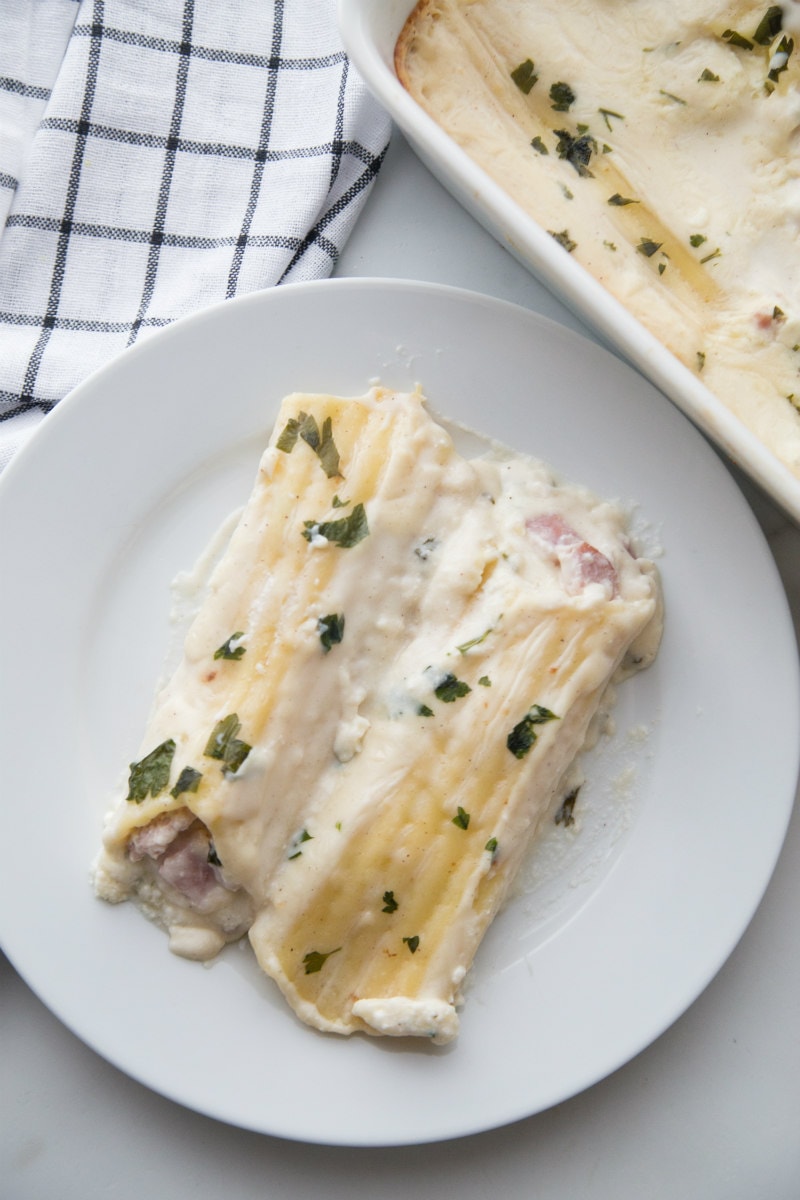 We loved having the ham in this stuffed manicotti. It was a good way to incorporate a lot more flavor into a cheese-stuffed manicotti. I ended up buying two pounds of the Eckrich ham, and we used the leftovers for ham and cheese sandwiches. I loved having a thicker cut of a good quality ham for the sandwiches. I'll be looking for the Eckrich Ham Off the Bone again, and I can't wait to try some of their other products too.
Take the stress out of holiday cooking this year by incorporating Eckrich's fool-proof products into your recipes! For more recipe inspiration, product information, and where to buy– visit www.Eckrich.com.
Here are a few more recipes featuring ham that you might like to try:
Ham and Cheese Manicotti
Ham and cheese filled manicotti noodles with a delicious cream sauce!
Recipe Details
Ingredients
CREAM SAUCE:
5

tablespoons

salted butter

5

tablespoons

all purpose flour

4

cups

whole milk

1

teaspoon

salt

1/2

teaspoon

nutmeg
MANICOTTI:
16

ounces

thickly sliced Eckrich Ham Off the Bone,

chopped

15

ounces

part-skim ricotta cheese

8

ounces

cream cheese,

at room temperature

8

ounces

Swiss cheese,

shredded

1/2

cup

chopped fresh Italian parsley,

divided

freshly ground black pepper

8

ounces

manicotti noodles
Instructions
PREPARE THE SAUCE:
In a medium saucepan, melt the butter. Whisk in the flour and cook for a couple of minutes. Slowly whisk in the milk until all is smooth. Add salt and nutmeg. Continue to whisk and cook over medium heat until slightly thickened. Turn off the heat. The sauce will thicken some more upon resting.
PREPARE THE MANICOTTI:
In a large bowl, combine the ham, ricotta, cream cheese, Swiss cheese, 1/4 cup parsley and a few grinds of pepper. Set aside.

Fill a large saucepan halfway with water and place it over high heat. Add a pinch of Kosher salt and a good drizzle of olive oil. Bring to a boil, and add the manicotti noodles. Turn the heat down so the noodles are not boiling violently, and continue to lightly boil until the noodles are al dente (about 7 minutes). Stir so they don't stick together. You want them firm enough to hold, but not soft enough where they are going to fall apart. They'll soften a bit more when baking in the sauce. Drain the manicotti and place all of the noodles on a nonstick mat to cool.

Preheat the oven to 350 degrees F. Spray a 9x13-inch pan with nonstick spray.

Pour a little bit of the sauce into the prepared pan (maybe a cup), and use a spoon to spread it to cover the bottom of the pan. Use a cocktail fork or spoon to scoop the stuffing into the manicotti noodles. Fill from both sides to get the filling all the way in there. Place the stuffed noodles into the pan. Continue with the remaining noodles, snuggling them up against the others, until all filling and noodles have been used. Spoon the rest of the sauce over the stuffed manicotti noodles, using it to cover all of the noodles. Sprinkle the remaining parsley on top.

Spray a piece of foil with nonstick spray and cover the pan spray-side-down with the foil. Bake for 50 minutes. Remove the foil, and bake for an additional 10 minutes. Remove from the oven and let cool for about 10 minutes, and then serve immediately.
Notes
Leftovers of this manicotti are fantastic. Just heat them up in the microwave the next day!