Remember those Bacon & Corn Griddle Cakes I posted sometime last year?  They were an all-around hit with RecipeGirl readers, so I played around with the recipe a bit and created a new griddle cake:  Ham and Swiss Griddle Cakes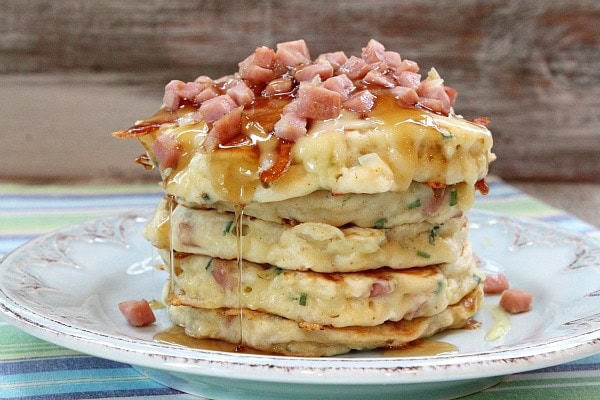 My family thought I was weird for posting that last version (until they tasted it, of course).  This time around they were much more receptive to my griddle cake creation.  Think: Ham and Swiss Cheese sandwich with sweet maple glaze.  That's what this recipe is all about.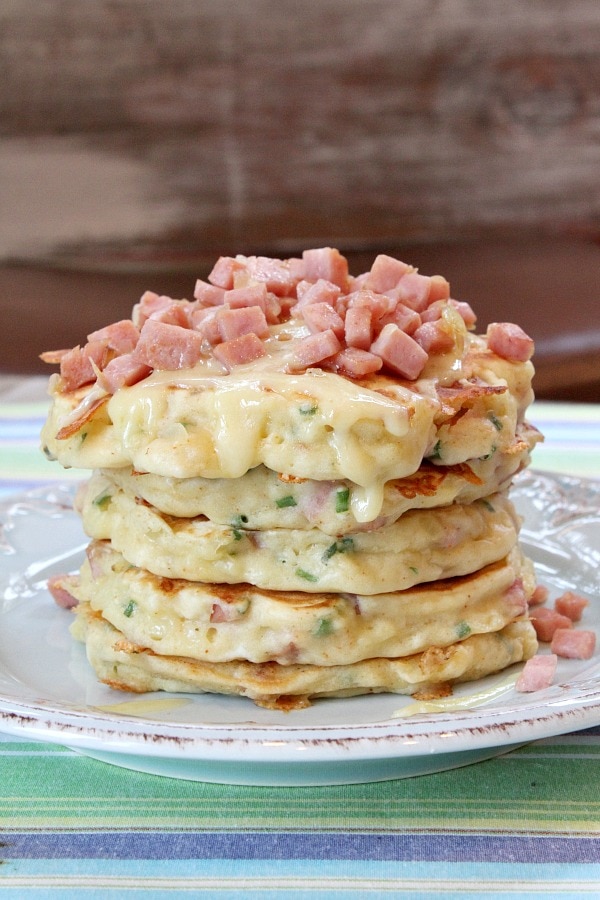 Tiny ham chunks and shredded Swiss are mixed into the griddle cake batter.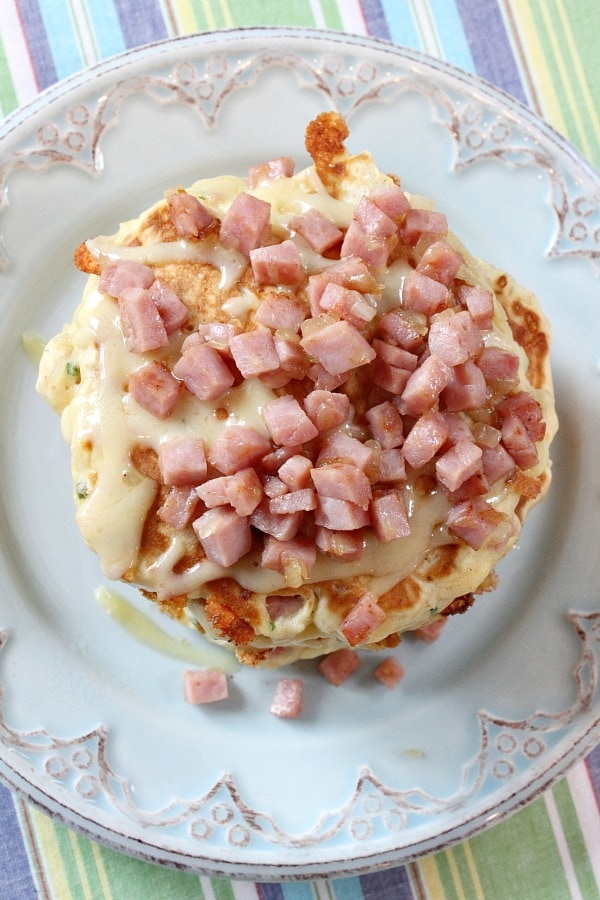 I topped it all off with a little more ham and cheese…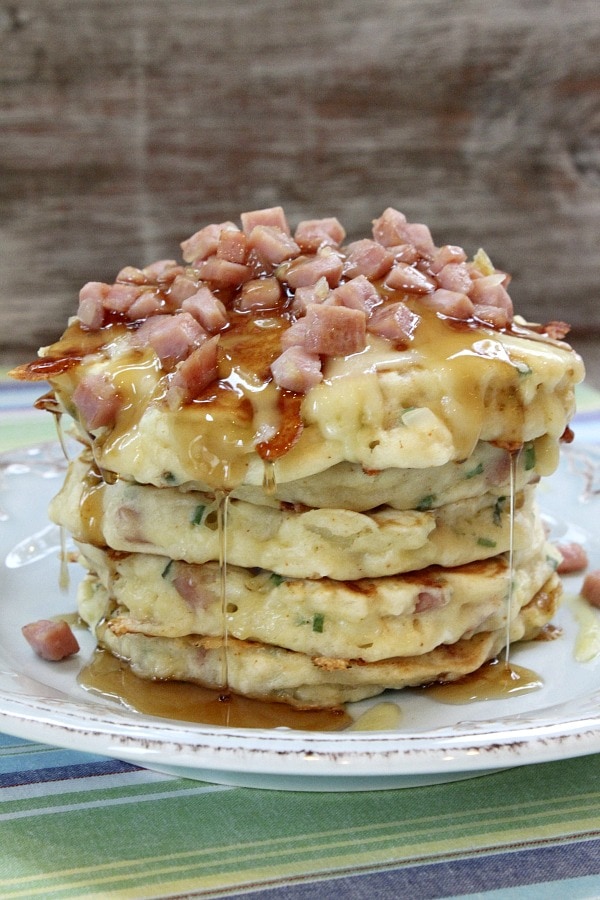 …before dousing it all with warm maple syrup.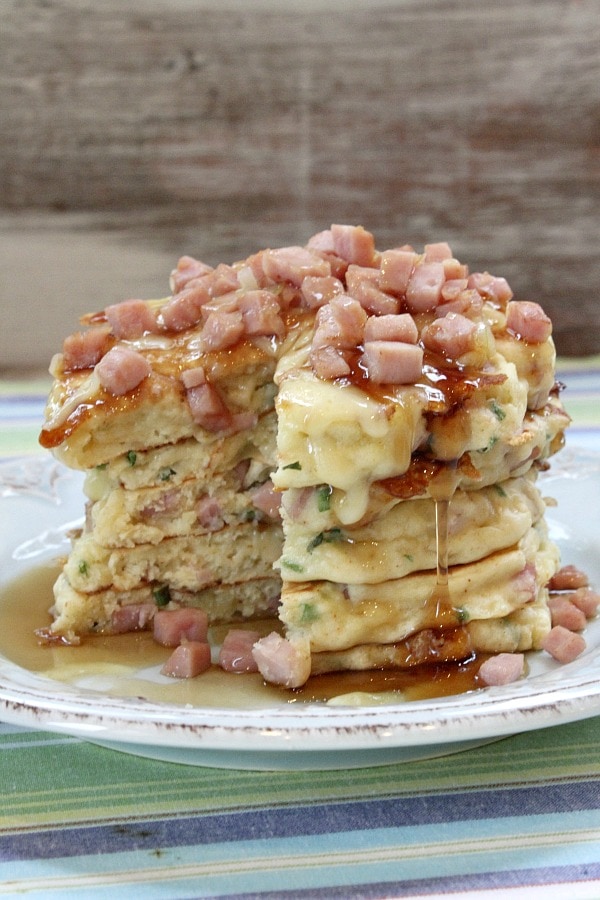 And then, we ate it.  And we actually DID eat it for breakfast, but it's nice as a Breakfast-for-Dinner option too.  Feedback from my family:  My husband, "It's different.  It's good!"  My kiddo:  "It's cool.  I can taste the cayenne pepper so be sure to let parents know not to put in too much of that."  Me: "More Swiss cheese please!  Yum!"
Ham and Swiss Griddle Cakes
Yield:
Six 4-inch griddle cakes
Prep Time: 25 min
Cook Time: 20 min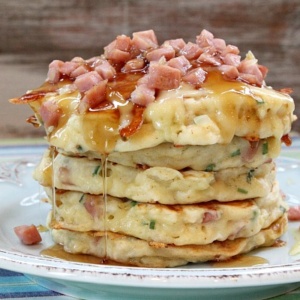 Ingredients:

1 cup finely chopped ham
1/3 cup finely chopped sweet onion
1 cup All Purpose Gold Medal® Flour
1 heaping tablespoon chopped chives
1 teaspoon baking powder
1/2 teaspoon salt
1/8 teaspoon cayenne pepper
2/3 cup milk
1 large egg, beaten
1 tablespoon canola or vegetable oil
3/4 cup + shredded Swiss cheese
warm maple syrup, for serving

Instructions:

1. In a medium skillet, cook the ham pieces until they begin to brown. Add the onion and continue to cook until the ham has browned slightly and the onion is softened. Scoop out a heaping tablespoonful of the ham mixture for topping the griddle cakes upon serving- set it aside.

2. While the ham is cooking, whisk together the flour, chives, baking powder, salt, and pepper in a medium bowl. Stir in the milk, egg, and oil just until combined. Stir in the ham/onion mixture and 3/4 cup cheese. The mixture will be thick and lumpy. You can add another tablespoon of milk if it seems too thick.

3. Heat a griddle or large skillet and spray with nonstick spray. Pour a heaping 1/4-cup of the batter onto the griddle and cook until it is golden brown- 3 to 4 minutes, the flip for an additional 2 to 3 minutes on the other side. Repeat with the remaining batter.

4. Serve stacks of 2 or 3 topped with an additional sprinkle of Swiss cheese (optional) and warm maple syrup.
More Ham and Swiss themed recipes on these fabulous food blogs:
Hot and Melty Oven- Baked Swiss Sandwiches by Buns in My Oven
Ham, Swiss, Avocado and Spinach Panini by Sarah's Cucina Bella
Ham and Cheese Puff Pastry Pie by Joy the Baker 
Ham and Asparagus Quiche by Weelicious 
Hot Ham and Cheese Rosemary Bread by Food For My Family