This Ham and Bean Skillet Spaghetti is a delicious, one skillet spaghetti dinner that the whole family will love!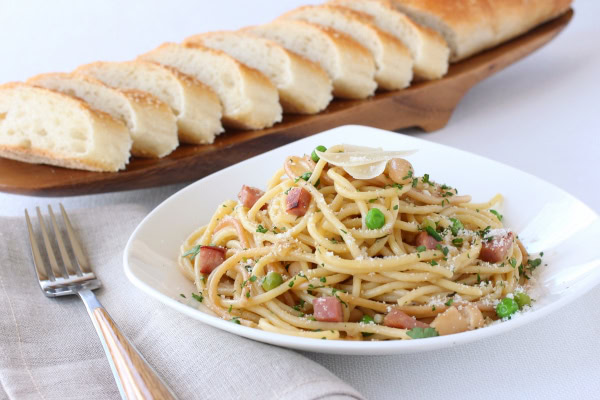 One of my favorite soup recipes to make is pasta fagioli. I love the flavors of the salty ham and the creamy white beans together with the pasta and broth. Perfect for dipping big hunks of bread into and eating by the bowlful. But the way I like to make pasta fagioli does take a little bit of time.
So take those same flavors and turn it into a one-skillet dinner that's done in just about 30 minutes – I'm all in for that on a weeknight for a quick meal.

Let's get started so you can see how fast this goes…
Brown the ham in a skillet with olive oil, then add in a diced onion and garlic. Push the ham over to one side of the pan and drop in the pasta, it's a little crazy at first when you're tossing the pasta around, a few pieces might go flying but just stick with it a minute so the spaghetti gets toasted.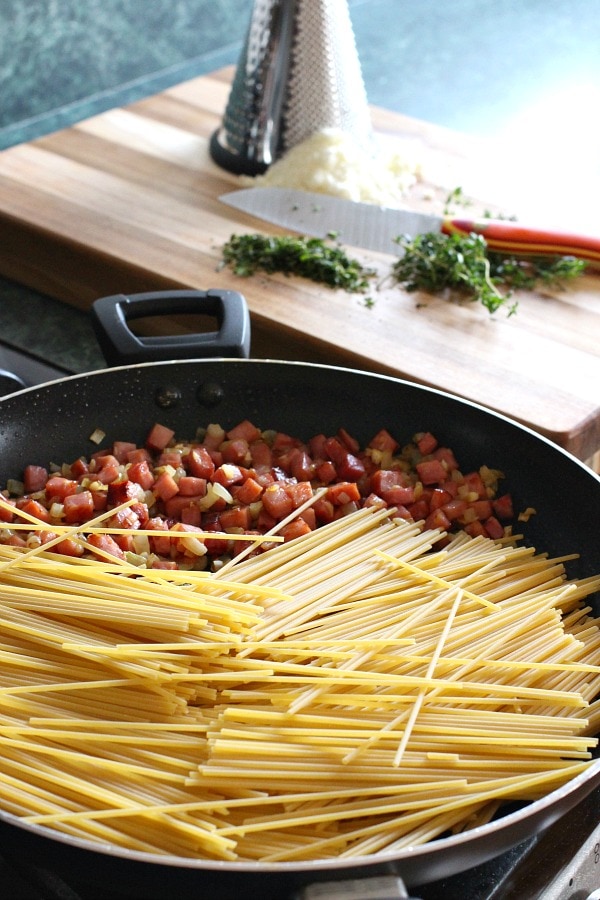 Pour in white wine to delegaze the pan…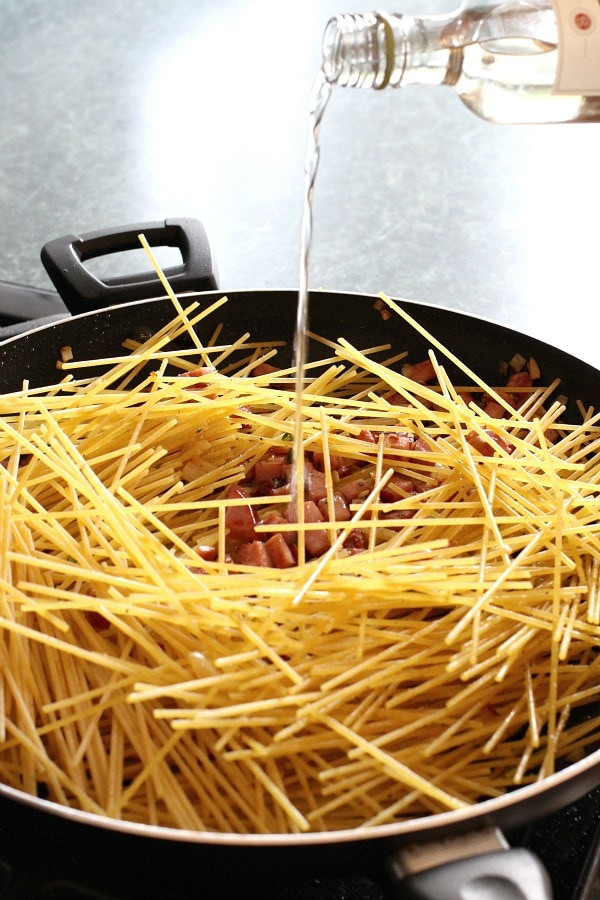 … then add a few cups of chicken broth, stir and cover the pan with a lid. This will cook for 10 minutes, then you're going to add in white beans, peas, and parmesan cheese. Cover and cook just 10 minutes more minutes and dinner is served.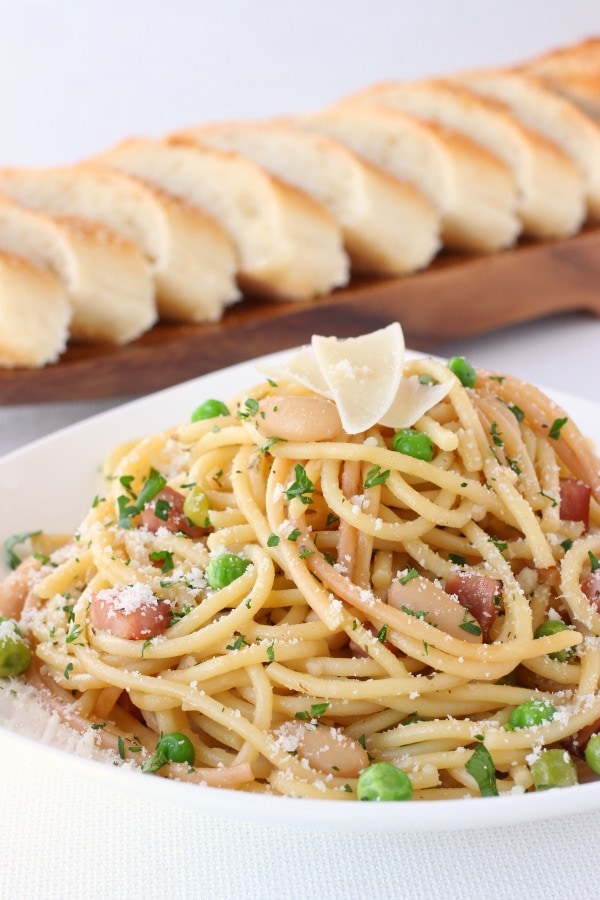 The flavor of this Ham and Bean Skillet Spaghetti can not be beat. And just like my pasta fagioli, I also like to dive in to this spaghetti with a few big hunks of bread!
Ham and Bean Skillet Spaghetti
Yield:
Serves 6
Prep Time: 15 minuets
Cook Time: 25 minuets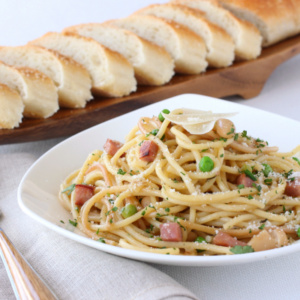 Ingredients:

I tablespoon olive oil
1/2 pound ham, diced
1/2 cup diced onion
3 garlic cloves, minced
1/2 teaspoon salt
1/4 teaspoon fresh ground black pepper
1 pound spaghetti
1 cup dry white wine
4 cups chicken broth
One 15-ounce can white cannellini beans, drained and rinsed
1 1/2 cups frozen peas, defrosted
1/2 cup grated Parmesan cheese
1 tablespoon fresh thyme, chopped
1/4 cup chopped parsley

Instructions:

Heat the olive oil in a large skillet over medium-high heat.
Add the ham and cook for 3 to 4 minutes, stirring often, until browned.
Add the onion, garlic, salt and pepper and cook for another 3 to 4 minutes or until the onion has softened.
Push the ham/onion mixture off to one side of the skillet and then add the spaghetti, breaking it in half while you add it to the skillet.
Using tongs, toss the pasta carefully until it's toasted for about 5 minutes, then add the wine to deglaze the pan.
Pour in the chicken broth and toss the pasta again combining it with the ham then cover and simmer for 10 minutes over medium heat.
Next stir in the beans, peas, Parmesan and thyme; cover and cook for 10 minutes more.
Stir the pasta once more so that all ingredient are mixed together.
Sprinkle in more Parmesan (if desired), and garnish with parsley.
SOURCE:  RecipeGirl.com
Here are a few more pasta recipes you might enjoy!