This is a recipe the whole family will enjoy:  Easy Skillet Lasagna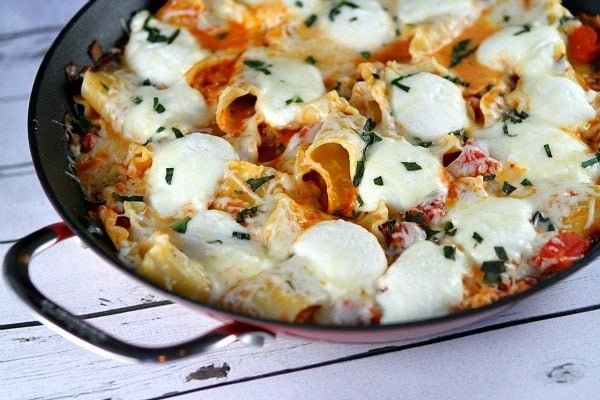 There are three really great things about this recipe:
1.  It's a lighter version of the classic lasagna recipe.
2.  It's made in one skillet (though you do need to cook the lasagna noodles first).
3.  There's nothing weird in it, so your family will absolutely love it (at least mine did!)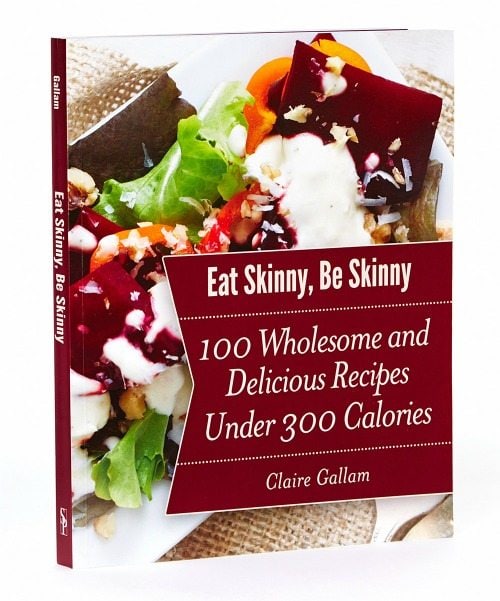 I've already made three recipes from this cookbook, and they were all big successes… so I think that makes this a must-have cookbook, right?  Because I'm kind of a sucker for light/diet/low fat/Weight Watcher cookbook (basically any kind of cookbook that makes me feel like I'm losing weight), I tend to pick them up often, and I have quite a collection living on my ever-expanding cookbook shelves.  This book:   Eat Skinny, Be Skinny:  100 Wholesome and Delicious Recipes Under 300 Calories by Claire Gallum is one that I keep reaching for again and again.  On my list to try:  Oatmeal- Rum Raisin Pancakes, BLT Stuffed Mushrooms, Stuffed Jalapeno and Cheese Soup, White Wine Slushies, Cajun Fish Tacos, and Boozy Apple Pies.  There is nutritional information included for each recipe.  I love that!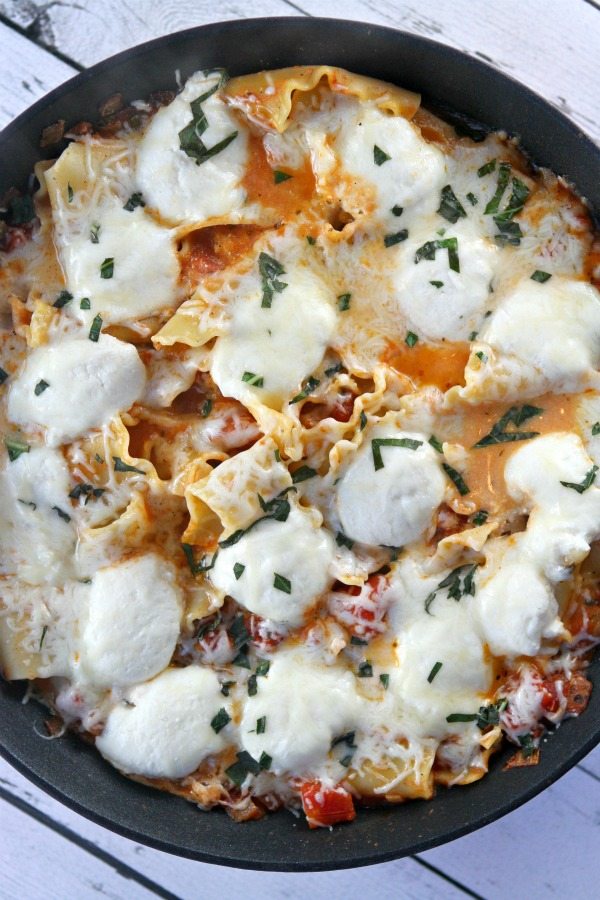 This recipe for Skillet Lasagna was so easy to make.  I may have sneaked some extra cheese in there (yep, cheese addict here!)  And since I made this about an hour before dinner, I swirled in a cup of water, popped a lid on top, and let it slow bake in the oven at 200 degrees for one hour.  It was perfect.  Best dinner we've had in a long time (says my family).
Easy Skillet Lasagna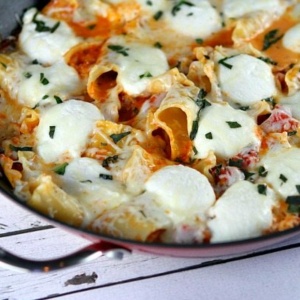 Yield:
5 servings (1 cup per serving)
Prep Time:25 minutes
Cook Time:15 minutes
Ingredients:
1 1/2 tablespoons extra-virgin olive oil
1 large onion, chopped
1 cup chopped mushrooms
2 garlic cloves, minced
2 (14.5-ounce) cans Italian diced tomatoes, drained
1/4 cup tomato sauce
3 large basil leaves, chopped
1/4 teaspoon black pepper
1 teaspoon sea salt
1/2 cup part-skim ricotta cheese
1/2 cup part-skim mozzarella cheese
3 tablespoons Parmesan cheese
About 6-ounces lasagna noodles, broken into thirds and fully cooked
2 tablespoons parsley (dried or fresh)
Directions:
Heat oil in a large nonstick skillet over medium-high heat. Add onions and cook until softened, about 4 minutes. Add garlic and mushrooms and cook until garlic is fragrant, about one minute. Add in diced tomatoes, tomato sauce, basil, salt and pepper. Cook mixture until it thickens up a bit, around 5 minutes.
Add noodles to the skillet and stir into the mixture well. Add scoops of ricotta cheese over the noodles; add in mozzarella and Parmesan. Stir in parsley. Cook about 2 more minutes, or until mixture has thickened.
Serve immediately with additional basil or parsley.
Nutrition:
Nutritional Information per serving (Serving size:

1 cup): 

Calories: 301

, 

Fat: 11

g, 

Sat Fat: 5g, Fiber: 3

g, 

Sugar: 4g, Sodium 821mg, Potassium 344mg, Protein:

15g, 

Carbohydrates: 34

g

Weight Watchers POINTS:  Freestyle SmartPoints: 7, Smart Points: 7, Points Plus:

7, 

Old Points Program:

5
Her are a few more skillet dinners you might enjoy:
Disclosure:  There are Amazon affiliate links included within this post.