Here's a quick and easy, family-friendly dinner recipe, and it's all made in just one pan:  Skillet Pasta Carbonara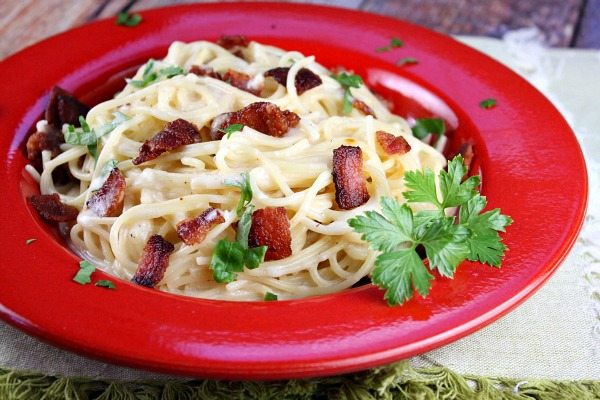 If I were a skinny little thing who never had to worry about expanding thighs or declining health due to my choice of food intake, I'd eat carbonara every single night for dinner.  Yep, I love it that much.  When I sit down in an Italian restaurant to browse the menu… I usually opt for the chicken piccata or the veal marsala, thinking that a higher protein option is somehow the better choice.  But it's the carbonara that I secretly have my eye on.  Thankfully, my husband is a big fan of pasta carbonara too, so if he orders it then I get a tasting bonus!  I love to make carbonara at home since I know there aren't ridiculous amounts of fat being added to the mix.  This recipe is just that- much lighter on the cream.  But it's still just as good!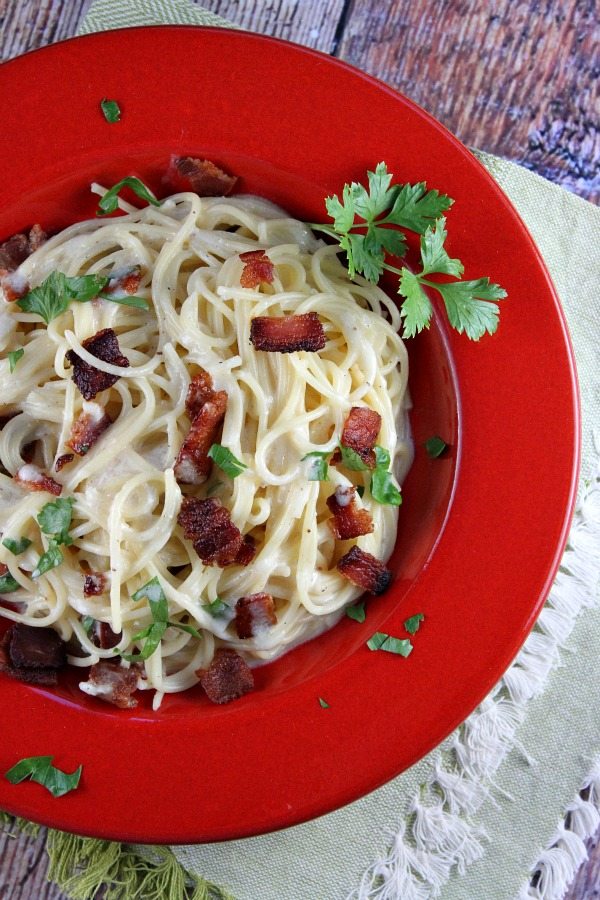 I must admit that pretty much the best part of this much-loved pasta dish is the bacon.  I love the sauce it's tossed in, but the bacon tops it all off and turns it into a 5-star dinner.  My family loved this recipe, so I'm going to dub it as "family-friendly" too.  This recipe comes from a cookbook called, The Best 30-Minute Recipe (Cooks Illustrated).  It's a cookbook I reach for quite often when I'm looking for something new and easy-to-make for dinner.
Skillet Pasta Carbonara
Yield:
4 servings
Prep Time: 30 min
Cook Time: 25 min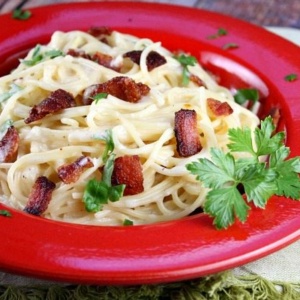 Ingredients:

6 slices bacon, cut into 1/2-inch pieces
5 garlic cloves, minced
salt and freshly ground black pepper
3/4 cup dry white wine
3 cups water
3 cups low-sodium chicken broth
12 ounces thin spaghetti (aka spaghettini), broken in half
1/3 cup heavy cream
2 large eggs
2/3 cup grated Romano or Parmesan cheese

Instructions:

1. Cook the bacon in a large skillet over medium-high heat until crispy, 6 to 8 minutes. Transfer the bacon to a paper towel-lined plate to drain. Spoon off and discard all bacon fat from the pan except for 1 tablespoon.

2. Add garlic and 1/2 teaspoon pepper to the skillet and saute for 30 seconds. Add wine to the skillet and simmer until almost evaporated, about 2 minutes.

3. Stir water, broth and pasta into the skillet. Increase heat to high and cook, stirring often, until the pasta is tender and the liquid has thickened slightly (15 to 18 minutes). Remove the skillet from heat. Meanwhile, whisk cream, eggs and cheese together in a small bowl. Mix the liquid slowly into the pasta and toss to combine. Add the bacon and season with salt and pepper, to taste. Serve immediately.
More one-pan dinners you might enjoy:
One Pot Paprika Chicken Thighs by Reluctant Entertainer
One Pot Coconut- Chickpea Curry by RecipeGirl
Tortellini Skillet Lasagna by Lemons for Lulu
Skillet Baked Ziti by RecipeGirl
Easy Italian Chicken Skillet by Gimme Some Oven
Disclosure:  There are Amazon affiliate links included within this post.