Here's an easy, family friendly dinner made in one pot:  Applewood Smoked Bacon Pork and Rice Skillet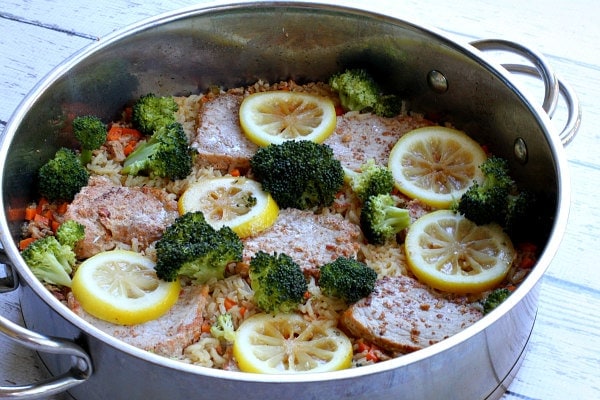 If there is one thing I need during the week, it's EASY dinner ideas.  I always ask my family, "Hey Guys!  What do you think you'd like for dinner?"  My question is often met with crickets.  My guys do not like to give me ideas, and that drives me absolutely crazy!!  Weeknights are perfect for quick and easy dinner recipes.  I usually save the more elaborate meals for weekends.  This pork and rice skillet dinner fits the description of quick and easy.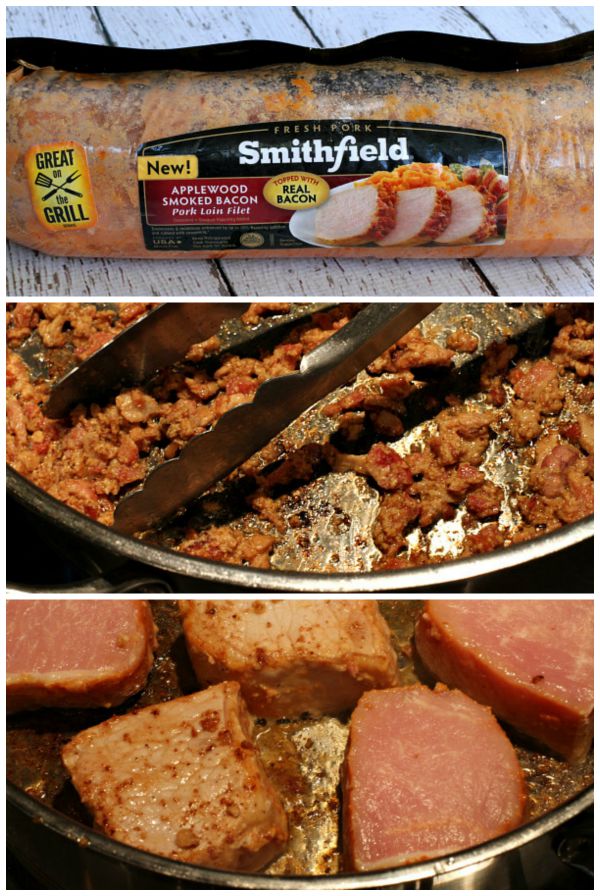 The pork used for the recipe is from Smithfield's line of already-marinated pork.  I used the Applewood Smoked Bacon Pork Loin Filet for my recipe- it's 100% fresh pork slow marinated with Applewood Smoked Bacon.  I love that it comes pre-marinated… it saves me time in the kitchen when I'm crazy busy assembling dinner! You'll be able to locate Smithfield's already-marinated pork tenderloin, loin filet and pork sirloin at your market.
The recipe begins by sauteing the bacon bits from the marinade.  Then the pork is seared in the bacon drippings and set aside for a moment.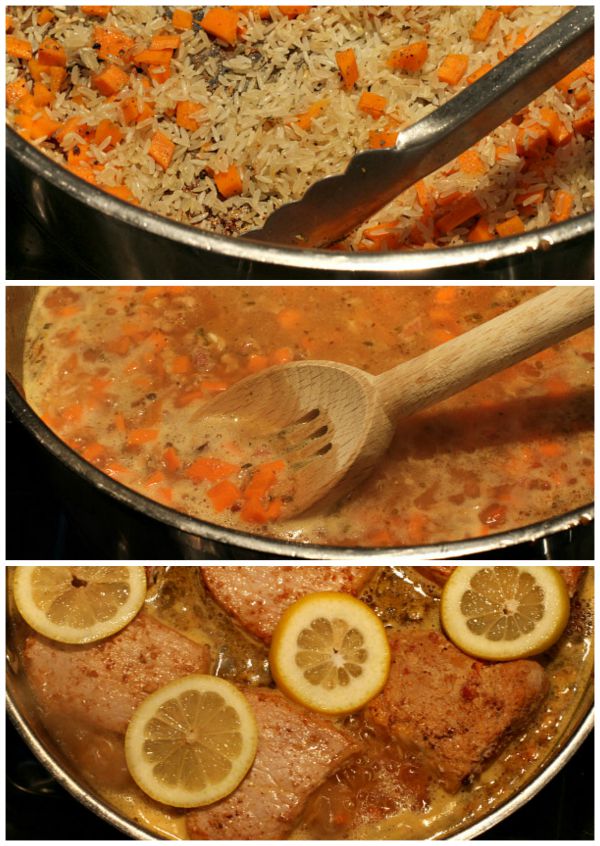 Rice, carrots, seasoning and chicken broth are added to the pan along with the bacon.  The pork is added back in with some lemon slices, the lid is placed on top, and the dinner cooks for about 15 minutes.  Pop some broccoli into the pan and cook for 5 more minutes, and dinner is done!  See how easy this is?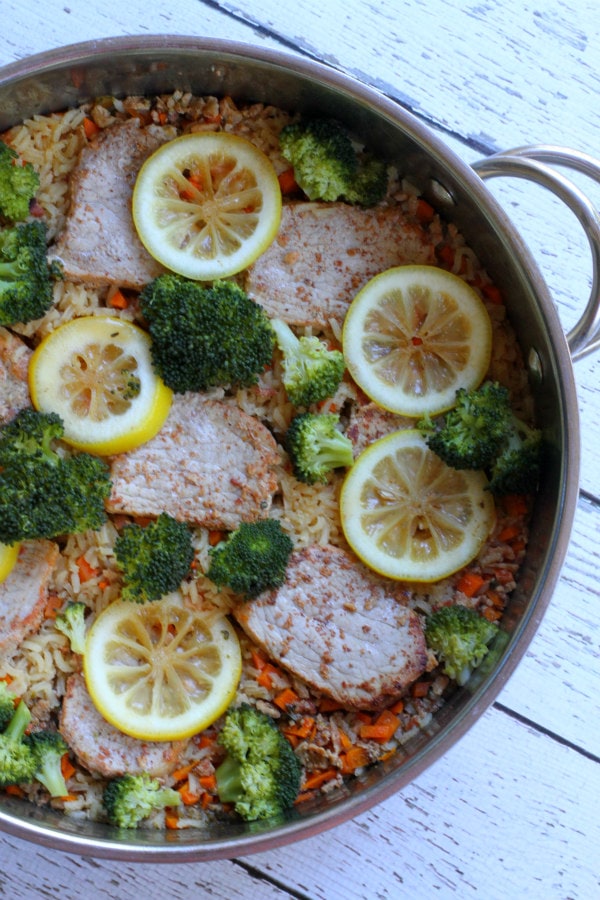 The dish turns out looking quite beautiful.  A little bit of lemon juice is sucked out of the lemon slices by the heat and added into the rice mixture.  The broccoli florets are steamed lightly, and the pork stays tender being cooked in the rice mixture.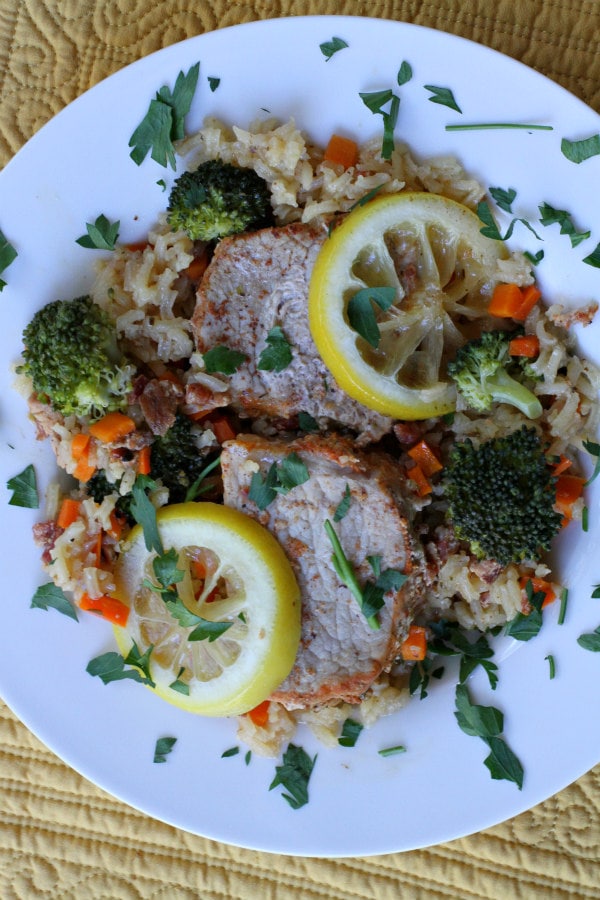 Serve a couple of slices of pork with a couple of scoops of rice and some broccoli.  It's an all-around easy dinner to make that includes your protein, veggie and carbs.  My family gave it the thumbs up.  Enjoy!
Applewood Smoked Bacon Pork and Rice Skillet
Yield:
6 servings
Prep Time: 30 minutes
Cook Time: 30 minutes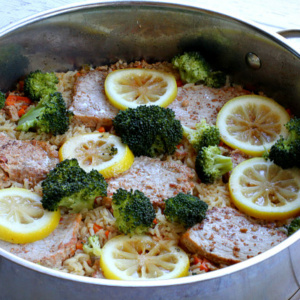 Ingredients:

1/2 tablespoon olive oil
1 Smithfield Applewood Smoked Bacon Pork Loin Filet
1 cup white rice
1 cup diced carrot
2 1/4 cups chicken broth
1 teaspoon Italian seasoning
salt and pepper
1 medium lemon, sliced
1 1/2 cups small broccoli florets
freshly chopped Italian parsley, for garnish (optional)

Instructions:

 Remove the pork from the packaging to a cutting board; reserve the bacon bits and juices.
Heat the oil in a large skillet over medium- high heat.  Add the bacon bits from the package marinade to the pan.  Cook the bacon bits until they are crispy and cooked through.  Spoon the bacon bits into a small bowl and leave any leftover grease in the pan.
Slice the pork loin into 1 1/2-inch pieces.  In the same pan you cooked the bacon, sear the slices of pork for about 1 minute on each side over medium-high heat.  Remove the pork to a plate.
Keep the pan on medium-high heat.  Add rice, carrot and bacon bits to the pan.  Stir a few times and then add in the chicken broth and Italian seasoning.  Stir to combine and bring to a boil.  Place the seared pork slices into the pan.  Top with lemon slices and sprinkle with salt and pepper.  Place a lid on the pan and reduce heat to simmer.  Cook 15 minutes, then add in broccoli florets; cook 5 minutes more.  If the liquid isn't fully absorbed, just remove the pan from heat and let it sit for a few minutes.  Serve pork slices with a scoop of rice.
SOURCE:  RecipeGirl.com
Here are a few more pork and rice recipes you might enjoy:
Disclosure:  This post has been written in partnership with Smithfield to share their line of marinated pork.  This is a product that I know and use in my kitchen.  All opinions shared are my own.