These Creamy Parmesan Noodles with Ham will be the easiest thing you can make with your left over ham!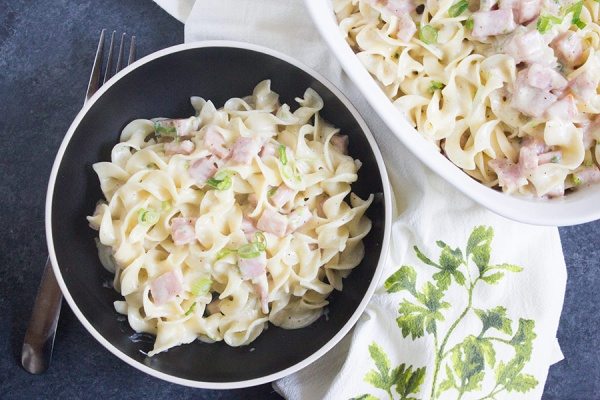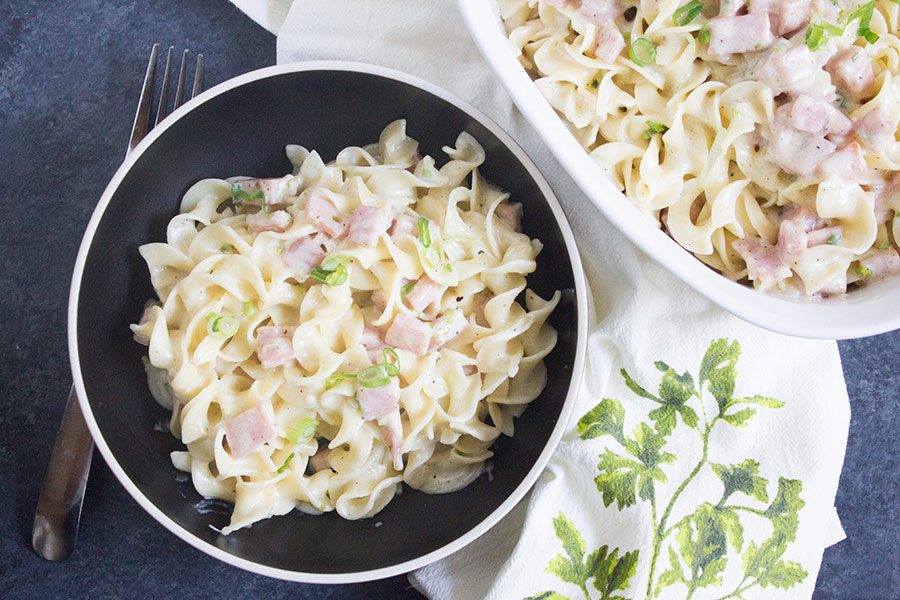 It takes only 10 minutes to make and the whole family will love it. As I'm typing this, my 5 year old and my 2 year old are devouring a bowl of these ham and parmesan noodles! (Even with the green onions!)  It is the perfect family-friendly meal.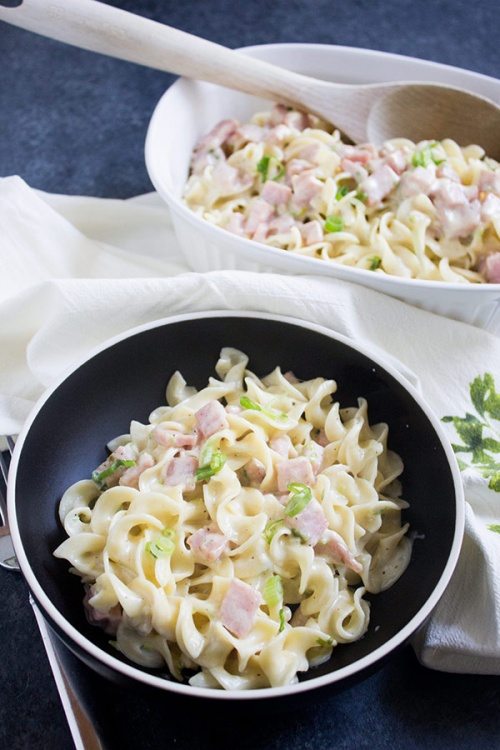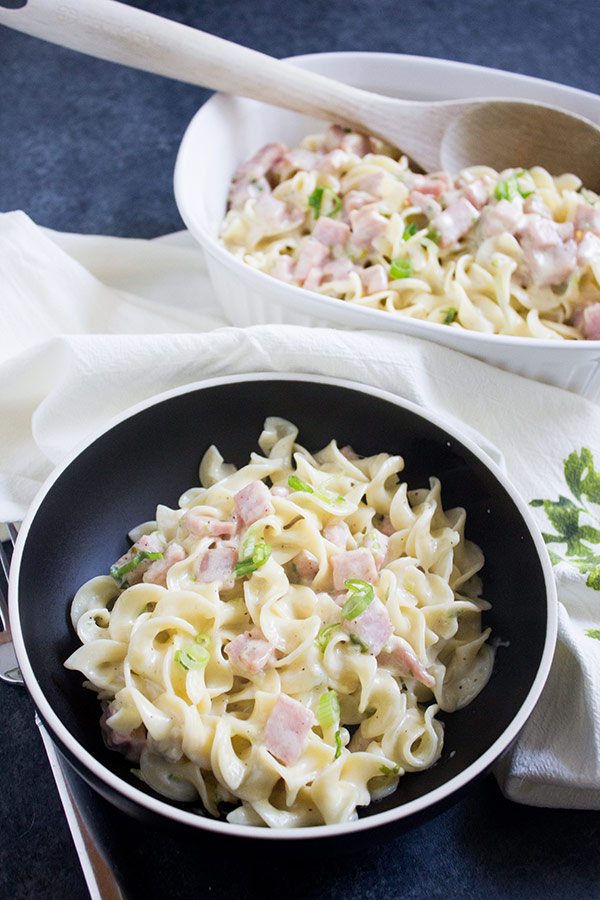 After Christmas, we always have so much leftover ham and I am always trying to come up with ways to use it in our meals and not waste it. This creamy ham casserole is a favorite; partly because it tastes so good and partly because it's so quick and easy to make.
Who wants to be slaving in the kitchen after you've been a cooking maniac through the holidays?! Not me! I love that I don't even need to turn on the oven for this recipe. The entire dish is ready in the time that it takes to cook the noodles.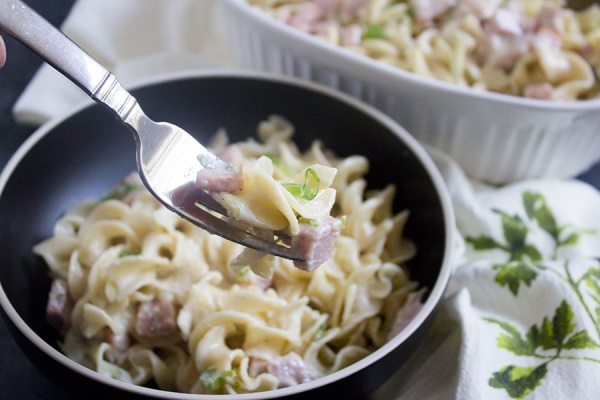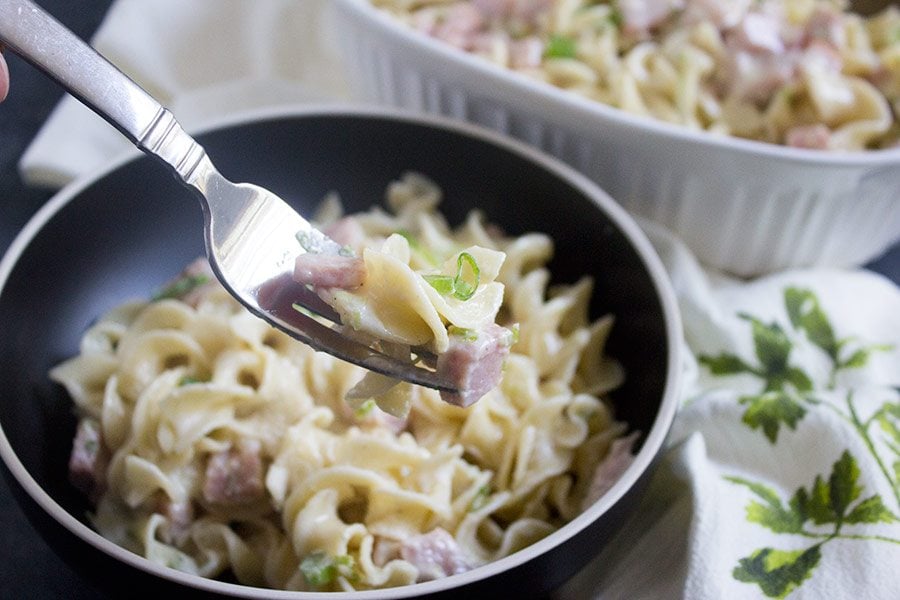 You can also make this all year with just a simple ham steak. I like to buy them when they are on sale, throw them in my freezer and just take one out in the morning to thaw. By dinner time, it's ready to go and you'll have a delicious meal on the table in 10 minutes!
The easiest way to make this is to set your pot of water to boil and chop the ham and green onions while you are waiting for the water to boil. Then once you dump in the noodles, you can cook the skillet ingredients while the noodles boil. That's it!
With just a few simple ingredients, you can turn your leftover ham or a simple ham steak into a delicious, creamy noodle dish that your entire family will love. I know this will easily become a meal that your family asks for over and over again like mine does!
Creamy Parmesan Noodles with Ham
Yield:
4 servings
Prep Time: 25 minutes
Cook Time: 10 minutes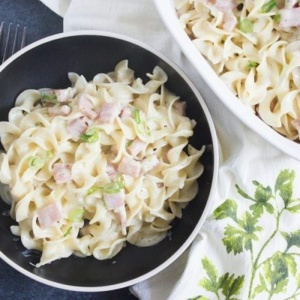 Ingredients:

5 cups uncooked egg noodles
1/4 cup (1/2 stick) butter
1 1/2 cups chopped ham
1/4 cup thinly sliced green onions
1 cup heavy whipping cream
1/2 cup grated parmesan cheese
1/4 teaspoon salt
1/4 teaspoon black pepper

Instructions:

Set a large pot of water to boil.
While you are waiting for the water to boil, chop your ham and  your green onions.
Once the water has started to boil, add in the noodles and cook according to the directions on the package.
While your noodles are boiling, heat a large skillet over medium heat.
Add the butter, ham, and green onions to the skillet and saute until the onions have softened a bit (about 5 minutes).
Add the cream, salt, and pepper to the skillet and bring to a boil for 2 minutes.
Add the parmesan cheese and stir until melted.
Drain the noodles and add them to the skillet with the sauce.
Serve immediately.
SOURCE:  RecipeGirl.com
Here are a few more recipes using ham that you might enjoy: