This recipe has been featured in a post on The Recipe Girl blog: Creamy Pumpkin Pasta with Sweet Italian Sausage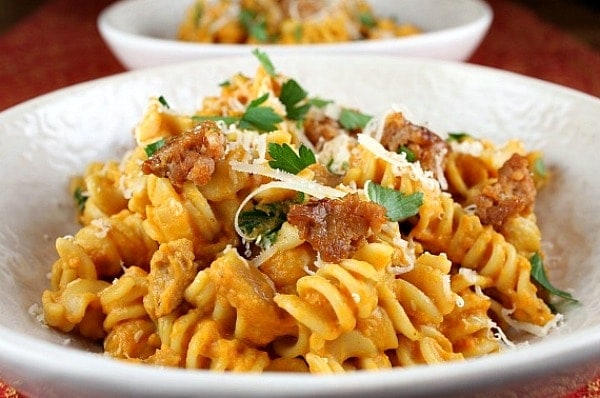 Creamy Pumpkin Pasta w/ Sweet Italian Sausage
Awesome, family-friendly pasta. We always make it with the added cooked sausage. So yummy!
Yield:
6 to 8 servings
Prep Time: 20 min
Cook Time: 25 min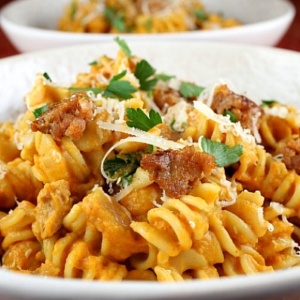 Ingredients:

1 small onion, finely chopped
2 cloves garlic, minced
2 Tablespoons salted butter
2 cups canned pure (unsweetened) pumpkin puree
2 cups canned chicken broth
1/4 cup heavy whipping cream
1/2 cup sour cream
1/2 teaspoon ground nutmeg
1 teaspoon salt
1/4 teaspoon white pepper
2 Tablespoons minced fresh Italian parsley
1/4 cup shredded Romano (or Parmesan) cheese
1 pound penne or rotini pasta
1 pound cooked, crumbled sweet Italian sausage, optional

Instructions:

1. In a large skillet, sauté the onion and garlic in butter, over medium heat, until soft, not brown.

2. Whisk in the pumpkin, broth, broth creams and seasonings to taste.

3. Simmer 10 minutes, stirring occasionally, until slightly thickened.

4. Meanwhile, boil the pasta in salted water until al dente.

5. Drain pasta and stir into pumpkin sauce, simmering 2-3 minutes more until thick.

6. Stir in parsley and garnish with Romano, more parsley and sausage, if desired.

Tips:

*Go heavy on the Romano cheese for a richer taste.