This recipe has been featured in a post on The Recipe Girl blog: Maple- Roasted Pumpkin Salad. This salad is gluten-free adaptable– please see *tips below the recipe…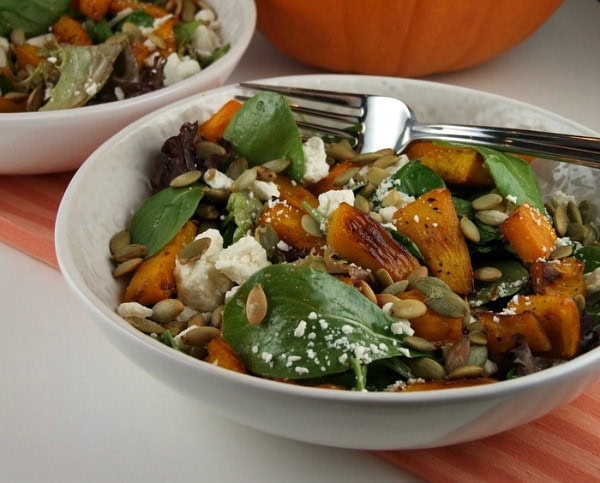 Maple- Roasted Pumpkin Salad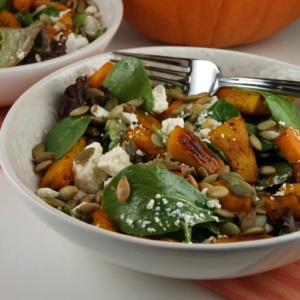 This is a terrific recipe that we found for our Gourmet Club's Autumn Dinner Party. The pumpkin and seeds add a nice surprise flavor to the salad.
Yield:
4 servings
Prep Time: 30 min
Cook Time: 40 min
Ingredients:
1/4 cup pepitas (hulled pumpkin seeds)
One 3 1/2 to 4-pound sugar pumpkin, peeled, seeded and cut into 1 1/2-inch chunks
5 Tablespoons olive oil, divided
6 cloves garlic, unpeeled
1/4 to 1/2 teaspoon red pepper flakes
coarse salt and black pepper
2 Tablespoons + 1 teaspoon pure maple syrup, divided
3 Tablespoons freshly squeezed lime juice
1 Tablespoon Dijon mustard
1 1/2-pounds arugula (2 to 3 bunches, thick stems removed), washed and dried
6 ounces feta cheese
Directions:
1. Preheat oven to 450°F. Spread pepitas on a large rimmed baking sheet; toast in oven, tossing occasionally, until fragrant and beginning to brown, 5 to 7 minutes. Set aside.
2. On a large, rimmed baking sheet, toss pumpkin with 2 Tablespoons oil, garlic, red pepper, salt and black pepper. Roast, tossing occasionally, until pumpkin is tender, 25 to 30 minutes.
3. Remove garlic cloves from sheet pan; set aside. Drizzle pumpkin with 2 Tablespoons maple syrup; toss to coat. Return to oven and continue roasting, tossing occasionally, until pumpkin is glazed, 5 to 10 minutes more; let cool.
4. Meanwhile, cut off root ends of garlic cloves; squeeze out garlic and mash to a paste with the side of a knife. Transfer to a large bowl. Add lime juice, mustard, and remaining maple syrup; season with salt and pepper. Whisking constantly, add remaining oil in a steady stream; set aside.
5. Add arugula and pumpkin and toss to combine. Serve salad sprinkled with toasted pepitas and crumbled feta cheese.
Tips:
*Bags of washed arugula can be found at Trader Joes.
*If you are preparing this recipe as gluten-free, just be sure to use varieties of maple syrup and Dijon mustard that are known to be free of gluten.