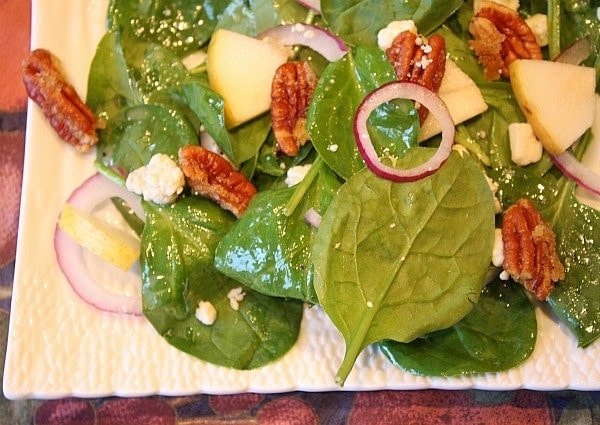 Autumn Salad w/ Maple- Cider Vinaigrette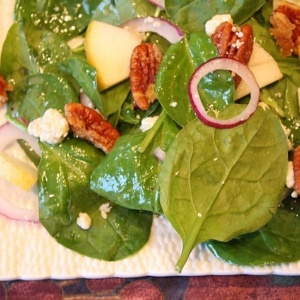 Yield:
8 servings
Prep Time:25 min
Cook Time:10 min
Ingredients:
SUGARED CURRIED NUTS:
6 ounce package walnut or pecan halves
2 Tablespoons butter, melted
3 Tablespoons granulated white sugar
1/4 teaspoon ground ginger
1/8 teaspoon curry powder
1/8 teaspoon kosher salt
1/8 teaspoon ground red pepper
MAPLE-CIDER VINAIGRETTE:
1/3 cup cider vinegar
2 Tablespoons pure maple syrup
1 Tablespoon Dijon mustard
1/4 teaspoon salt
1/4 teaspoon pepper
2/3 cup extra-virgin olive oil
SALAD:
10 ounce bag baby spinach
1 large ripe Barlett pear, cored and thinly sliced
1 small red onion, thinly sliced
4 ounce package crumbled blue cheese
Directions:
1. Prepare nuts: Preheat oven to 350°F. Toss nuts in melted butter. Stir together sugar and remaining ingredients in a medium bowl; sprinkle over nuts, tossing to coat. Spread in a single layer on a nonstick aluminum foil-lined pan. Bake for 10 minutes. Cool in pan on a wire rack; separate walnuts with a fork. Store in an airtight container for up to 1 week.
2. Prepare vinaigrette: Whisk together first 5 ingredients. Gradually whisk in oil until completely blended. Cover and refrigerate up to 3 days.
3. To assemble salad: Combine all of the salad ingredients in a large bowl. Sprinkle in nuts. Drizzle with Vinaigrette, gently tossing to coat.
Tips:
*Make nuts and vinaigrette ahead for an easy-to-put-together salad.