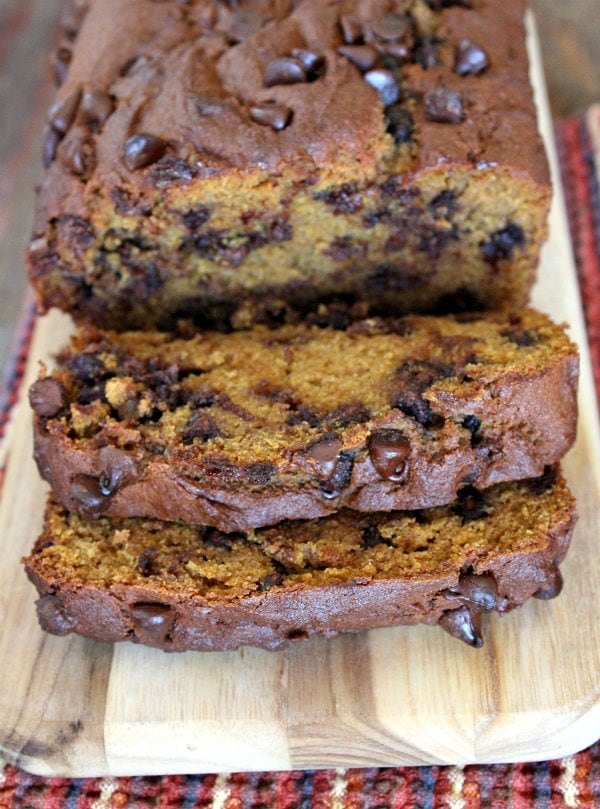 Whole Wheat- Chocolate Chip Pumpkin Bread
Yield:
One loaf
Prep Time: 15 min
Cook Time: 1 hr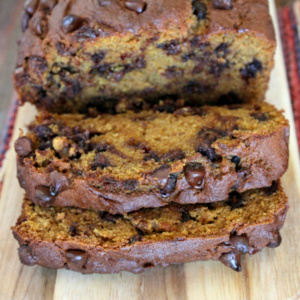 Ingredients:

2 cups whole wheat flour (or white whole wheat)
1 teaspoon baking soda
1/2 teaspoon baking powder
1/2 teaspoon salt
1/2 teaspoon ground cinnamon
1/2 teaspoon ground cloves
1/4 teaspoon ground nutmeg
1/2 cup (1 stick) unsalted butter, softened
1 cup packed light or dark brown sugar
1/4 cup granulated white sugar
3 large eggs
1 teaspoon vanilla extract
1 cup canned pure (unsweetened) pumpkin
1 cup chocolate chips

Instructions:

1. Preheat oven to 350°F. Grease a 9x5-inch loaf pan.

2. Whisk together flour, baking soda, baking powder, salt and spices in a medium bowl.

3. In a large mixing bowl, use an electric mixer to cream butter and sugars in a large mixing bowl until light and fluffy. Beat in eggs, one at a time, scraping sides and bottom of bowl. Beat in vanilla and pumpkin. Add dry ingredients, mixing just until evenly moistened. Stir in chocolate chips (reserve a few to sprinkle on top).

4. Pour batter into prepared pan, and sprinkle a few chocolate chips on top. Bake about 1 hour, or until a toothpick inserted in center comes out clean. Remove bread from the oven and place it on a rack to cool for 15 minutes. After 15 minutes, run a table knife around the edges of the pan to make sure the bread isn't sticking, turn it out of the pan, and place it on the rack to finish cooling completely before slicing
.