Here's a good brownie recipe to make in the fall season > Chocolate Pumpkin Brownies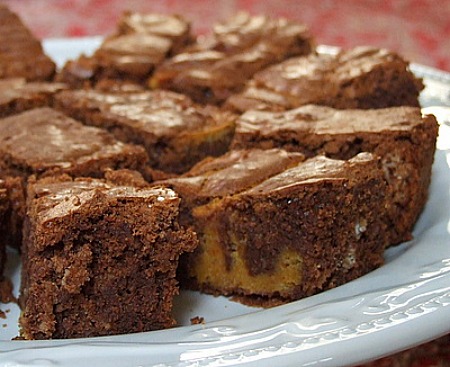 I made these for a fall Happy Hour and they were enjoyed by all. The pumpkin flavor is just a hint within the chocolate. It's not overwhelming or strange.  Chocolate and pumpkin are great together!
Chocolate Pumpkin Brownies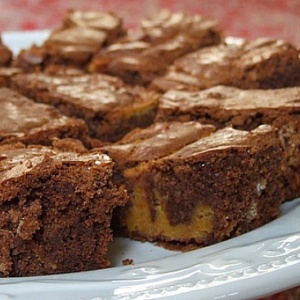 Yield:
24 brownies
Prep Time:30 minutes
Cook Time:35 minutes
Ingredients:
PUMPKIN BATTER:
1 tablespoon unsalted butter, softened
3 ounces cream cheese, softened
1/2 cup granulated white sugar
1 large egg
1/3 cup canned pumpkin puree (unsweetened)
1 teaspoon pure vanilla extract
1/2 teaspoon ground cinnamon
1/2 teaspoon ground ginger
1 tablespoon all-purpose flour
CHOCOLATE BATTER:
5 1/2 ounces best-quality semisweet- chocolate, finely chopped
5 ounces (1 1/4 sticks) unsalted butter, cut into 1-inch pieces
4 large eggs, at room temperature
1 1/2 cups granulated white sugar
1 teaspoon pure vanilla extract
1/4 teaspoon salt
1 1/3 cups all-purpose flour
Directions:
Preheat oven to 350°F. Lightly butter 13x9-inch baking dish.
Prepare pumpkin batter: In a small bowl, using an electric mixer, beat butter with cream cheese until smooth. Beat in sugar, scraping bowl occasionally. Bet in egg, then add pumpkin puree, vanilla, cinnamon and ginger. Stir in flour.
Prepare chocolate batter: Combine semisweet chocolate and butter in a medium bowl. Set bowl over saucepan with 1-inch of simmering water and stir occasionally until melted. Remove from heat. In a separate bowl, combine eggs with sugar, vanilla and salt. Beat at low speed until light and fluffy- about 4 minutes. Using a large rubber spatula, fold in melted chocolate. Sift flour over the batter and fold it in just until combined.
Spread chocolate batter evenly in prepared pan. Using a Tablespoon, drop dollops of the pumpkin batter all over the top. Using the back of a butter knife, swirl the pumpkin batter slightly into the chocolate.
Bake for 30 to 40 minutes (starting checking on brownies at 30 minutes to see if they're done- a toothpick inserted into center should come out clean).
Let the brownies cool completely before cutting.
Tips:
Let eggs sit on counter for 30 minutes to achieve "room temperature" eggs.