Pasta Pomodoro is an easy, classic Italian pasta recipe!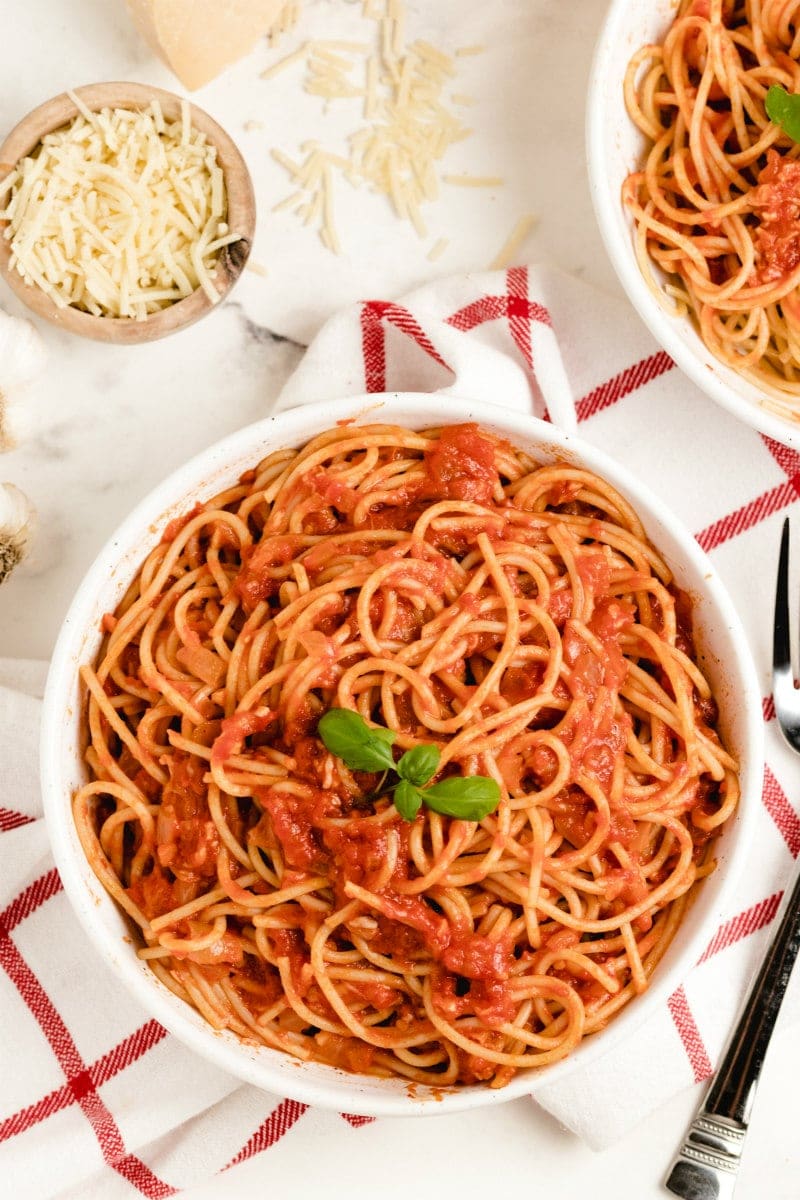 I love this pasta recipe so much because of the silky, delicious sauce that coats the noodles. It's not a plain old spaghetti with red sauce recipe. It's much, much more than that.
I spotted this recipe for Pasta Pomodoro in a Bon Appetit magazine about 10 years back. There was great information in the accompanying article about secrets to making good pasta sauces, so I'm including a lot of those secrets here for you.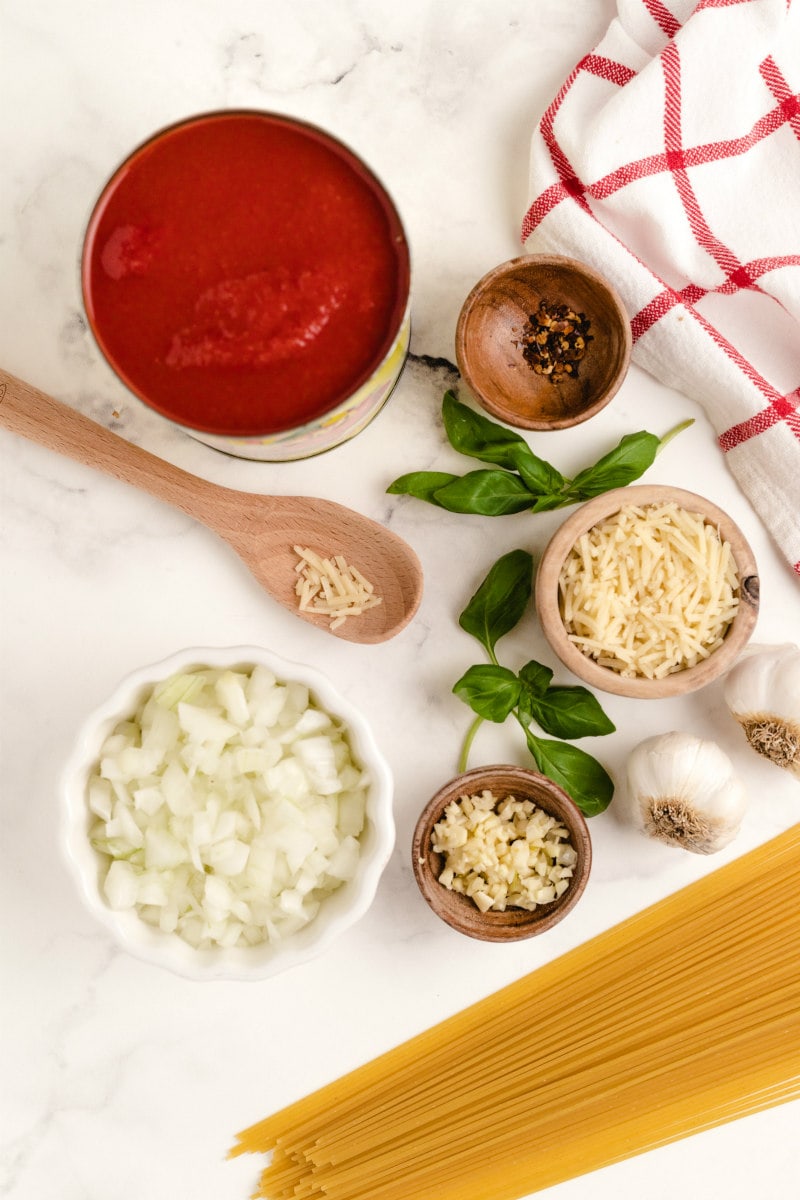 Ingredients needed:
olive oil
onion
garlic
red pepper flakes
canned, peeled whole tomatoes
kosher salt and table salt
fresh basil
spaghetti
butter
Parmesan cheese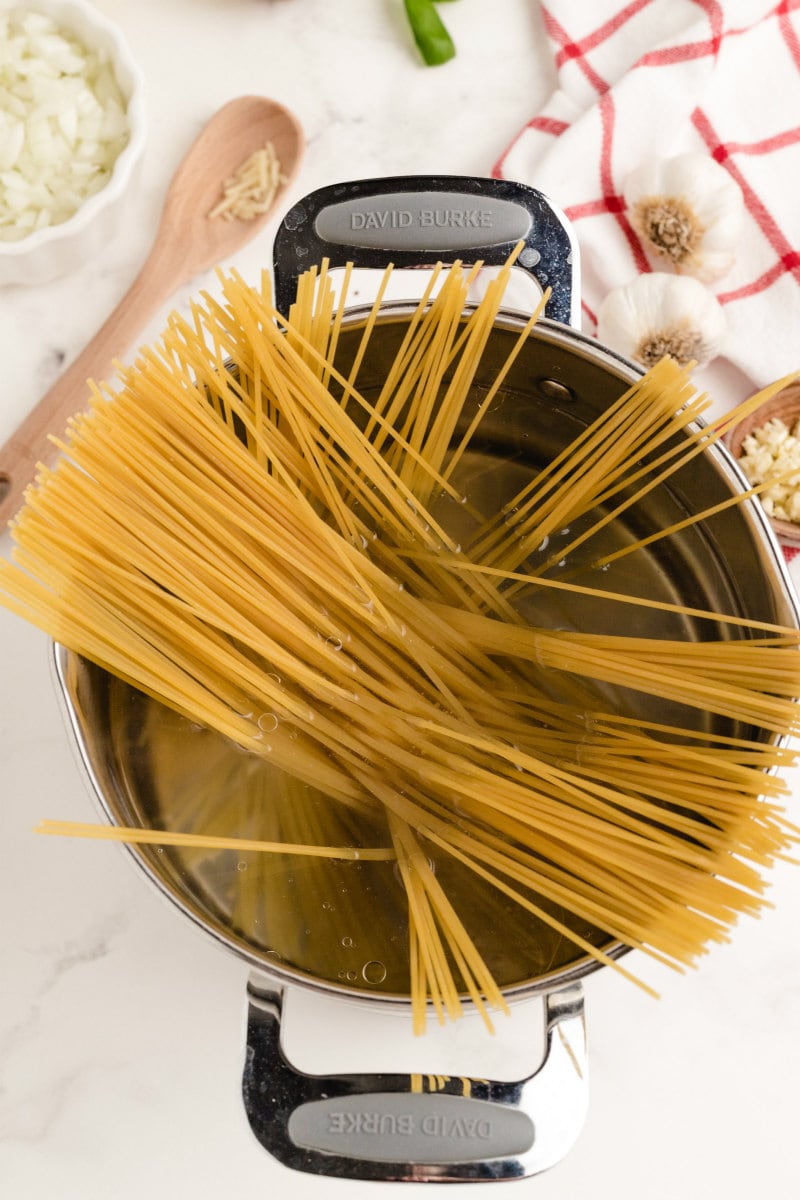 How to make Pasta Pomodoro:
Add a small handful of kosher salt to a pot of boiling water, then drop in the pasta. The noodles absorb water, so you're actually seasoning the interior of an otherwise bland pasta. For this recipe, you'll cook the noodles until they're about 2 minutes from being totally done.
Don't dump the pasta water! Starchy, salty pasta water is the secret ingredient in most sauces. Save 1/2 cup of the pasta water for tossing with the pasta and sauce later in the prep process.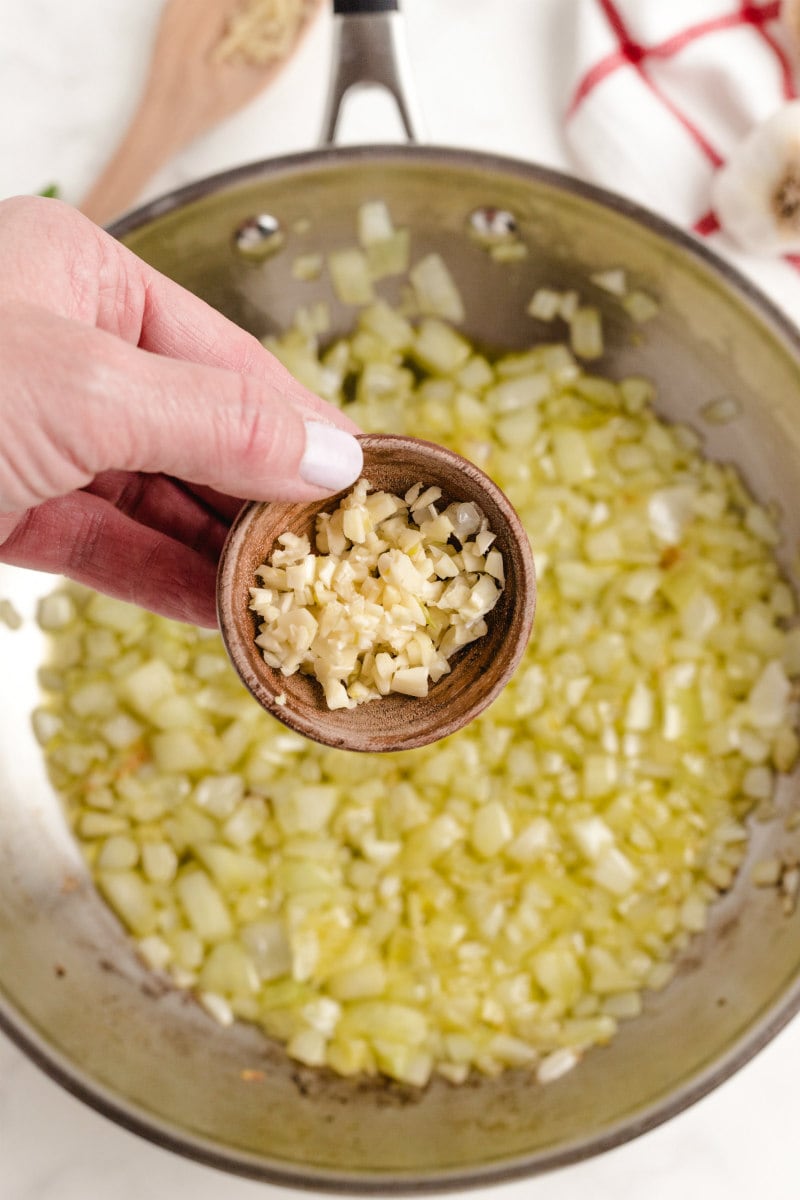 Heat olive oil in a skillet, and then sauté onion and garlic.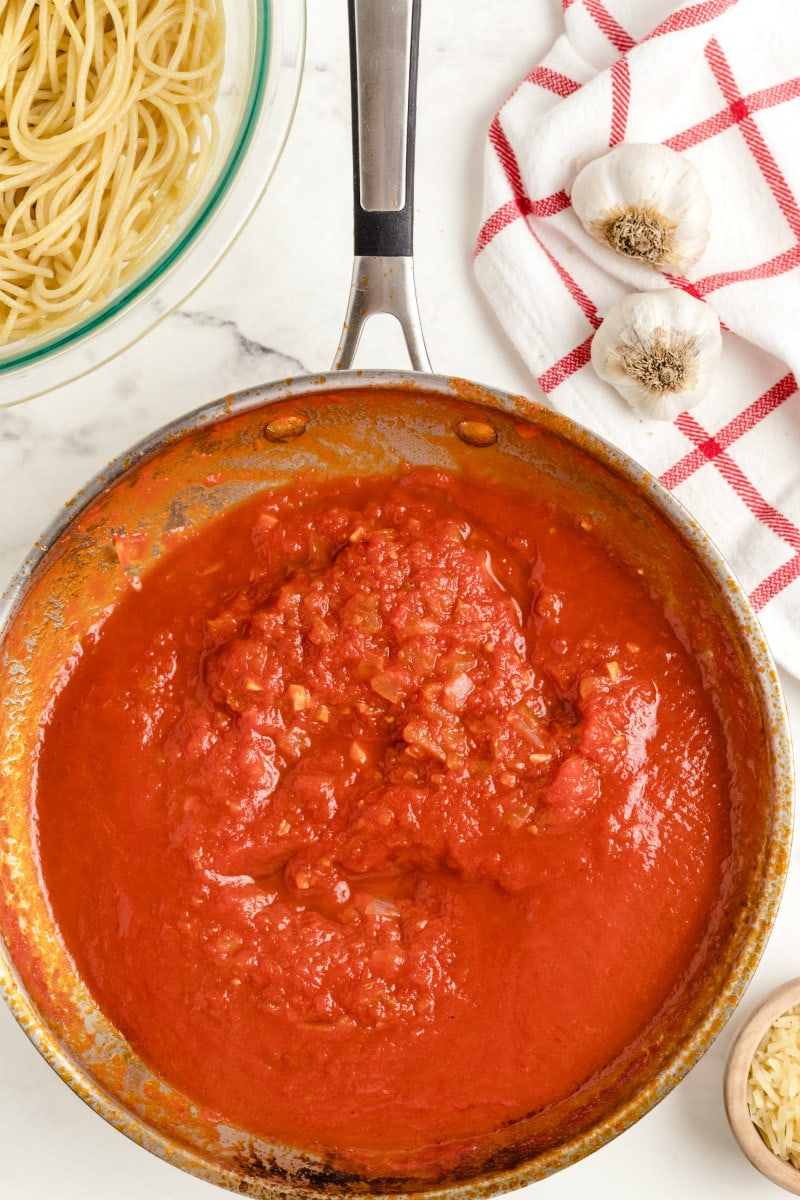 Then you'll add in red pepper flakes, puréed tomatoes, kosher salt and fresh basil.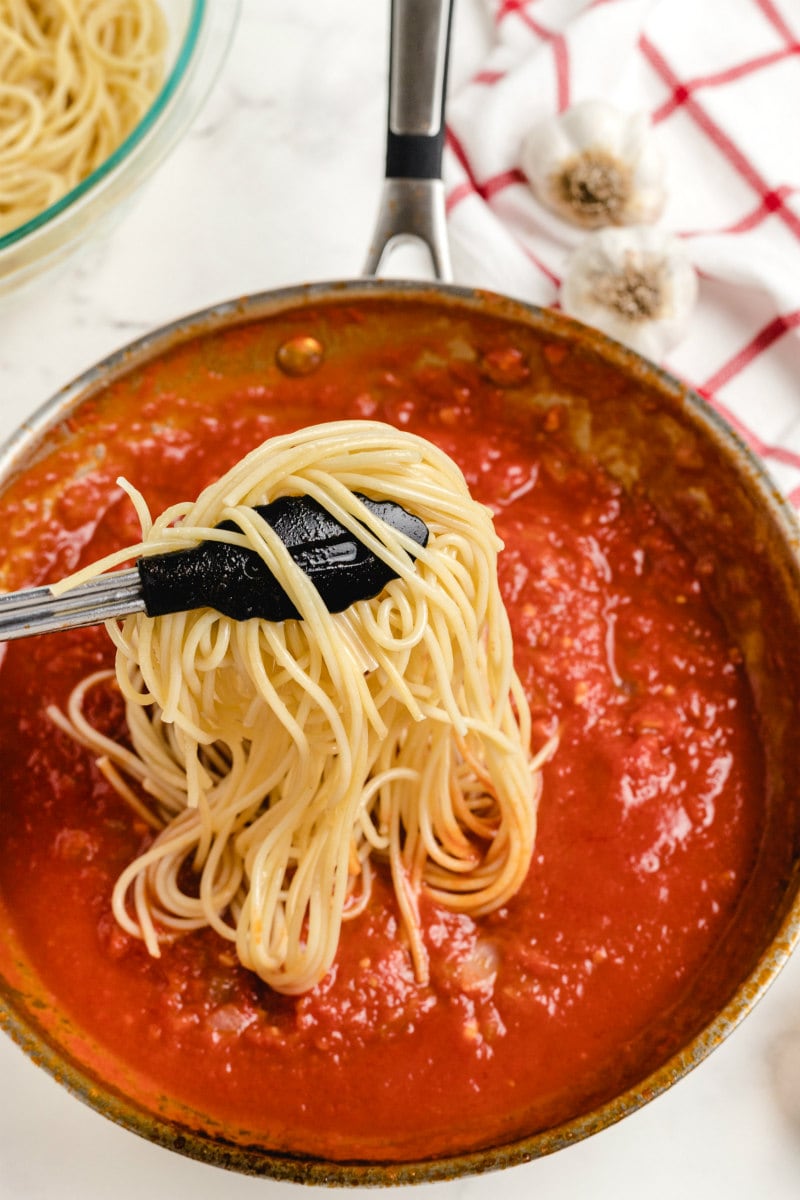 You'll add 1/2 cup of the pasta water to the sauce to loosen it up a bit. Then you'll use tongs to pick up a noodle to test for doneness and then to transfer the noodles from pot to pan and toss the noodles in the sauce. Then you'll cook the noodles in the sauce for about 2 minutes.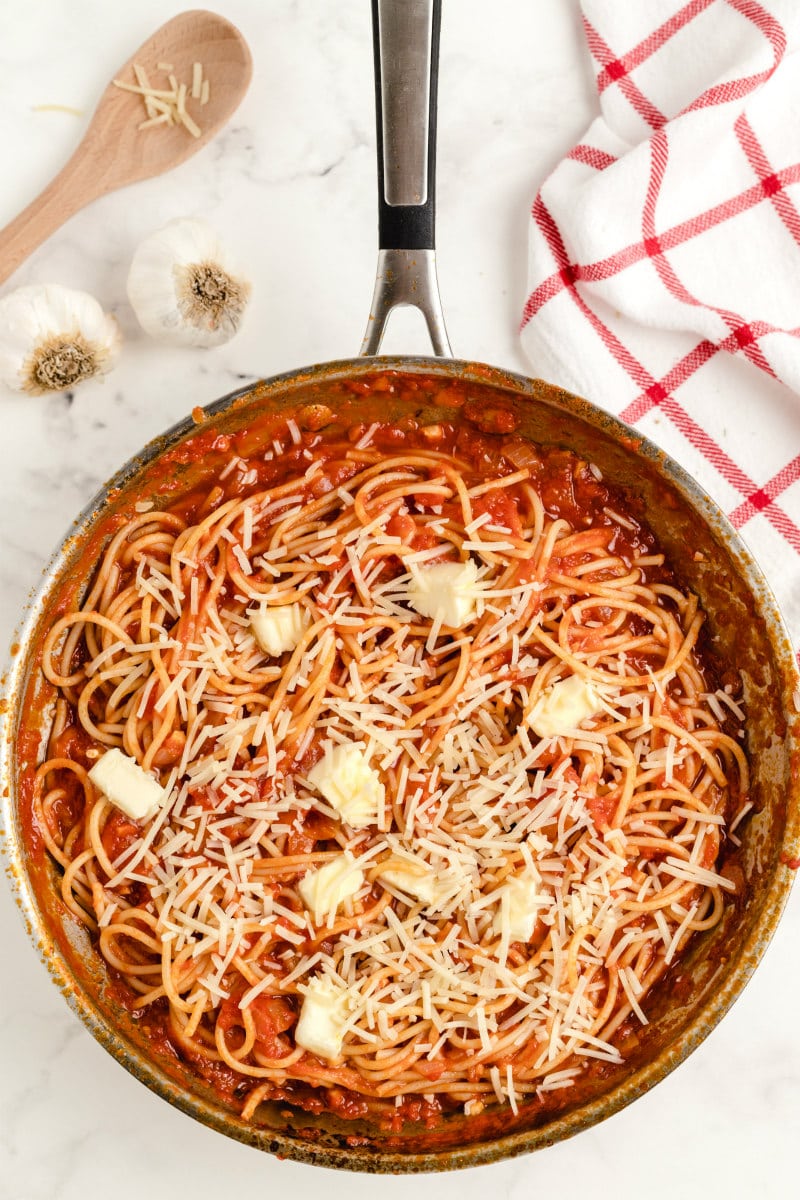 And finally, you'll add some butter and Parmesan cheese to the pan to complete your Pasta Pomodoro.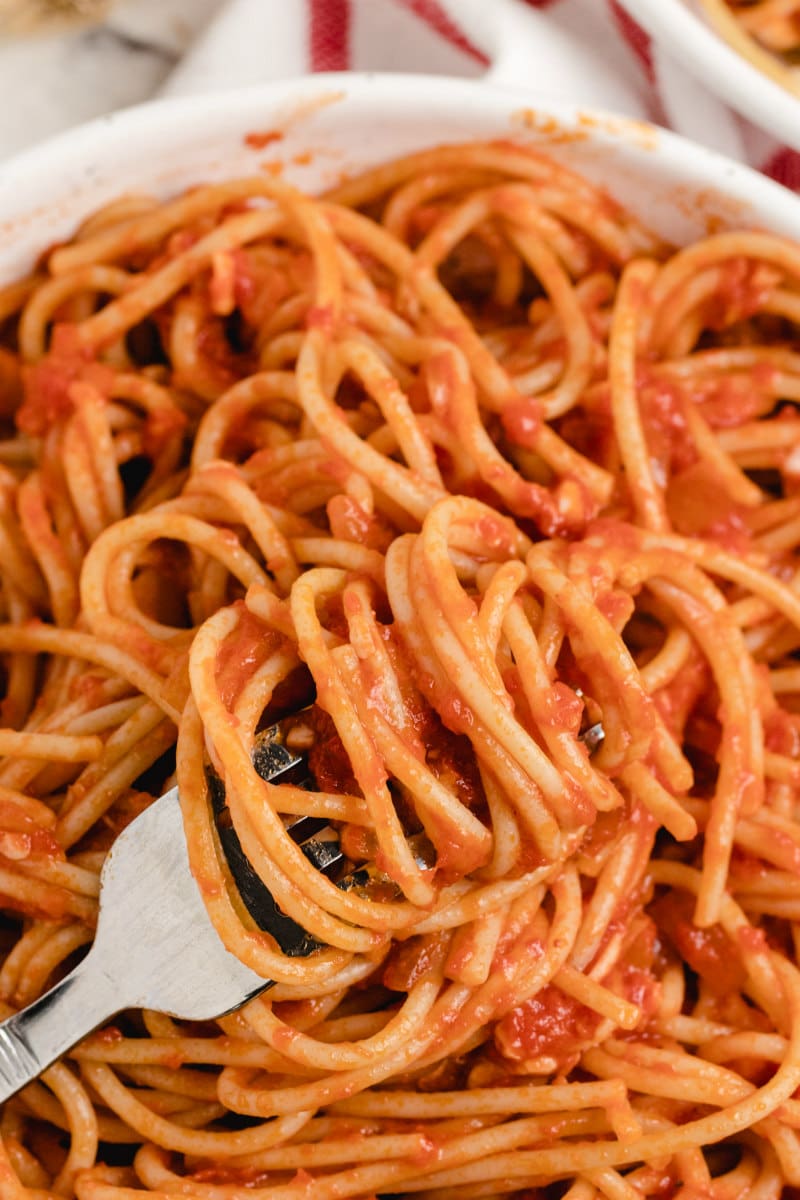 The butter and the cheese will melt into the sauce to create the silky texture that you're looking for. It's delicious!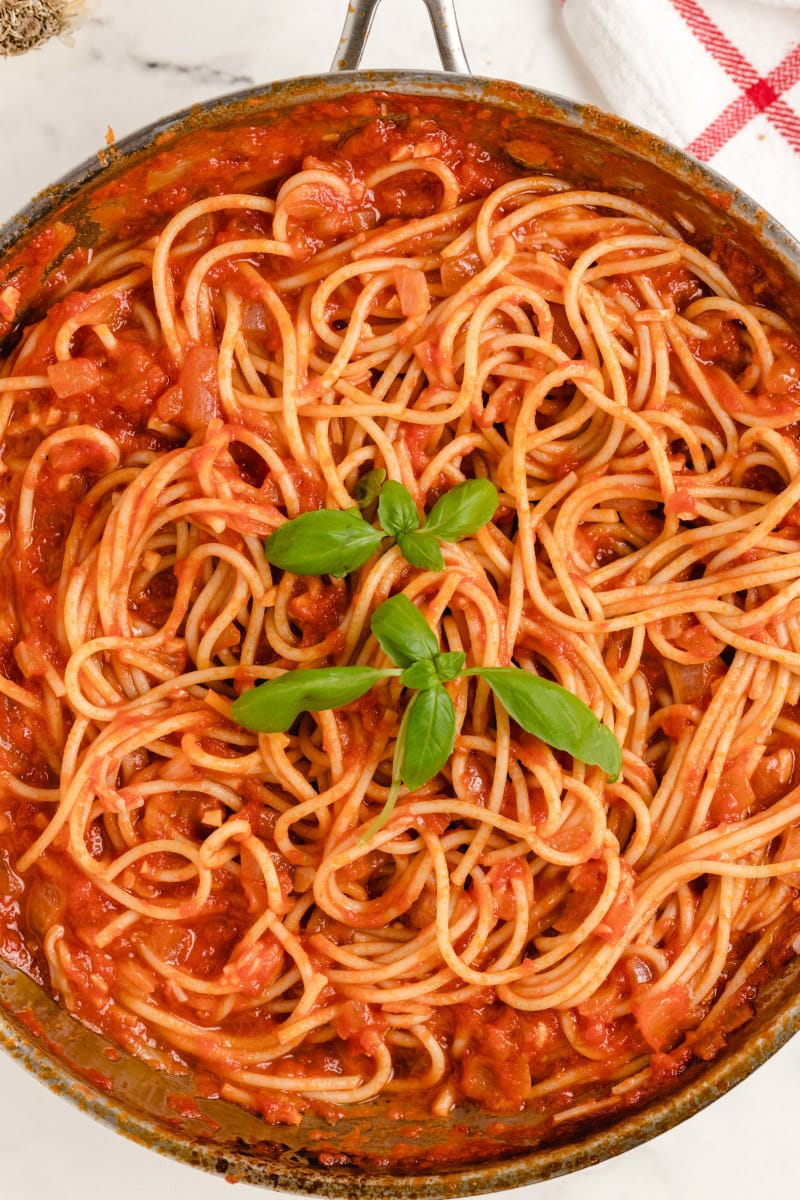 Here are some things that Bon Appetit recommends for making the perfect pasta sauce:
Forget the pot- use a pan (what the pros do to cook almost-done pasta and sauce together- until there's pomodoro clinging to every bite of pasta.)
Build the foundation– Make a classic pan sauce with olive oil, garlic, vegetables and pasta water.
Work the saute pan: Undercook the pasta by a couple of minutes, then finish cooking it in a saute pan with the sauce's flavorful liquid.
Everything's better with butter: The secret to rich and silky sauces is extra fat. Finish your sauce with olive oil, butter or both.
Cheese is not just a garnish: Enrich the sauce with cheese (mixed in and melted), skip pre-grated cheese, grate it finely and think beyond Parmesan.
It should look as good as it tastes: a well designed pasta bowl makes for a beautiful presentation- a broad bowl w/ high sides keeps the pasta warm, and a white bowl makes the colors in the sauce pop.
Practice makes perfect pasta– step by step cheat sheet: salt pasta water, saute vegetables for sauce, pour (reserved water onto vegetables), transfer pasta to pan with sauce, add more pasta water to sauce, stir in butter, sprinkle in fresh herbs, toss and plate.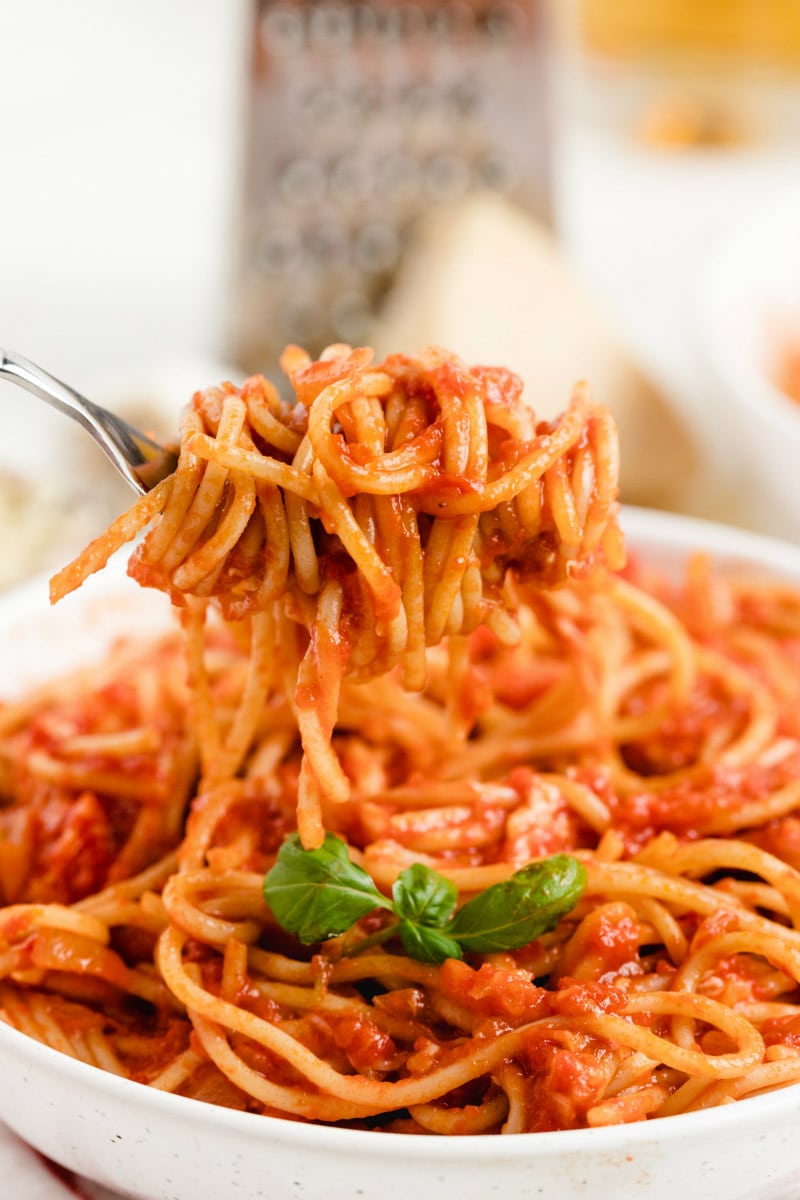 And there's your perfect Pasta Pomodoro- hot pasta noodles with the best, simple-to-make sauce ever. Enjoy!
Here are a few more pasta recipes you might like to try:
Pasta Pomodoro
A simple pasta dish that is absolutely delicious!
Recipe Details
Ingredients
¼

cup

extra virgin olive oil

1

medium

onion,

minced finely

4

medium

garlic cloves,

minced

pinch

of

crushed red pepper flakes

One

28-ounce can

peeled tomatoes,

pureed in a food processor

kosher salt

3

large

fresh basil sprigs

regular table salt

12

ounces

bucatini or spaghetti

2

tablespoons

cubed unsalted butter

¼

cup

finely grated Parmesan or Pecorino cheese
Instructions
Heat the oil in a 12-inch skillet over medium-low heat. Add the onion and cook, stirring, until soft, about 12 minutes. Add the garlic and cook, stirring, for 2 to 4 minutes. Add the red pepper flakes; cook for 1 minute more. Increase the heat to medium, add the pureed tomatoes, and season lightly with kosher salt; cook, stirring occasionally, until the sauce thickens slightly and the flavors meld, about 20 minutes. Remove the pan from heat, stir in 3 large fresh basil sprigs, and set aside.

Meanwhile, bring 3 quarts water to a boil in a 5-quart pot. Season with salt; add the pasta and cook, stirring occasionally, until about 2 minutes before tender. Drain the pasta, reserving ½ cup of the pasta cooking water.

Discard the basil and heat the skillet over high heat. Stir in the reserved pasta water to loosen the sauce; bring to a boil. Add the pasta and cook, stirring, until the sauce coats the pasta and the pasta is al dente, about 2 minutes. Remove the pan from heat; add the butter and Parmesan; toss until the cheese melts. Transfer to warm bowls; serve with more cheese, if desired.
Notes
When you puree your tomatoes, give them enough time to get really pureed... otherwise you'll have chunks. You want a nice, smooth sauce.
Nutrition
Serving:
1
serving
,
Calories:
559
kcal
,
Carbohydrates:
75
g
,
Protein:
15
g
,
Fat:
22
g
,
Saturated Fat:
4
g
,
Cholesterol:
4
mg
,
Sodium:
457
mg
,
Potassium:
615
mg
,
Fiber:
5
g
,
Sugar:
8
g
,
Vitamin A:
547
IU
,
Vitamin C:
21
mg
,
Calcium:
165
mg
,
Iron:
3
mg