This Christmas Pasta recipe is perfect for the holidays because it feeds a large crowd.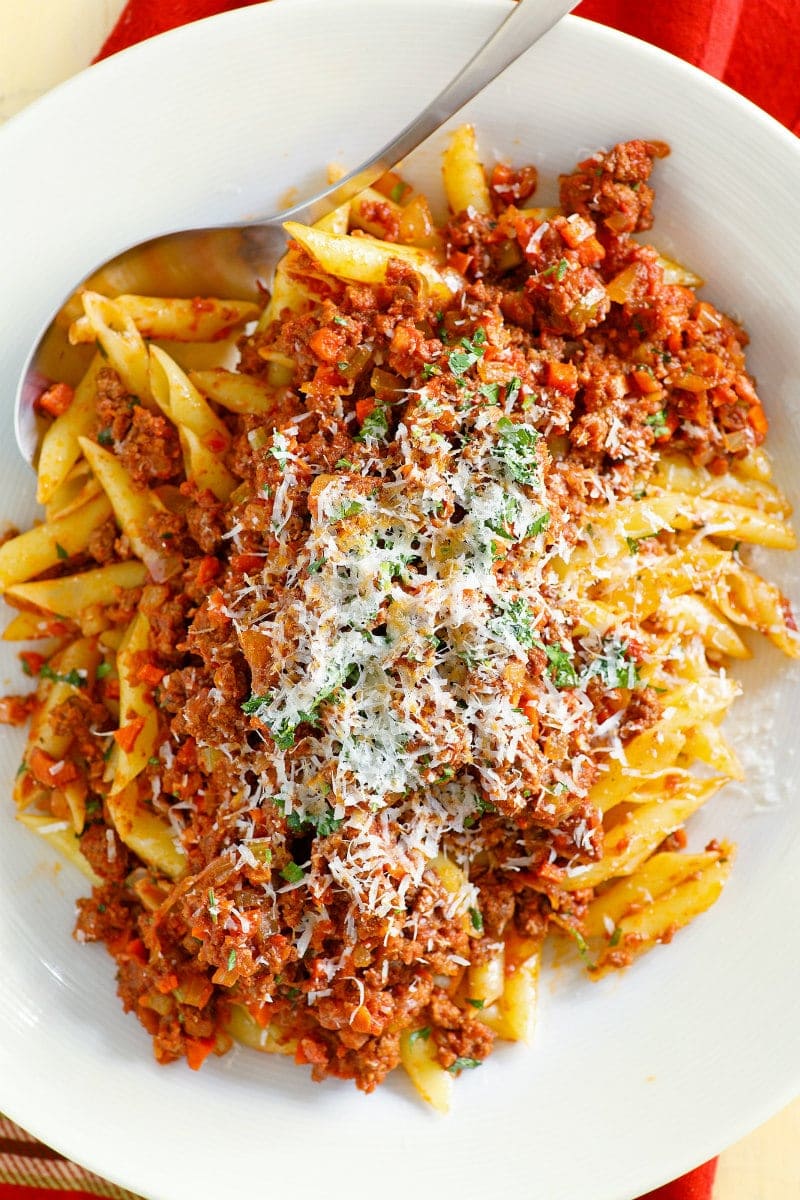 What is Christmas Pasta?
This recipe, originally created by Rachael Ray, serves two purposes. It's pretty as a Christmas Pasta because of the red sauce and the green parsley garnish. And it's a nice recipe for the holidays because there are usually quite a few people around, and this recipe makes enough to serve twelve people.
If you don't have twelve people hanging around at the same time, that's okay! Make the sauce recipe, and then make half of the pasta (16-ounces). The flavor of the pasta sauce totally improves the longer it sits. So if you serve some up one day and then finish it up a couple days later, that's a good thing! You can also freeze half of the sauce if you don't want to eat it all within a week's time.
How to freeze the sauce:
Store extra sauce for this Christmas Pasta it in a freezer-safe container. Try to use it up within a couple of months. When ready to use, let it defrost in your refrigerator overnight. Then cook up some pasta, and use up the rest of your sauce.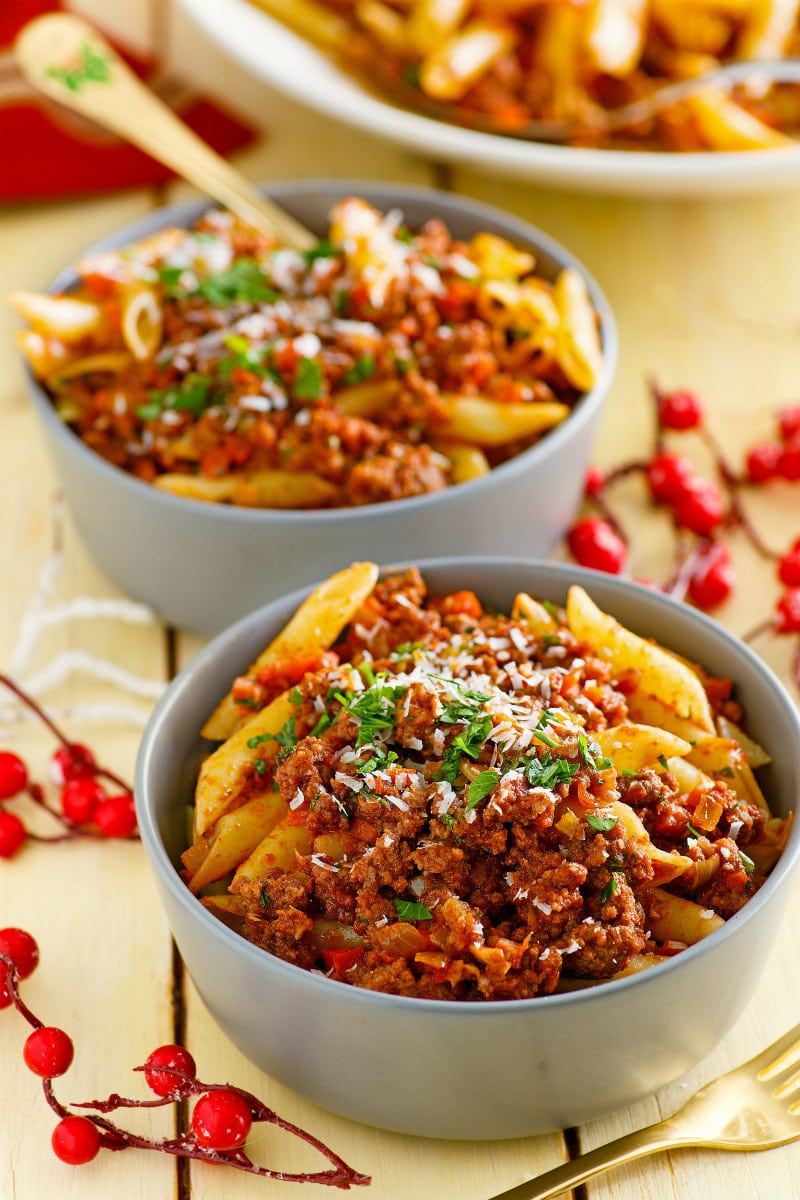 What kinds of meats are in the sauce for Christmas Pasta?
The sauce recipe for this pasta is a hearty meat sauce. The recipe for the sauce begins with cooking some pancetta in a skillet. Pancetta is cured pork belly (similar to bacon, except bacon is smoked after it's cured). A lot of people mistake prosciutto for pancetta, but prosciutto is cured ham and it doesn't have to be cooked before it is eaten. Pancetta (what is needed for this recipe) can usually be found near the prosciutto in a little package- and it's usually already cubed. If you can't locate it, ask the person at the deli. They might have it there.
This Christmas Pasta sauce also calls for both ground beef and ground pork. Usually you can buy both of these in a package of 16 ounces or so at your regular market. Since you only need 8-ounces of each, I suggest going to a market where they sell it by the pound. I know Whole Foods does this. Others probably do too. Or just buy 16-ounces of each, use half of each, and plan to freeze the rest for later. And finally, there's some Italian sausage in the recipe too. You can use sweet Italian sausage, or you can spice things up a little and use hot Italian sausage.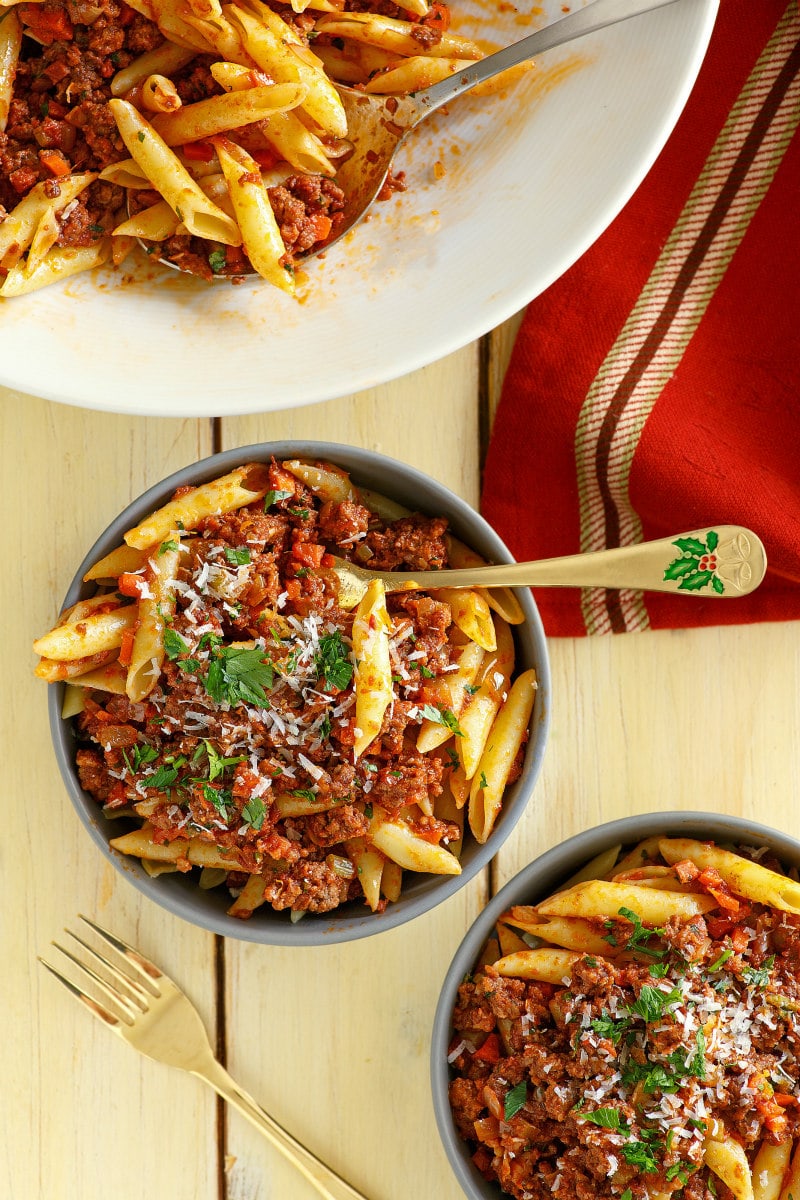 What kinds of pasta would be good for this recipe?
This Christmas Pasta recipe calls for penne pasta, but there are certainly other varieties of pasta that are good for pairing with a meat sauce like this one. If you want to try using another variety, I recommend using medium shells, campanelle, rigatoni, or orecchiette. Pappardelle (wide egg noodle pasta) is great for topping with meat sauce too, but it's an entirely different kind of pasta than penne!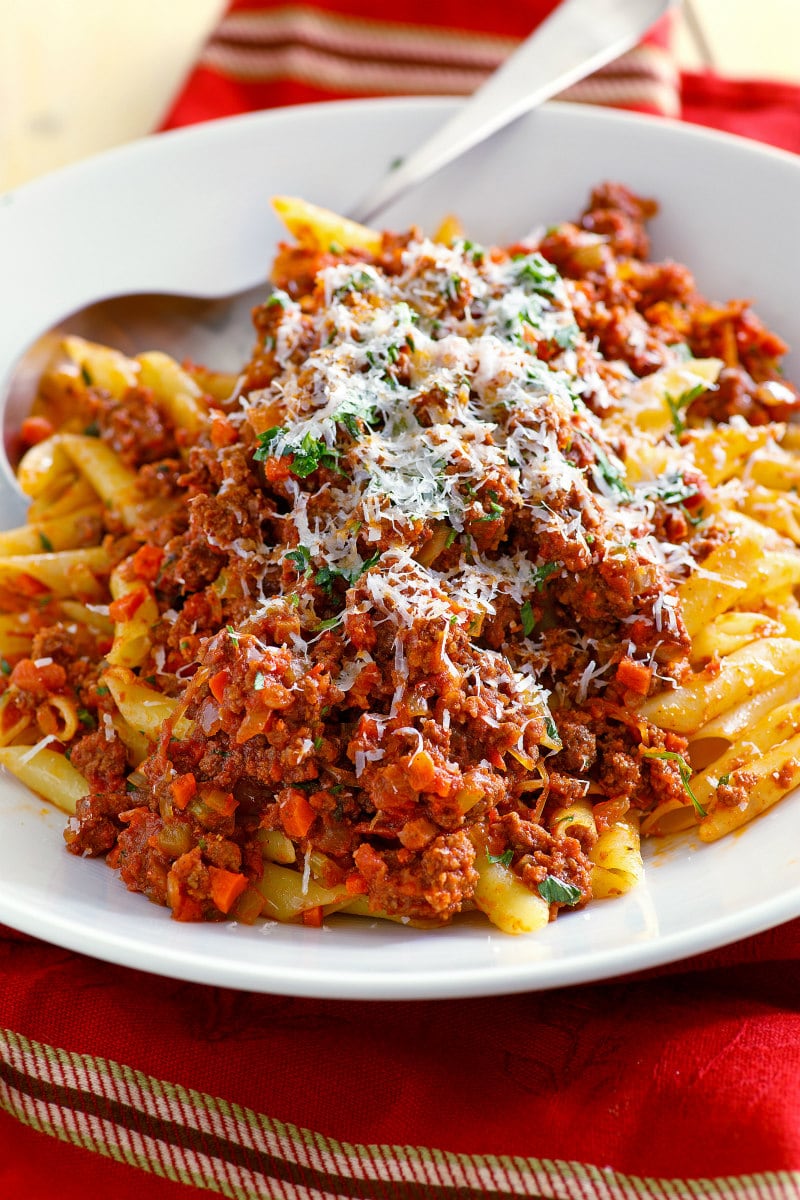 I love to make this pasta during the holidays because of the wonderful sauce. There are so many people in and out of my house during the holiday season that it is awesome to know I have something good to feed them when people show up unexpectedly. We usually make some sort of fancy dinner on Christmas Eve, and we do something low-key (like pasta) on Christmas night. This recipe is perfect for that.
It's a nice recipe to use all year long too. My son (teenager) often brings friends over, and they're inevitably starving. I can just boil some pasta and scoop a little sauce on top, and I've succeeded in feeding hungry boys!
If you're looking for more festive things to serve for the holidays, you might like to try my Spinach and Cheese Stuffed Manicotti or this Coq au Zin. One Pot Paprika Chicken Thighs, Garlic- Rosemary Chicken with Cranberries and Prime Rib Roast with Red Wine au Jus are delicious choices too.
Christmas Pasta
This pasta recipe is festive enough for the holidays, and it feeds a lot of people!
Recipe Details
Ingredients
2

tablespoons

extra virgin olive oil

4

cloves

garlic,

crushed

1

whole

bay leaf,

fresh or dried

4

ounces

chopped pancetta

8

ounces

sweet or hot Italian sausage

8

ounces

ground beef

8

ounces

ground pork

1

medium

carrot,

peeled & finely chopped

1

rib

celery,

chopped

1

medium

onion,

chopped

1

cup

dry red wine

1

cup

beef broth

Two

32-ounce

cans crushed tomatoes

1

handful

chopped fresh Italian parsley

1/4

teaspoon

ground allspice or ground cinnamon

kosher salt & freshly ground black pepper,

to taste

32

ounces

penne pasta,

cooked to al dente

grated Parmesan,

for serving (if desired)
Instructions
Heat a large pot over medium-high heat. Add the pancetta and brown to render the fat. Transfer the pancetta to paper towels to drain. Add the oil to the pan, and then the meats and brown and crumble them for 5 minutes. Stir in the garlic, and pancetta bits.

Chop the carrot, celery, and onions near the stove and add to the pot as you work. Cook the vegetables with the meat for 5 minutes and then add the wine. Cook for 1 minute; add the broth and tomatoes to the pot.

Stir in the parsley, allspice, or cinnamon and season the sauce with salt and pepper, to taste. Bring the sauce to a boil, reduce the heat to medium low, and cook 10 to 15 minutes, minimum, before serving. Reheated sauce only improves.

Toss the pasta (cook off only as much pasta as you need at the time: half a pound for every 3 people) with a couple of ladles of sauce to coat, then top the bowl with extra sauce. Top the pasta with lots of cheese, as desired.
Notes
Parmesan cheese is not included in the nutritional information.
Nutrition
Serving:
1
serving
,
Calories:
587
kcal
,
Carbohydrates:
72
g
,
Protein:
23
g
,
Fat:
21
g
,
Saturated Fat:
6
g
,
Cholesterol:
47
mg
,
Sodium:
520
mg
,
Potassium:
911
mg
,
Fiber:
6
g
,
Sugar:
10
g
,
Vitamin A:
2570
IU
,
Vitamin C:
23.8
mg
,
Calcium:
98
mg
,
Iron:
4.2
mg