This is an older recipe from Bon Appetit for Coq au Zin. You're probably more familiar with Coq au Vin. Coq is French for 'chicken' and Vin is French for 'wine.' In this recipe, the wine used is a red zinfandel, thus the play on the name.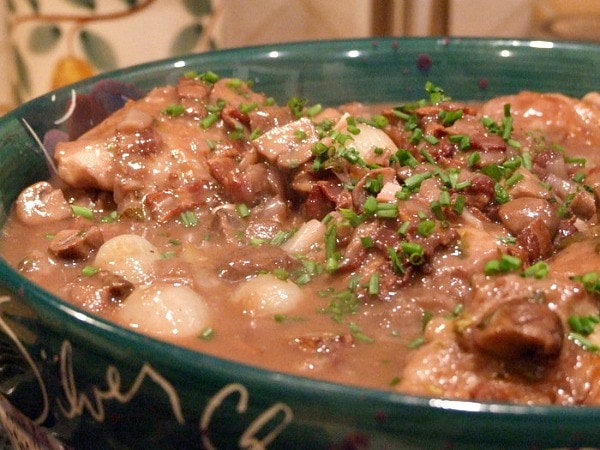 Our holidays were spent in Washington state this year… where we were met with loads of fluffy snow but flew out amidst fits of rain. It was fun to see weather of any sort as we don't usually have much of it here in Southern California.  A snowy Christmas Eve called for a special dinner.  Chicken with lots of wine sounded perfect!
Let me preface this post by saying that this recipe is a definite keeper!  Here's the How-To: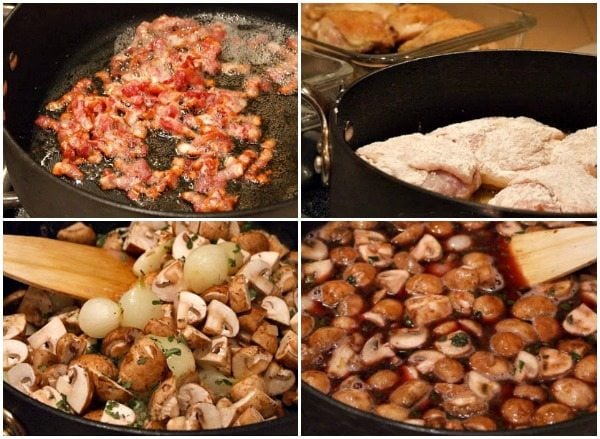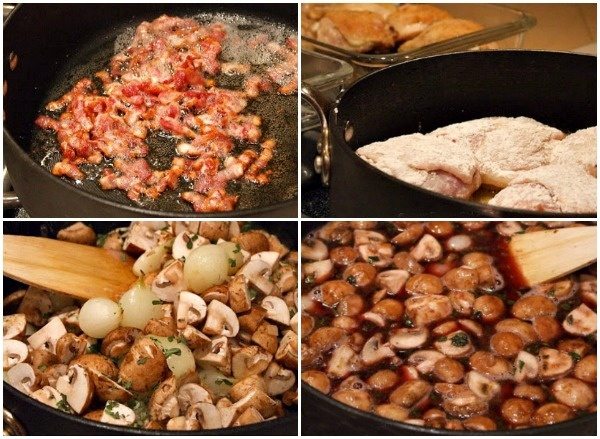 Chopped bacon is sauteed until crisp. I used "Center-Cut" bacon (more meat, less fat). The bacon is removed to a towel-lined plate. The grease is left in the pan.
Flour-dusted chicken is browned in the bacon fat on both sides, and then it's removed to glass baking dishes to await additions.
Shallots are sauteed with garlic,

crimini

mushrooms, small onions and fresh marjoram.
A bottle of red zinfandel is added to the mushroom mixture, along with chicken stock and the reserved bacon.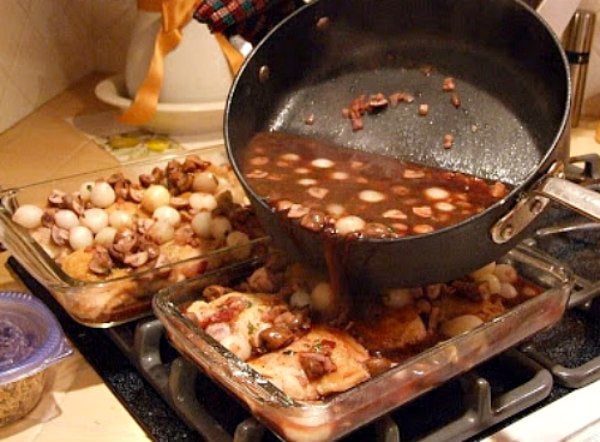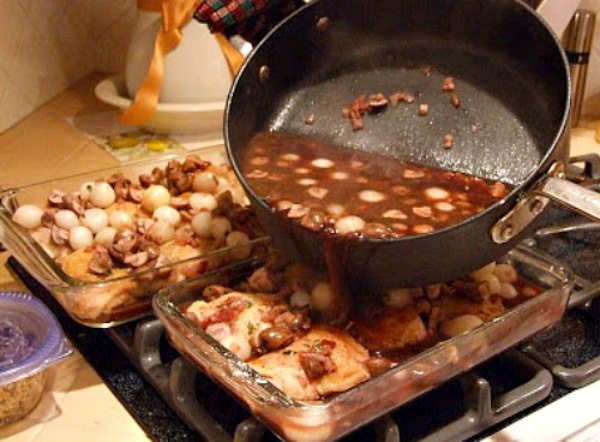 This mixture is then poured on top of the chicken in the glass baking dishes. The given recipe serves 6. I made a little more than that to serve a few more people.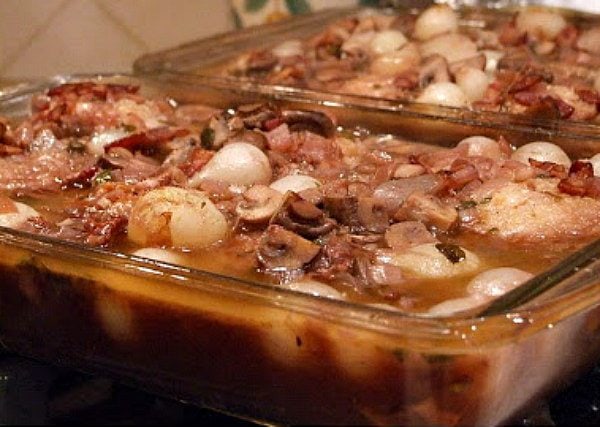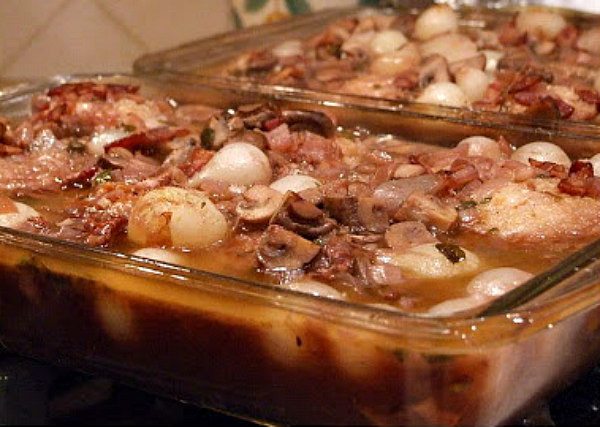 The pans are covered tightly with foil and then placed into the oven where the chicken has a chance to simmer in that wonderful liquid for an hour.
The chicken is then removed from the pan to a platter, along with the strained vegetables. The remaining liquid is left to simmer for a short time and is thickened with a butter/flour mixture.
We had a large amount of sauce, so I placed the chicken and veggies into a large serving bowl and poured the sauce on top (along with some fresh chives). This turned out to be a great way to serve it- the liquid helped the chicken to stay warm on the table and it kept it moist.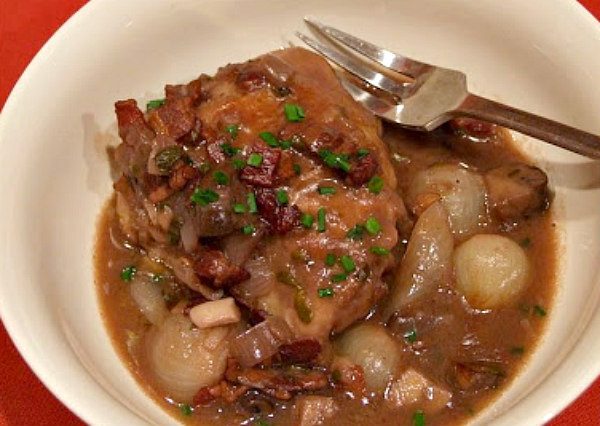 We could not have been happier with this recipe. Everyone at the table wanted seconds (and the leftovers were great too!) It's not often that you can really rave about a chicken recipe, but this one was utterly delicious. It would be a great one for a gourmet dinner club party.
Coq au Zin
Yield:
6 servings
Prep Time: 45 minutes
Cook Time: 1 hour and 45 minutes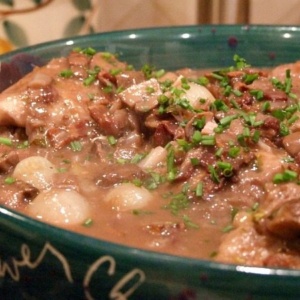 Ingredients:

1 cup + 2 tablespoons all-purpose flour
6 slices bacon, chopped
1 tablespoon olive oil
12 bone-in chicken thighs (with skin), excess fat trimmed
3/4 cup chopped shallots, (about 4)
3 cloves garlic, minced
1 pound boiling onions (the cocktail-sized ones), peeled
12 ounces crimini mushrooms, quartered (about 5 cups)
2 tablespoons chopped fresh marjoram
One 750ml. bottle red Zinfandel
2 cups chicken stock (or canned low-salt chicken broth)
2 tablespoons salted butter, at room temperature
1/4 cup freshly chopped chives

Instructions:

Preheat oven to 350°F.
Cook chopped bacon in heavy large pot over medium-high heat until crisp, about 4 minutes. Using slotted spoon, transfer bacon to paper-towel-lined plate to drain.
Place 1 cup flour in shallow dish; set aside. Add 1 tablespoon olive oil to bacon drippings in pot. Sprinkle chicken thighs with salt and pepper. Working in batches, coat chicken thighs with flour and add to pot; sear until brown, about 4 minutes per side. Arrange chicken thighs in 15x10x2-inch glass baking dish (or any combination of glass dishes that will fit the chicken).
Pour off all but 3 tablespoons fat from pot. Add shallots and garlic to pot and sauté 1 minute. Add onions, crimini mushrooms, and marjoram and sauté until onions begin to brown, about 10 minutes. Add red Zinfandel and bring to boil, scraping up browned bits. Add chicken stock and bacon; boil 5 minutes.
Pour wine mixture over chicken in baking dish. Cover tightly with foil; bake until chicken is cooked through, about 1 hour.
Using tongs, transfer chicken thighs to platter or large, deep bowl. Strain wine mixture from baking dish into heavy medium saucepan. Transfer onion and mushroom mixture to platter with chicken; tent with foil to keep warm. Mix 2 tablespoons flour and butter in small bowl to blend. Bring wine mixture to boil. Whisk in flour mixture and boil until sauce thickens and is reduced to 2 3/4 cups, about 8 minutes. Season sauce to taste with salt and pepper.
Ladle sauce over chicken and vegetables; sprinkle with chives.
SOURCE: RecipeGirl.com (Adapted from Bon Appetit)