A delicious and elegant recipe: Prime Rib Roast with Red Wine Au Jus. The rib roast is cooked to perfection then covered in a Red Wine Au Jus. This is a simple recipe that will impress your guests and keep them coming back for more!
Let me take a moment to introduce myself before we dive into how to make this delectable roast beef recipe. My name is Kim and I blog over at Cravings of a Lunatic. My blog is filled with easy recipes; they are a must at our house. With two busy hooligans and enough pets to fill a zoo, my life is pretty chaotic. So I keep recipes simple, but utterly delicious. My motto in life is, "I crave it, I make it, I eat it." Life is short so I figure we should enjoy every moment of it.
One of my favourite things to make on weekends is roast beef. I've been known to whip up a great Sirloin Roast from time to time. But my all time favourite cut of beef is Prime Rib Roast. There's something about a great bone-in roast that just makes me a happy girl. Cooking bone-in roast is a great way to make sure your roast is flavourful. I know some folks get nervous about recipes with the bone still in it. Don't let it scare you. It's really quite easy to make.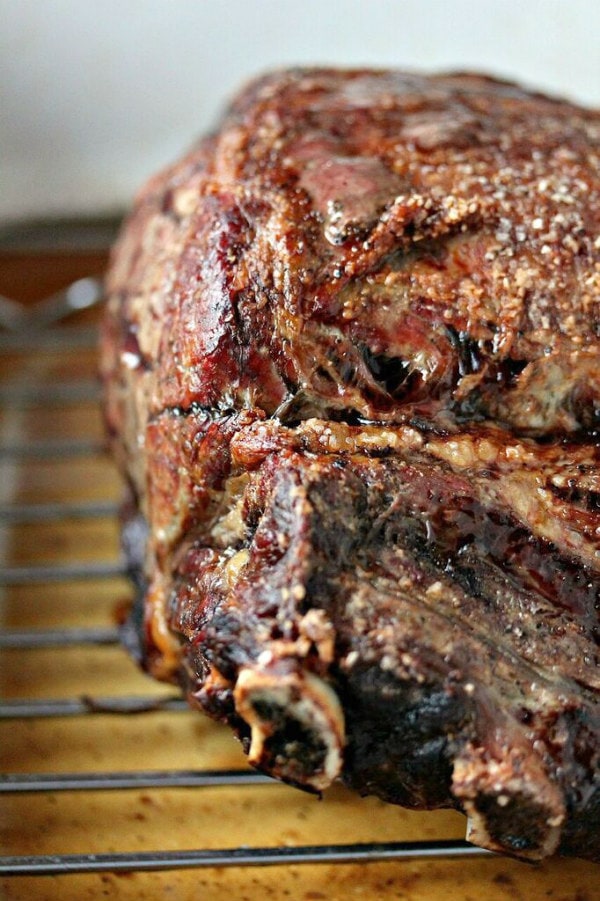 I've tried a dozens of variations of rib roasts in my day. There are so many great ways to jazz up a roast. Recently I asked some friends for suggestions for cooking shows to watch while I work. I spend so much time sitting down while editing photos that I wanted something to watch while I'm working. A good friend of mine suggested a show called Farmhouse Rules. I'd never heard of it. I'm going to be honest… Canadian television just doesn't offer up great selection.
One day I happened to be working while the neighbour's kids were playing hockey. I wanted to drown out the noise a bit so I turned on the TV and found an episode of Farmhouse Rules. I knew immediately this show was going to become a favourite of mine. Nancy Fuller is delightful to watch and has this very approachable way of cooking old school recipes. You know, recipes us old gals have grown up making and eating. I instantly loved her show.
The very first episode I watched she made Rib Roast with Red Wine Au Jus. She also made Yorkshire Pudding. I sat on the couch practically salivating as I watched her whip up the roast and sauce. I mean this lady knew her stuff! I've watched a lot of cooking shows and not all of them are as good as hers. She cooks rustic food for people who LOVE to eat. That's exactly how I love to cook and eat. So my addiction to her show began there.
It was just a week later when I chatted with Lori about making Roast and Yorkshire Pudding for RecipeGirl. Perfect timing. While I've made them both before, I had been chomping at the bit to try Nancy recipes. This gave me the perfect excuse to give her recipes a try and see if they were as amazing as they looked on TV. Let me just say she's a genius. Her recipes are easy to follow and the taste was out of this world.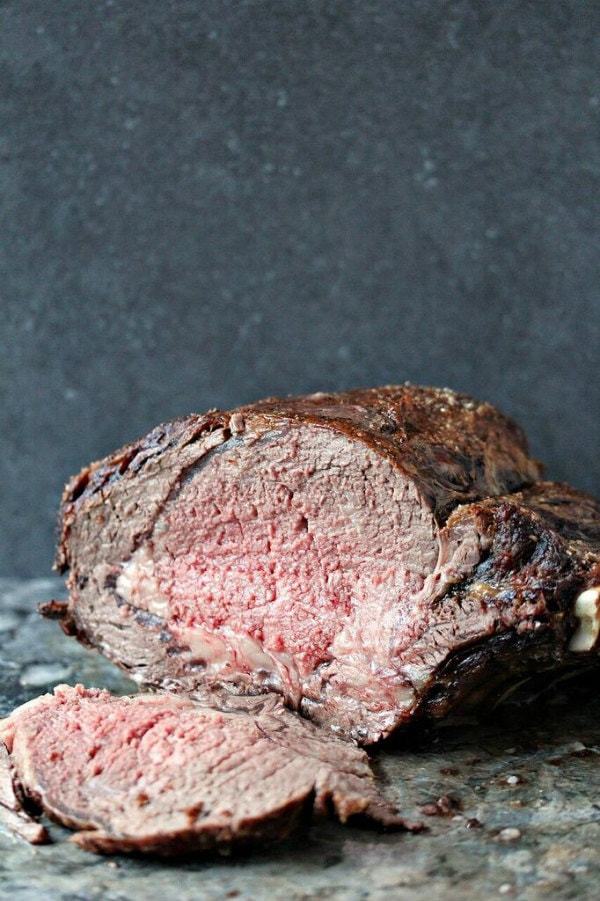 So thanks to Lori for giving me a good excuse to take a break from making so many sweet recipes and dive head first into a couple of amazing savoury recipes. I tend to be one of those people who doesn't use a recipe for savoury recipes. I just head into the kitchen and let things unfold. This was a fun reminder to try new recipes more often. This roast turned out perfectly and I'm so impressed by that fact.
A couple of tips for cooking this: One is to use a rack of some sort. You don't want the roast sitting in liquid for this type of roast. You want it elevated slightly. Another tip is to make sure the fat side is face-up. Now this won't look as pretty if you're a food blogger and need to take photos of the roast after. But some things are more important than gorgeous photos. Things like taste trump pretty pictures.
It's important to place the fatty side up when cooking because that way the juice from all that fat drips down into the roast as it cooks. It almost becomes self-basting. It's a pretty cool trick that I use often when cooking beef and pork. Another thing to remember is not to be afraid of a roast with some fat on it. Fat equals flavour. My thought is you're not eating roast beef every day, so live a little! Buy a roast that has some nice ripples through it.
I hope you love this recipe as much as my family and I did. Thanks so much to Lori for having me today. It was a pleasure to be here cooking up such a fun recipe for everyone. If you have any questions, feel free to leave a comment. I'll do my best to help as much as I can. Have a fabulous week (and check back tomorrow for that Yorkshire Pudding recipe!)
Prime Rib Roast with Red Wine Au Jus
This makes a perfect cut of beef for any special occasion.
Recipe Details
Ingredients
6 to 7

pounds

prime rib roast,

bone in

salt and pepper,

to taste

1

teaspoon

garlic salt

1

teaspoon

onion salt

½

cup (1 stick)

unsalted butter

½

medium

onion,

diced

2

medium

garlic cloves,

minced

4

cups

beef stock

2

cups

red wine
Instructions
Preheat the oven to 450 degrees F.

In a small bowl combine a generous amount of salt and pepper. For a roast this size you can easily use 2 tablespoons of salt and 1 tablespoon of pepper, more or less, according to personal taste. Add the garlic salt, and onion salt to the bowl as well. Mix well.

Sprinkle the seasoning over all sides of the beef, making sure to coat as much of it as possible. You want to season the top, bottom, sides - the entire surface should get a hit of seasoning.

Place the roast fat side up on a rack inside of a roasting pan. Place the pan in the oven and cook for 30 minutes at 450 degrees F. Then turn oven down to 350 degrees F and continue to cook for about 1½ hours. I used a meat thermometer on mine and took my roast out of the oven at 135 degrees F. That will cook it to medium rare. If you like yours cooked to medium, your thermometer should read 140 degrees F. Remove the roast once it hits 135 to 140 degrees, depending on your preference.

Place the roast on a cutting board or platter and tent it loosely with foil. Allow to rest for about 10 to 15 minutes. (Hint: If you're making Yorkshire Pudding to go with the roast, you'll want to reserve any pan drippings to help make that recipe. If you don't have enough pan juices, you can use beef stock.)

While the meat is resting, place your roasting pan on the stovetop. See if you can place it so it covers two burners. Turn the stove on medium heat and add the butter and onions, then begin to scrape the bottom of the pan with a wooden spoon. This will loosen all the good bits of roast on the bottom of the pan. That's where all that great flavor is. Don't be shy, scrape like crazy. Once the onions begin to turn brown add the garlic and continue cooking for 1 to 2 minutes, just enough time to allow the garlic to become fragrant.

Now add the beef stock and red wine to the pan, cook on medium-high until the liquid is reduced by half. This will take between 15 to 20 minutes. Add salt and pepper to taste.

Grab a large measuring cup and place a small strainer, or sieve, over the top. Pour the liquid over it so the strainer holds all the onions and garlic. Discard those. Use the Red Wine Au Jus as a dipping sauce for the rib roast. Au jus is thinner than gravy but just as delicious.

Carve the roast into slices and serve with red wine au jus. Enjoy!
Nutrition
Serving:
1
serving
,
Calories:
1191
kcal
,
Carbohydrates:
4
g
,
Protein:
49
g
,
Fat:
103
g
,
Saturated Fat:
45
g
,
Polyunsaturated Fat:
4
g
,
Monounsaturated Fat:
43
g
,
Trans Fat:
0.5
g
,
Cholesterol:
238
mg
,
Sodium:
1556
mg
,
Potassium:
1067
mg
,
Fiber:
0.1
g
,
Sugar:
1
g
,
Vitamin A:
371
IU
,
Vitamin C:
1
mg
,
Calcium:
47
mg
,
Iron:
5
mg