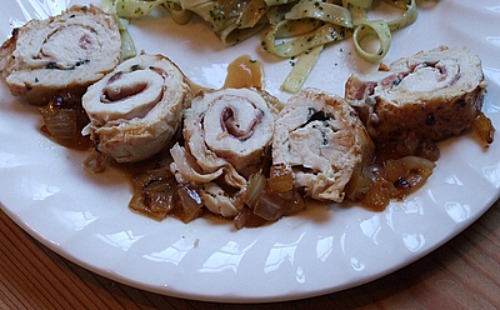 Yield: 6 Servings
Prep Time: 25 + refrigeration time
Cook Time: 30 minutes
Chicken Saltimbocca
No one in your family will ever know that this recipe came from a Weight Watcher's cookbook. It's that yummy.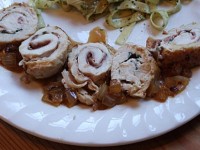 Ingredients:
6 (4 ounce) chicken cutlets
1 Tablespoon minced fresh sage leaves, or 1 teaspoon dried
1/4 teaspoon salt
6 thin slices prosciutto (about 2 ounces)
1/4 pound sharp provolone cheese, cut into 6 thin slices
1 Tablespoon olive oil
1 teaspoon butter
1 medium onion, finely chopped
1/3 cup Marsala wine
Directions:
1. Lightly pound the cutlets between 2 sheet of wax paper with a mallet or rolling pin until thin but not torn. Sprinkle with sage and salt. Top with prosciutto and cheese slices. Roll up cutlets from short sides and secure with toothpicks. Refrigerate, covered, for 1 hour or overnight.
2. Heat a large nonstick skillet over medium-high heat. Swirl in the oil and butter, then add the chicken rolls. Cook until lightly browned, about 2 minutes on each side. Transfer the rolls to a plate. Add the onion to the same skillet and cook, stirring occasionally, until golden 7 to 10 minutes. Add the Marsala and the browned chicken rolls to the skillet; bring to a boil. Reduce the heat and simmer, covered, until just cooked though, about 8 minutes.
Nutrition Facts- Amount Per Serving
Calories 245, Calories From Fat (38%) 91.87, Total Fat 10g, Sat Fat 4.5g, Cholesterol 87.13mg, Sodium 591.76mg, Potassium 395.09mg, Carbohydrates 2.5g, Dietary Fiber 0.29g, Sugar 0.98g, Net Carbs 2.25g, Protein 34g
WW POINTS per serving:
Points Plus Program: 6 Old Points Program: 6