A delicious and healthier version of Baked Chicken Parmesan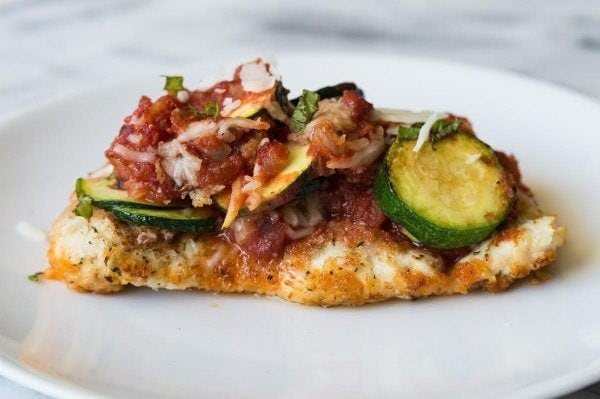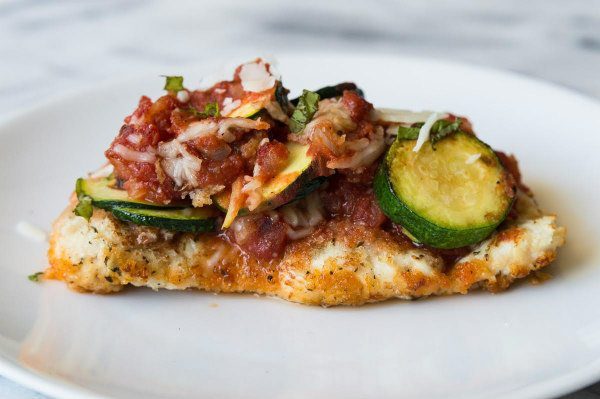 This much-loved recipe is a much lighter version of the classic recipe for Chicken Parmesan.  The chicken is lightly coated and baked instead of fried.  It's topped with tomato sauce, zucchini and a small amount of cheese.  Nutritional information and Weight Watchers points are included in the recipe below.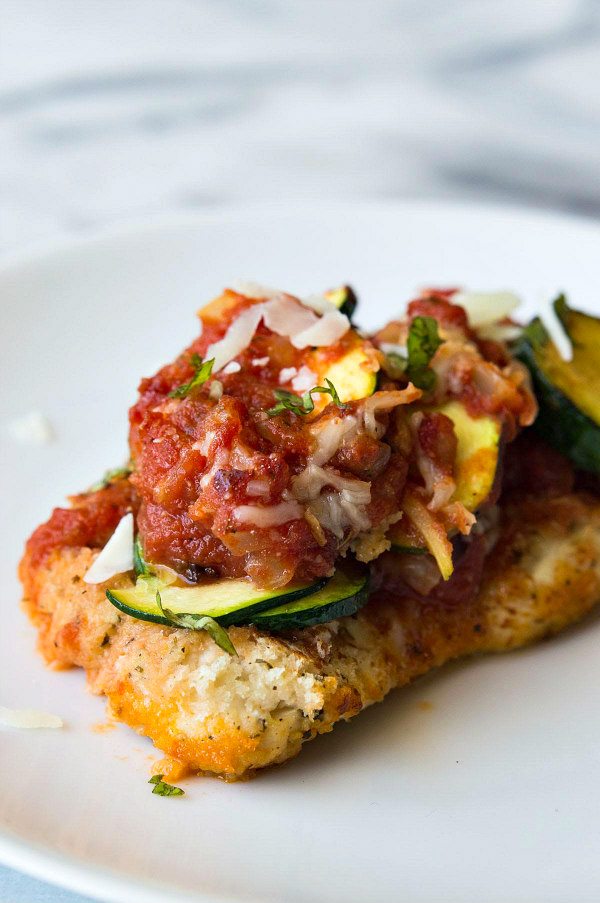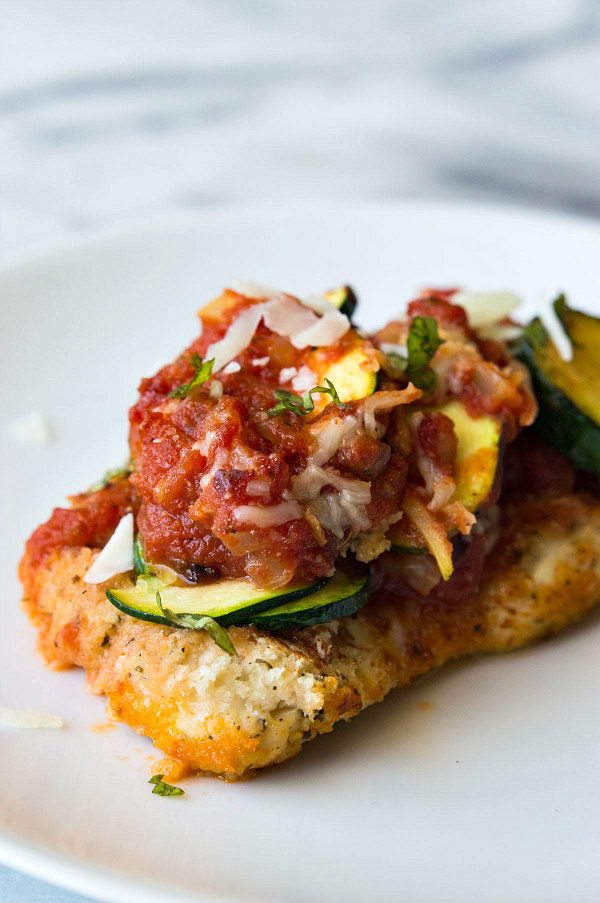 Baked Chicken Parmesan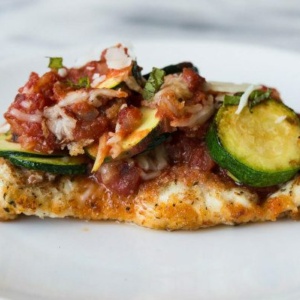 Yield:
4 servings
Prep Time: 15 minutes
Cook Time: 45 minutes
Ingredients:
1/3 cup + 2 teaspoons plain panko breadcrumbs
1/2 teaspoon salt, divided
1/2 teaspoon dried oregano, divided
1/2 teaspoon dried basil, divided
1/2 teaspoon black pepper, divided
Four (3 ounce) skinless boneless chicken breasts, pounded thin
1 large egg white, beaten
1 tablespoon + 1 teaspoon olive oil
2 cups sliced zucchini
1/2 cup diced onion
2 cloves garlic, minced
1 1/2 cups tomato sauce
1/8 teaspoon crushed red pepper flakes
3/4 ounce grated Parmesan cheese
Directions:
Preheat oven to 425°F. Spray a baking pan with cooking spray.
In a large zip bag, combine bread crumbs and 1/4 teaspoon each of salt, oregano, basil and pepper; seal bag and shake to blend. Dip one chicken breast in egg white, turning to coat. Add to bag; seal bag and shake to coat. Place coated chicken breast on a large plate; repeat using remaining chicken breasts.
In a large nonstick skillet, heat oil; add coated chicken breasts. Cook over medium-high heat, 1 minute on each side, until lightly browned; transfer to prepared baking pan. Add zucchini to skillet; cook, stirring constantly, until golden brown. Arrange zucchini around chicken in pan. Add onion to skillet; cook, stirring constantly, until golden brown. Stir in garlic; cook 1 minute longer. Stir in tomato sauce and crushed red pepper; bring mixture to boil. Reduce heat; simmer 20 minutes, stirring occasionally. Stir in remaining 1/4 teaspoon of salt, oregano, basil and pepper. Pour tomato mixture over chicken and zucchini; sprinkle with cheese.
Bake 15 minutes, until mixture is bubbling and chicken is cooked through.
Tips:
If you are preparing this recipe as GLUTEN FREE, don't use the panko breadcrumbs. Instead, substitute GF breadcrumbs or ground up GF pretzels.
Nutrition:
Nutritional Information per serving (Serving size:

1 chicken breast with sauce and zucchini)  

Calories:

254, 

Fat:

8g, 

Saturated Fat:

2g, 

Sugar:

6.6g, 

Fiber:

3g, 

Protein:

26.3g, 

Cholesterol:

54mg, 

Carbohydrates:

20g

Weight Watchers POINTS:  SmartPoints: 5, PointsPlus: 6, Old Points Program: 5