Here's a delicious and easy pasta recipe:  Chicken Mushroom Fettuccine. Click below to watch a short video showing you how to make this recipe, then scroll to the bottom of this post to print out the complete recipe.
This is a comforting pasta dish full of hot fettuccine noodles that have been tossed in a light cream sauce with oodles of sauteed mushrooms and chicken.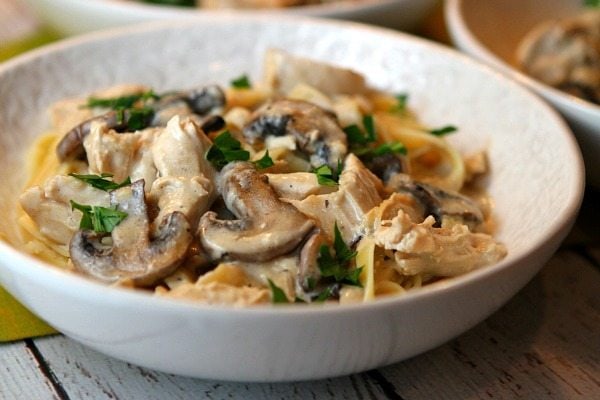 My husband and I happily gobbled up every bite of this dinner.  My 13-year old is still refusing to eat mushrooms.  I'm thankful that he's beginning to eat tomatoes… and that he's fairly willing to try most other vegetables, but I just can't get him to eat those darn mushrooms.  Oh well, more for me!  I keep telling him that someday he will LOVE mushrooms.  He does not believe me- ha!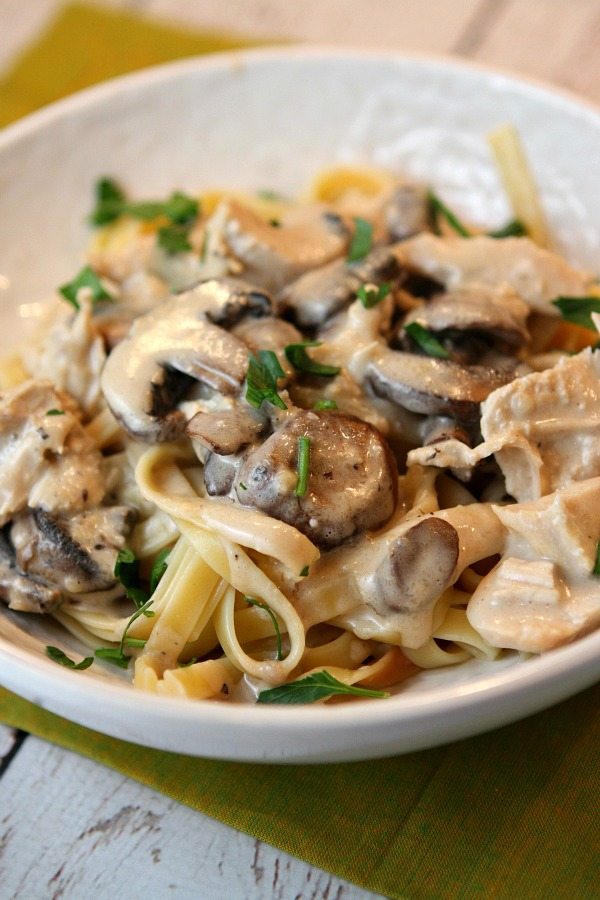 If you're a mushroom lover, then this Chicken Mushroom Fettuccine dish is for you.  And if you're not a mushroom lover, you can certainly push them aside or leave them out.
Chicken Mushroom Fettuccine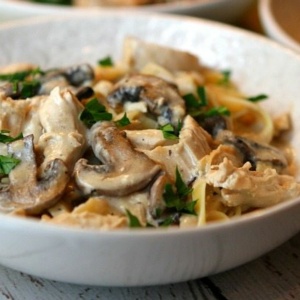 Yield:
4 servings
Prep Time:25 minutes
Cook Time:15 minutes
Ingredients:
2 teaspoons vegetable or canola oil
8 ounces boneless skinless chicken breasts
1 cup fresh sliced mushrooms
2 cloves garlic, minced
2 teaspoons all-purpose flour
1 cup chicken broth
1/2 cup evaporated milk
4 tablespoons whipped cream cheese
1 1/2 cups freshly grated parmesan cheese
freshly ground black pepper, to taste
2 cups hot cooked fettuccine
chopped fresh parsley, for garnish
Directions:
Heat oil in skillet. Add chicken and cook 3 minutes on each side, or until tender and cooked through. Remove chicken from pan, let it rest for a couple of minutes, then slice into small strips and set aside.
Add the mushrooms and garlic to the skillet; cook for 1 minute, stirring. Sprinkle with flour, stirring quickly. Stir in the broth and milk. Reduce heat and simmer 3 minutes, until mixture thickens- stirring occasionally. Stir in cheeses and pepper.
Return the chicken to the skillet; cook, stirring for about 2 minutes, until chicken warms up.
Arrange fettuccine on four plates. Top with chicken and sauce. Garnish with parsley.
Source: RecipeGirl.com
More fettuccine recipes you may enjoy: