Here's a fabulous recipe for the best pasta dish ever: Spaghetti Carbonara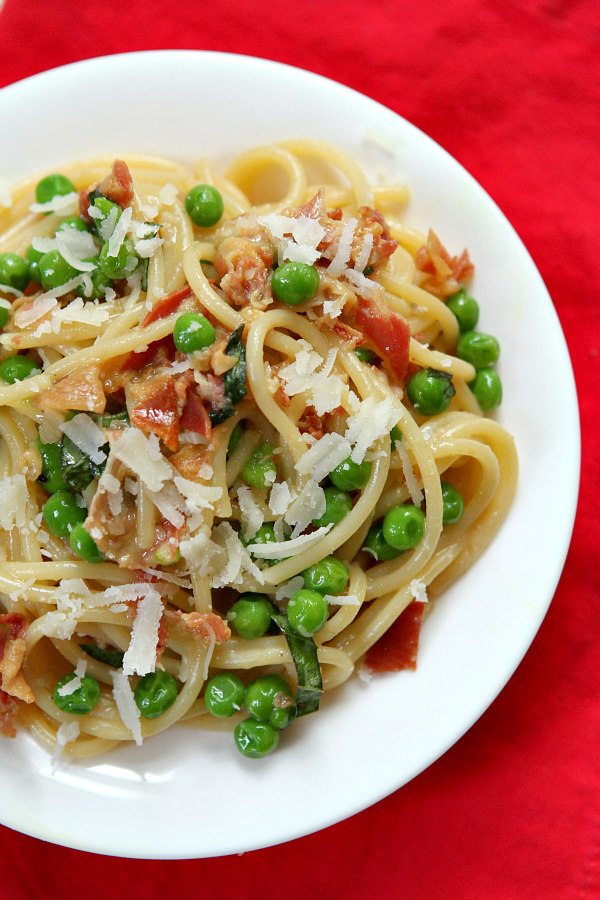 This recipe is aligned with the classic Italian way to make carbonara… except for the peas. I've added peas- which is not what you see in Italy. Regardless, my entire family didn't have any trouble scraping up every last bit of this pasta- probably because I made sure there was plenty of crispy pancetta included.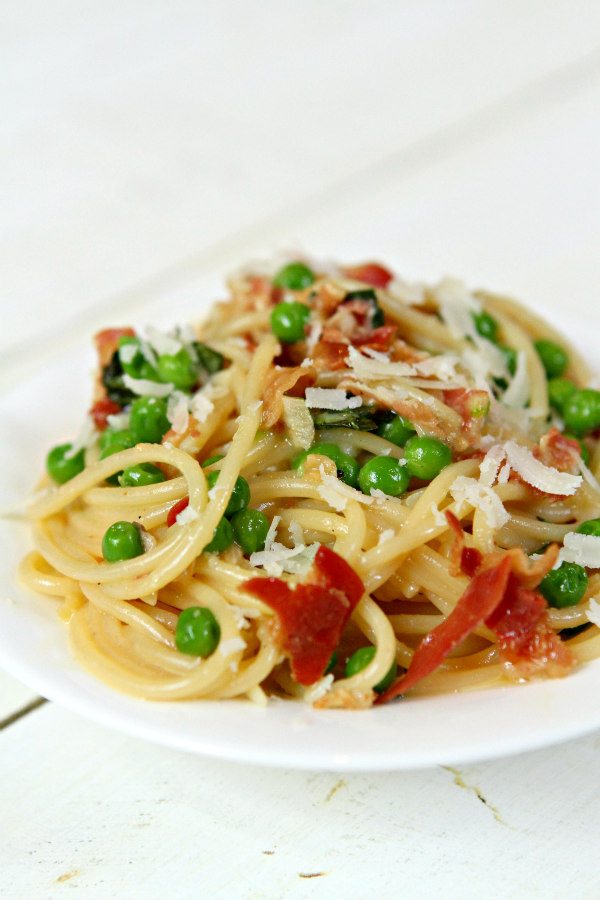 Italian Vacation:
I was recently in Italy on an Insight Vacations Luxury Gold tour. It was an incredible trip… filled with endless amounts of Italian food and fine wine, visits to ancient historical locations and quaint towns, luxury hotel accommodations, meeting new friends and a ton of laughter. It truly was the trip of a lifetime. Being on a tour was really nice– I find that I see a lot more than I would if I were just going it alone. Insight makes the trip so much fun, and you're given plenty of time to explore on your own. I have shared more about my trip to Italy in my travel section.
One of our stops on the trip was in Florence. This is a view from the Uffizi Gallery looking out toward the Arno River.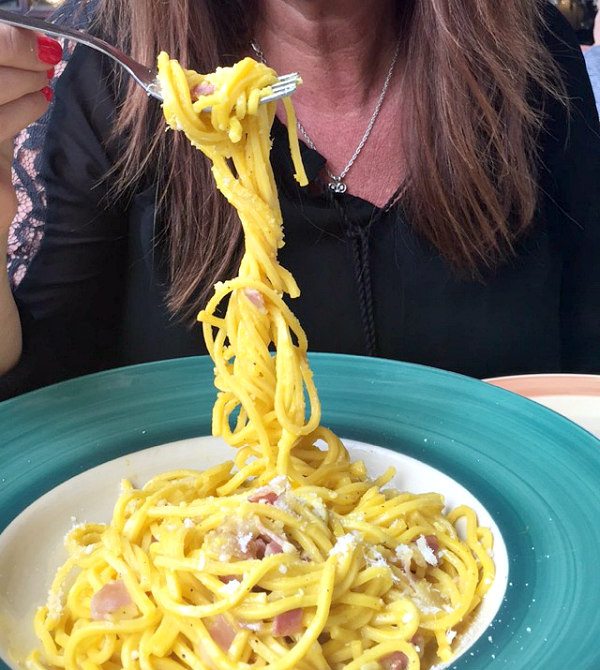 I sampled carbonara in Florence (no peas)…
… and again in Venice. Clearly, I'm enamored with carbonara– always have been! It was one of the first things I made for my family when I returned from my trip. My husband and I have always adored Amarone, so I ordered a bottle (and a second) to enjoy with our group dinner. My teenager told me I look tired in this photo. I didn't tell him it was probably the wine 🙂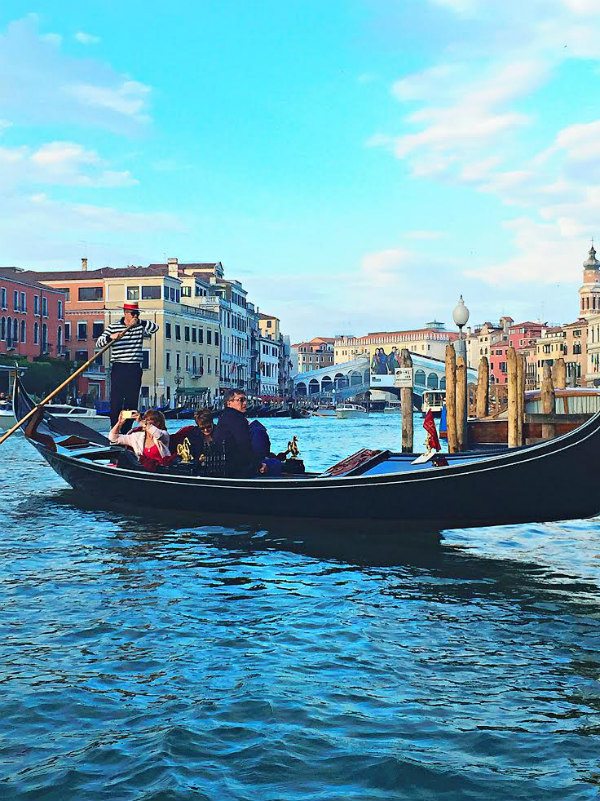 Venice was GORGEOUS. Traveling through the canals on a gondola was truly enjoyable. I loved gazing at the rustic buildings, restaurants, hotels and residences lining the canals. The gondola sailing behind us had a guitarist who was serenading the whole scene. It was your typical dreamy Venezian experience.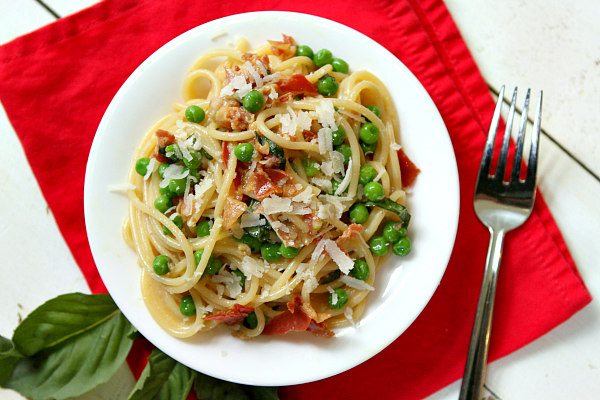 Classic Spaghetti Carbonara:
Back to the task at hand here– the Spaghetti Carbonara… you must try it. If you order carbonara in the US, you're likely to get a cream-filled, butter-laden pasta dish. A classic Italian carbonara doesn't have any cream or butter in it. I'm sharing the classic sort of recipe. My husband took two bites and excitedly said, "Honey- you can put this dish in the regular rotation!"
Three thumbs up from my family on my recipe for carbonara. I hope you like it too- enjoy!
Here are a few more Italian pasta recipes you might like to try:
Spaghetti Carbonara
A lovely version of carbonara with peas!
Recipe Details
Ingredients
2

large

eggs

3/4

cup

grated Parmesan cheese,

divided

1

cup

frozen peas

1/2

cup

loosely packed chopped fresh basil

1/4

teaspoon

freshly ground black pepper

6

ounces

chopped pancetta or bacon

2

large

garlic cloves,

minced

3

tablespoons

olive oil

1/2

cup

dry white wine

1

teaspoon

Kosher salt

12

ounces

spaghetti
Instructions
Put a large pot of water on to boil. Meanwhile, in a large bowl whisk together the eggs, 1/2 cup Parmesan, peas, basil and pepper. Set aside.

Heat olive oil in a large skillet over medium-high heat. Add the pancetta and cook, stirring often, until it is browned. Spoon the pancetta to the side of the pan and scoop out all of the pancetta grease except for about 1 tablespoon. Add the garlic and stir until fragrant- about 1 minute. Add the wine and cook until liquid is reduced by about half. Remove from heat and set aside.

When the water is boiling, add the salt and spaghetti. Boil pasta until it is al dente (slightly tender to the bite). Scoop out 1/4 cup of the pasta water and set aside (see tips below). Drain the pasta, then immediately add the pasta to the bowl with the egg mixture. Toss to coat the pasta with the egg mixture and incorporate those ingredients throughout (the heat from the pasta will sufficiently cook the egg and melt the cheese). Add the pancetta mixture to the pasta and toss to combine.

Serve immediately. Sprinkle individual servings with the remaining Parmesan cheese and freshly ground black pepper.
Notes
I like to save a little bit of the starchy pasta water in case you want to add a little more liquid to your pasta... if it's too dry or if you just like it more moist. It's up to you!
Nutrition
Serving:
1
serving
,
Calories:
759
kcal
,
Carbohydrates:
72
g
,
Protein:
29
g
,
Fat:
37
g
,
Saturated Fat:
11
g
,
Cholesterol:
138
mg
,
Sodium:
1194
mg
,
Potassium:
450
mg
,
Fiber:
5
g
,
Sugar:
5
g
,
Vitamin A:
748
IU
,
Vitamin C:
16
mg
,
Calcium:
260
mg
,
Iron:
3
mg