Here's a favorite pasta recipe of mine:  Spaghetti with Caramelized Onions, Mushrooms and Pancetta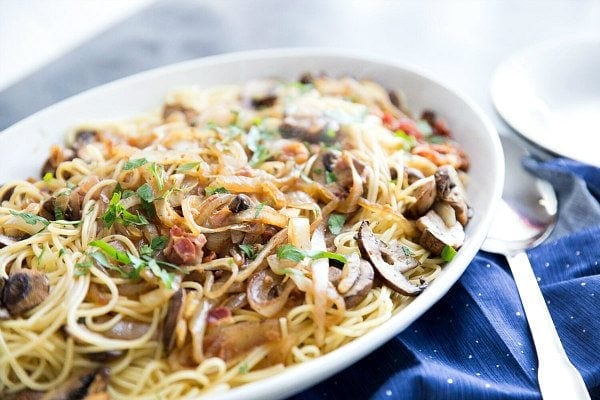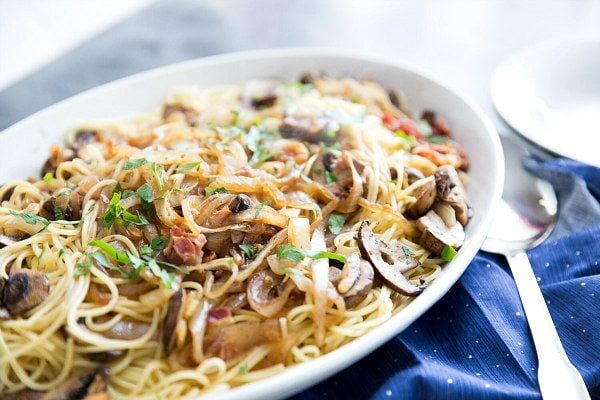 If you love caramelized onions, mushrooms and pancetta (bacon), then this recipe is definitely for you.  This isn't a pasta with a heavy sauce… or really a sauce at all.  It's cooked spaghetti simply tossed with these goodies and a garlicky broth.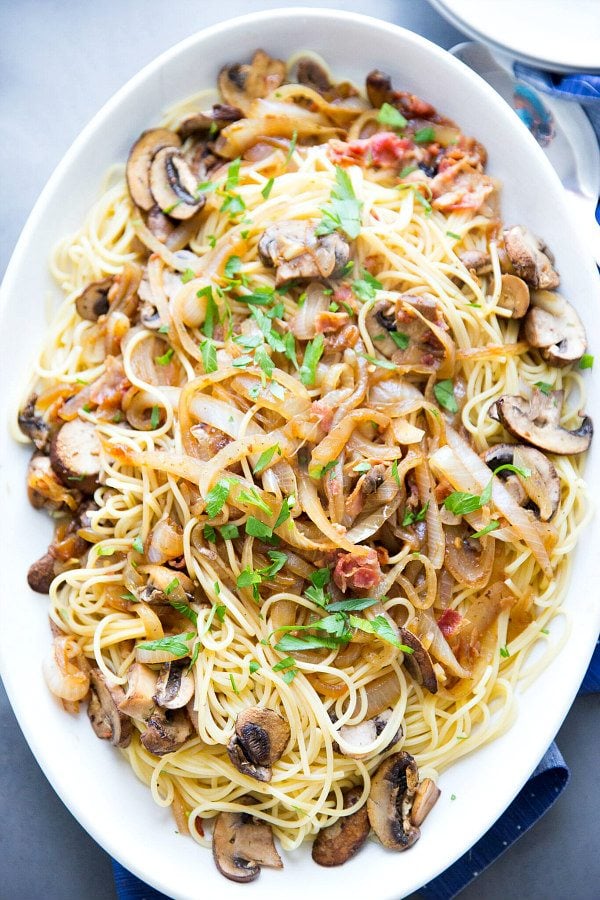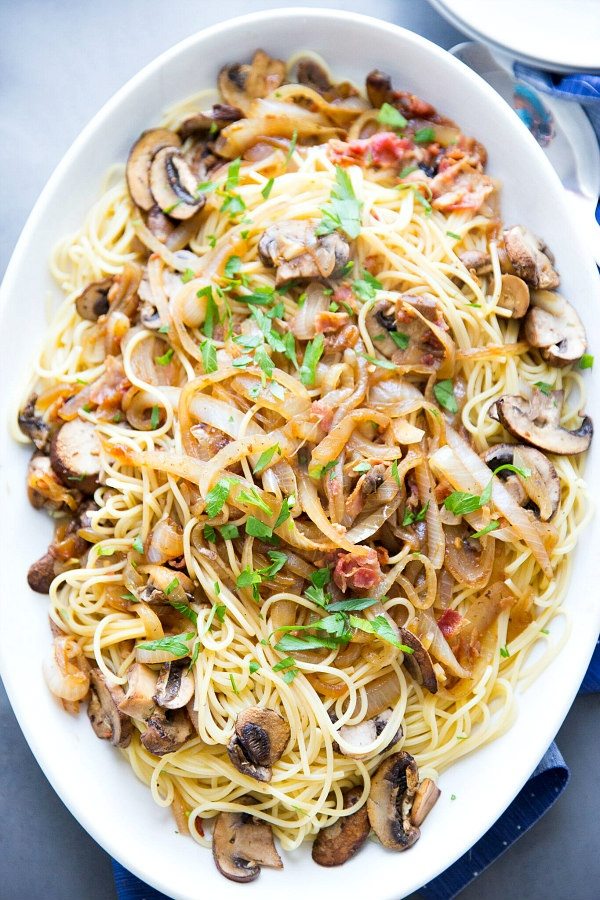 I love how this pasta dish lets the added flavors shine without any kind of sauce.  It's really not needed.  If you wish, you could certainly add a generous portion of freshly grated Parmesan cheese.  My family is always into cheese, so we do that too.
If you happen to be following the Weight Watchers program, divide this recipe into four equal servings.  Each serving will cost you 8 Freestyle SmartPoints.  If you're not following the program, split this recipe into two and call it dinner with a partner!
Thank you to Tanya from the LemonsForLulu.com blog for shooting these beautiful photos of this spaghetti for me.  She certainly captured its deliciousness!
Spaghetti with Caramelized Onions, Mushrooms and Pancetta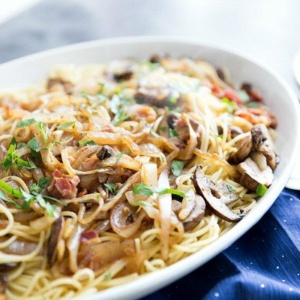 Yield:
4 servings
Prep Time: 30 minutes
Cook Time: 47 minutes
Ingredients:
8 ounces uncooked spaghetti
1 tablespoon olive oil
1/4 cup chopped pancetta or bacon (about 1 ounce)
6 cups sliced sweet onions (about 3 large onions)
1/2 teaspoon salt, divided
1/4 teaspoon pepper, divided
6 cups sliced mushrooms (about 1 pound)
2 teaspoons minced fresh oregano (or 1/2 teaspoon dried)
1/4 cup chopped fresh parsley, divided
3 cloves garlic, minced
1/2 cup low-salt chicken broth
fresh oregano, optional
Directions:
Cook pasta according to package directions, omitting salt and fat. Drain well; set aside.
Heat oil in a large nonstick skillet over medium heat until hot. Add pancetta; sauté 3 minutes. Stir in onion, 1/4 teaspoon salt, and 1/8 teaspoon pepper; cover and cook 15 minutes, stirring frequently. Uncover and cook 10 additional minutes, stirring frequently. Remove onion mixture from skillet; set aside.
Add mushrooms, 1/4 teaspoon salt, and 1/8 teaspoon pepper to skillet; cook over medium- high heat 4 minutes. Add minced oregano and 2 tablespoons parsley; cook 1 minute. Add garlic; sauté 1 minute. Add onion mixture and broth; cook until thoroughly heated. Add mushroom mixture to pasta; toss to coat.
Divide among 4 shallow bowls; sprinkle evenly with 2 tablespoons parsley. Garnish with fresh oregano sprigs, if desired.
Tips:
Pancetta is Italian bacon that is cured with salt and spices but not smoked. Regular bacon or ham can be substituted for it.
Nutrition:
Nutrition Facts - Amount Per Serving (1 1/2 cups)
Calories 344, Calories From Fat (19%) 65, Total Fat 7g, Saturated Fat 1.5g, Cholesterol 3.81mg, Sodium 399.81mg, Carbohydrates 58.5g, Dietary Fiber 4.72g, Sugar 7.83g, Net Carbohydrates 53.75g, Protein 12.80g
Weight Watchers Points per serving:  Freestyle SmartPoints: 8, SmartPoints: 8, Points Plus:  8.5, Old Program: 9
SOURCE:  RecipeGirl.com (via Cooking Light 1997)
Here are a few more spaghetti recipes you might enjoy: