Totally perfect comfort food:  Baked Penne with Italian Sausage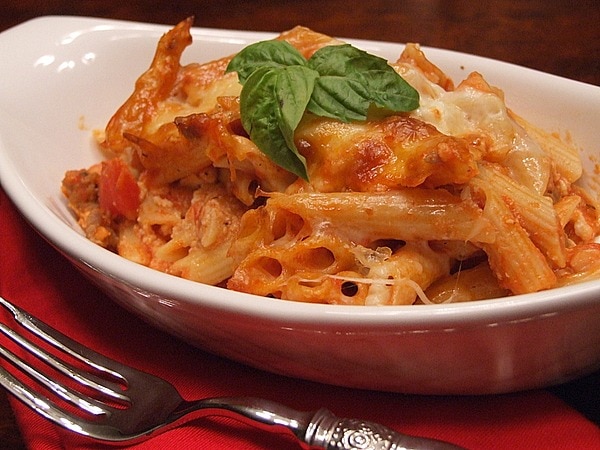 This dish incorporates both sweet and hot Italian sausage, and all other basic lasagna ingredients- ricotta, Parmesan, mozzarella, marinara, & basil. I lightened it up a bit by using low fat ricotta. I also halved the recipe for my little family (and still had a ton.) Make ahead instructions are included… and you may wish to eat half and freeze half for later. It's a perfect recipe to take to a new mom or someone else in need. In this case, we were in need… of good comfort food.
Baked Penne with Italian Sausage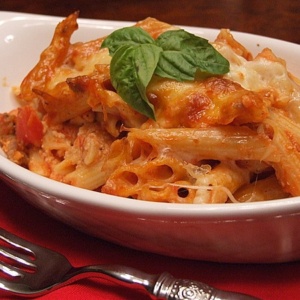 Really great comfort food dish. Super easy to prepare and minimal ingredient list.
Yield:
6 to 8 servings
Prep Time:30 min
Cook Time:1 hr, 10 min
Ingredients:
1/2 pound sweet Italian sausage, casings removed
1/2 pound hot Italian sausage, casings removed
12 ounces ricotta cheese
4 Tablespoons extra- virgin olive oil, divided
salt and freshly ground pepper
3 cups mozzarella cheese, shredded
1 1/2 cups Parmesan Cheese, shredded
24 ounces pasta, penne, or other short tube pasta
4 1/2 cups Marinara Sauce
1/4 cup fresh basil, chopped
Directions:
1. Bring 6 quarts of water to boil in a large pot over high heat.
2. Meanwhile, cook sausage in a 12-inch nonstick skillet over medium-high heat, breaking the meat into small pieces with a wooden spoon, until the sausage loses its raw color, about 5 minutes. Drain the sausage on a paper-towel-lined plate and set aside.
3. Mix ricotta cheese, 2 Tablespoons of the olive oil, 1.2 teaspoon salt, and 1/2 teaspoon pepper together; set aside. In a separate bowl, toss the mozzarella and Parmesan together until combined; set aside.
4. Add 1 1/2 Tablespoons salt and the pasta to the boiling water and cook, stirring occasionally, until the pasta is just beginning to soften, about 5 minutes. Reserve 1 1/2 cups of the pasta cooking water, then drain the pasta. Return the drained pasta to the pot and stir in the marinara sauce, sausage, remaining 2 Tablespoons oil and reserved pasta cooking water.
5. Pour half of the sauced pasta into a 13x9-inch baking dish. Drop large spoonfuls of the ricotta mixture evenly over the pasta, then pour the remaining sauced pasta over the ricotta layer. Sprinkle the top of the penne evenly with the mozzarella mixture.
6. Adjust oven rack to middle position and heat oven to 400°F. Cover dish tightly with aluminum foil that has been sprayed with vegetable oil spray (or use nonstick foil). Bake until the sauce bubbled lightly around the edges, 30 to 40 minutes. Remove the foil and continue to bake until pasta is completely heated through, 25 to 30 minutes longer. Sprinkle with basil before serving.
Tips:
*If you'd like to make this dish ahead, wrap the prepared casserole with plastic wrap and then foil, and refrigerate for up to 2 days or freeze for up to one month. (If frozen, the casserole must be thawed completely in the refrigerator, about 24 hours, before baking). Be sure to remove the plastic wrap.
*You can also divide this meal into two 8x8-inch casserole dishes (each will serve 4). Eat one and freeze one!