Here's a great way to use up leftover spaghetti and sauce!  This Easy Spaghetti Pie recipe is a family favorite, so simple to make and a fun twist to the usual spaghetti and meatballs dinner. Fantastic for entertaining, too!
Whew!  How fast did January whiz by?  Usually the winter just drags along but I feel like this year has already gotten off to a speedy start.  We haven't had much snow over here on the East coast, just a few flurries each day but I'm ready for one big storm.  It's the only thing that makes the cold weather bearable…until that snow starts to melt, turn brown and, generally, become a big nuisance. It's only really nice for a day or so, then it's not much fun anymore.  But it definitely gives me a good excuse to whip up some comfort food like this Easy Spaghetti Pie recipe that I remember from my childhood.  Like I need an excuse to cook up some comfort food…I, seriously, can't believe I even said that. 🙂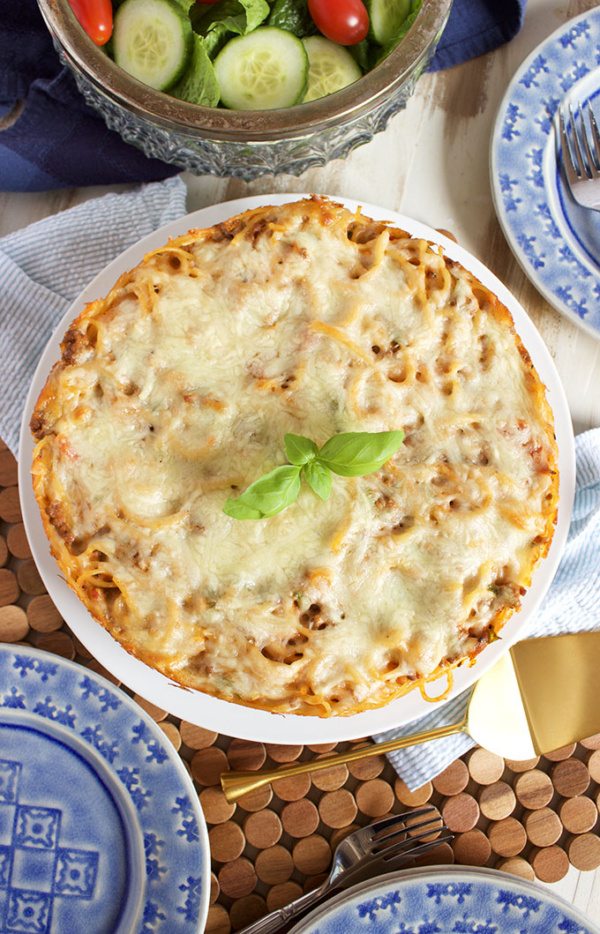 We ate a ton of spaghetti growing up and there were always leftovers in the fridge.  I wasn't a big leftover fan (and I don't think my mom was either) because spaghetti would either end up in the trash or morphed into something a little different like a fun frittata or Spaghetti Pie.  It was always a pleasant surprise to see Spaghetti Pie on the table, it's just so impressive with the crispy edges and melty cheese blanketing the top.  And since it was a pie shape, everyone got exactly the same proportion of ingredients served on their plate.  No fighting over who had more cheese and who had more meat.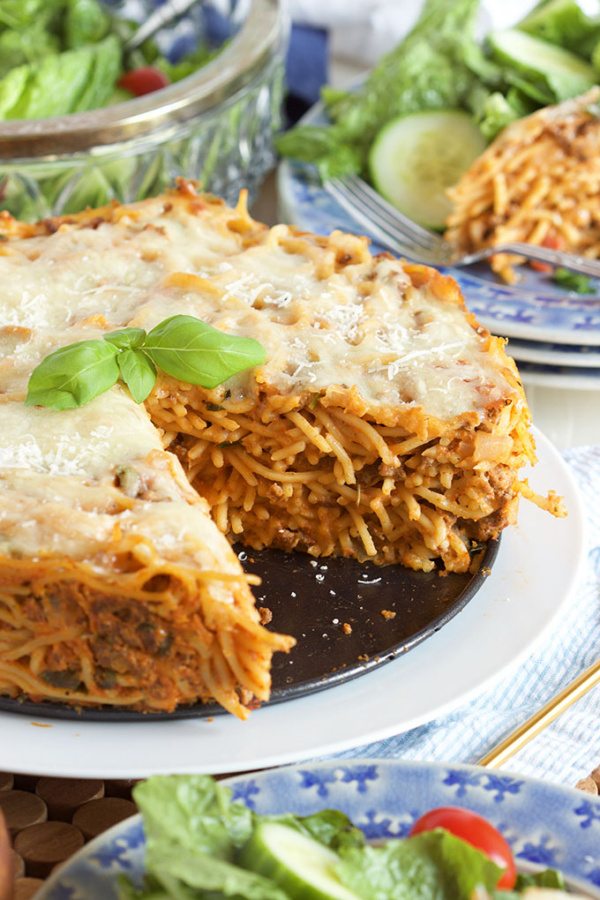 I love to serve this Easy Spaghetti Pie recipe when entertaining because it's a great dish to assemble in advance…since it's kind of like leftovers revamped even if you're cooking everything when you make it.  Then you can just throw it in the oven right before serving, remove from the pan and serve while your guests "ooooh and ahhhhh".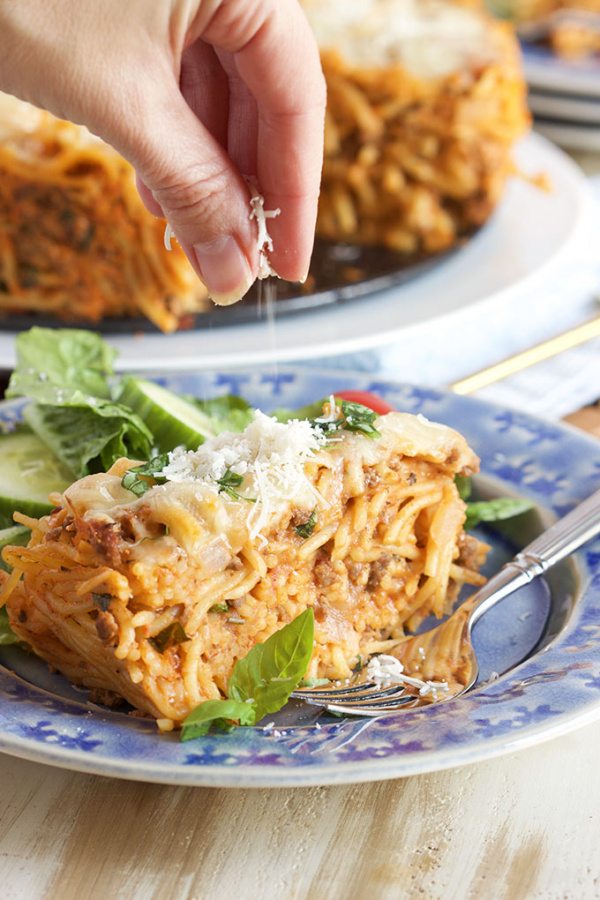 And the best part about this Easy Spaghetti Pie recipe is you can use whatever ingredients you have on hand.  If you're not a fan of ground beef, use turkey or sausage.  Or leave out the meat entirely for a completely meat-free dinner.  Add mushrooms, peppers or broccoli, if you want.  Throw in a little extra cheese (that's what I usually do) and enjoy a totally decadent meal without slaving away all night long.  The pie is yours!
Yield: 6 to 8 servings
Prep Time: 15 minutes
Cook Time: 30 minutes
Total Time: 45 minutes
Easy Spaghetti Pie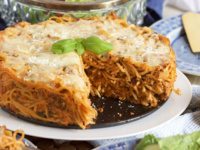 Ingredients:
1 pound spaghetti
1 pound lean ground beef
1 cup diced onion
3 garlic cloves
1 tablespoon Italian Seasoning
1/2 teaspoon onion powder
2 1/2 cups marinara sauce
1/2 cup ricotta cheese
1/4 cup chopped fresh parsley
3 large Eggland's Best eggs
1 cup grated Parmesan
1 1/2 cups shredded mozzarella
Directions:
Preheat the oven to 350 degrees.
Cook the pasta in a large pot of salted, boiling water for 6 to 7 minutes or until almost al dente. (The pasta will continue cooking in the oven.). Drain and set aside.
In a large skillet, brown the ground beef over medium heat until no longer pink, approximately 4 to 5 minutes. Transfer to a bowl using a slotted spoon and pour the fat from the pan.
Return the pan to the heat and cook the onion until softened, approximately 3 to 4 minutes.
Add the garlic to the pan and cook for 1 minute.
Stir in the Italian seasoning and onion powder. Remove from the heat and set aside.
In a large bowl, whisk together the sauce, ricotta cheese, parsley and eggs.
Toss the pasta and beef with the sauce mixture to combine.  Stir in 1/2 cup parmesan and 1/2 cup mozzarella.
Transfer the spaghetti mixture to a 8-inch springform pan or 9 inch deep dish pie plate coated with cooking spray.
Sprinkle the remaining cheese over the top of the pie.
Bake until the cheese is melted and bubbling, approximately 25 to 30 minutes.  Remove from the oven and allow to rest for 5 minutes before cutting.
Serve immediately.
SOURCE: RecipeGirl.com
Here are a few more spaghetti recipes you may enjoy:
One Response to "Easy Spaghetti Pie"
Leave a Comment