Hey!  Today is National Spaghetti Day!!!  It's our nation's excuse to eat pasta, the most beloved food in the world.  Why not celebrate with a pasta recipe like Baked Lemon Chicken Spaghetti Primavera?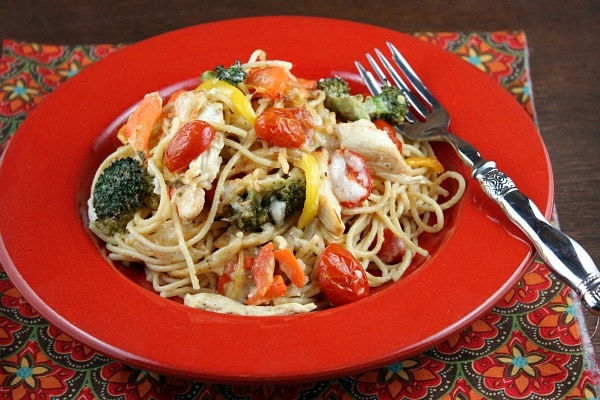 This pasta is baked with loads of lightly sauteed vegetables, lemon, a creamy sauce and a sprinkling of cheese too.
Barilla Plus is the very brand of pasta that I use for my family all the time.  Believe me- they love it, and they don't notice any difference over using regular 'ol pasta.  It's a "multi-grain" pasta consisting of a blend of semolina, oats, spelt, barley, legumes, flaxseed and oat fiber.
Combined with some veggies and other delicious and healthy goodies, it's easy to create a delicious pasta meal for my family.  If you can't find Barilla, it's okay to use another brand of whole grain pasta.  You can also use regular spaghetti for this recipe.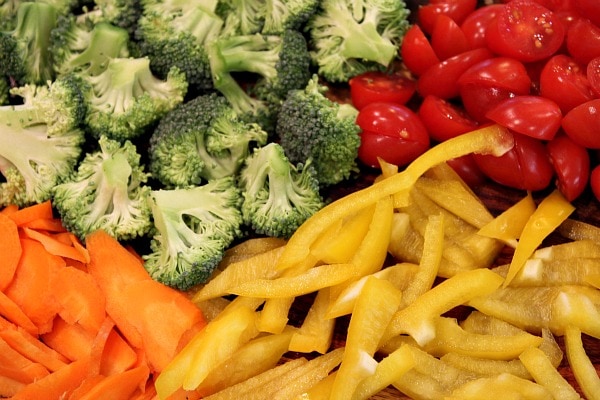 Baked Lemon Chicken Spaghetti Primavera is packed with broccoli, carrots, bell pepper and tomato.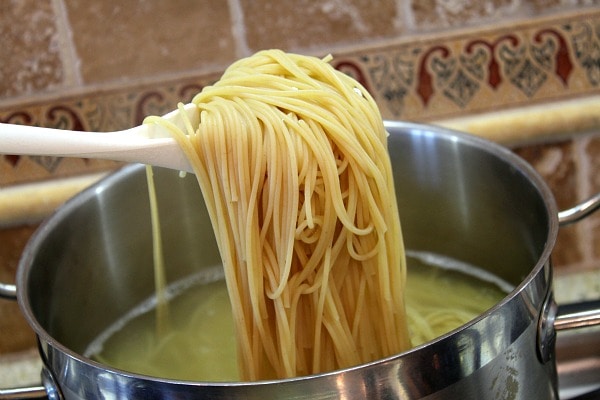 The pasta is boiled and cooked to al dente (just shy of being soft).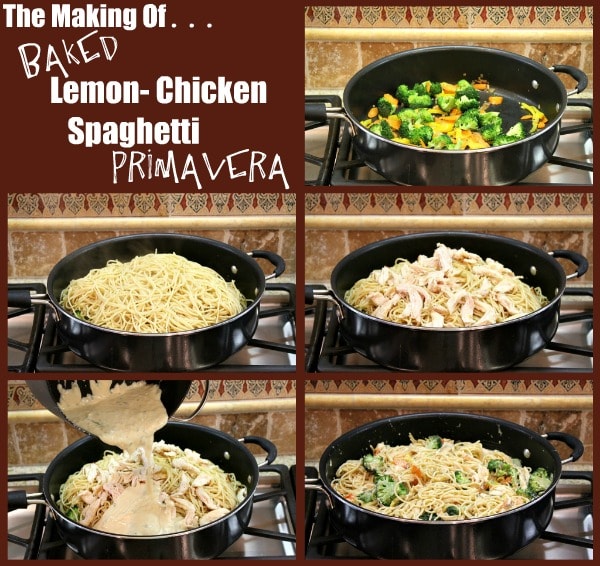 The vegetables are sautéed in a little bit of garlic, and are then added to the spaghetti and chicken.  A lemony cheese sauce is mixed in too.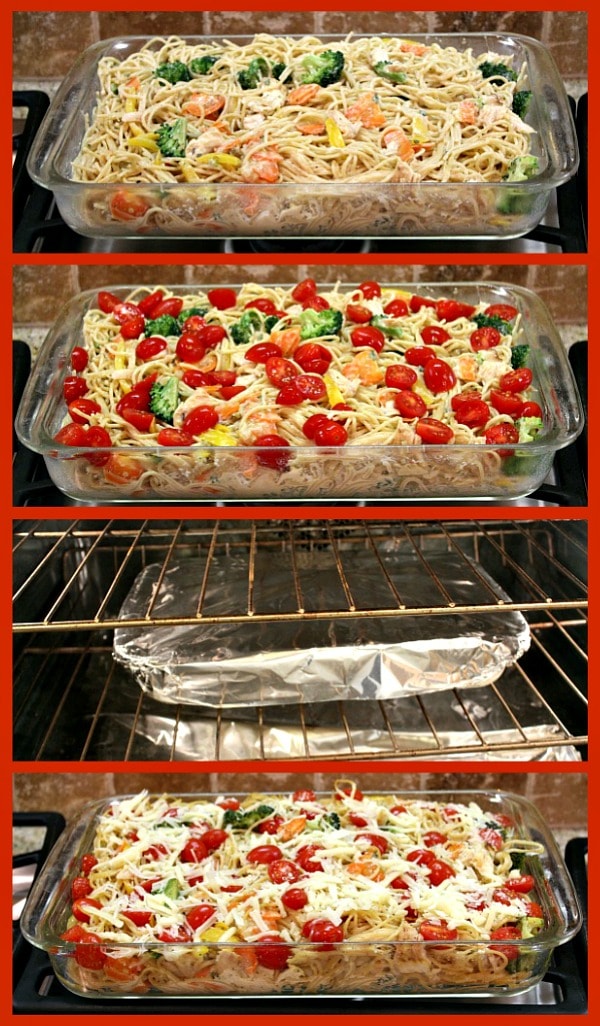 The mixture is spread into a baking dish, topped with tomatoes, wrapped with foil and baked.  The cheese is sprinkled on in the end, along with a good drizzle of fresh lemon juice- then baked again until everything is melted and lovely.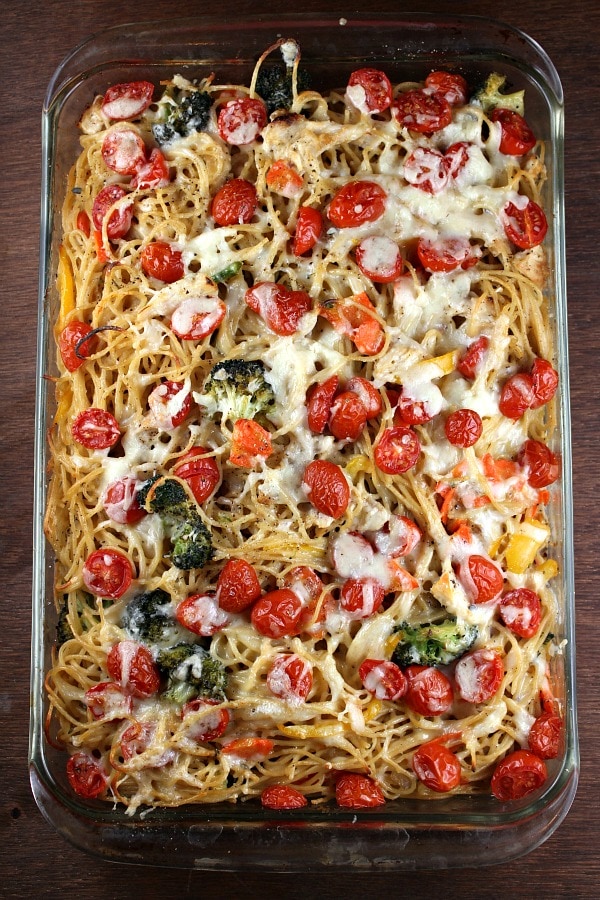 There it is- melted and perfect and ready for dinner.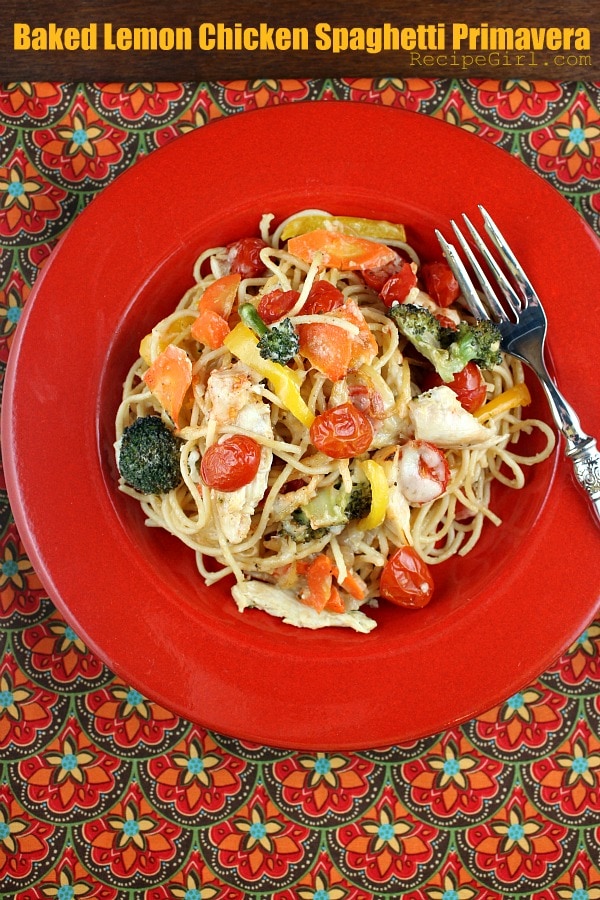 This one gets a big thumbs up from my boys.  They love pasta of every kind, and this dish is no exception.  The nice thing about this recipe is that you can change up the vegetables to suit what your family likes to eat.  I'd suggest trying zucchini or peas or mushrooms or asparagus too.  There are only three of us in my family, so we enjoy leftovers the next day.  The leftovers are just as good!
If you're looking for more pasta recipes, you might also enjoy my Cheese Ravioli with Brown Butter and Fresh Tomato Sauce this Rotini with Shrimp.  Chicken Tetrazzini,  Million Dollar Spaghetti, and Linguine with Tomatoes, Basil and Brie are great pasta recipes too!
Baked Lemon Chicken Spaghetti Primavera
This pasta dish has plenty of chicken and fresh vegetables in a light sauce. It's topped with a light layer of cheese and baked in the oven.
Recipe Details
Ingredients
SAUCE:
2

teaspoons

olive oil

2

teaspoons

butter

2

tablespoons

all purpose flour

2

12-ounce cans

2% evaporated milk

1

cup

shredded Monterey Jack cheese

1/2

cup

shredded Parmesan cheese

1

tablespoon

chopped fresh thyme

1

medium

lemon,

juice and zest

salt and pepper,

to taste
MAIN DISH:
14.5

ounces

Barilla Plus spaghetti,

cooked until al dente

1

teaspoon

olive oil

2

medium

garlic cloves

2

cups

fresh broccoli florets

1

large

carrot,

peeled & chopped

1

large

yellow bell pepper,

chopped or thinly sliced

2

cups

cooked and chopped chicken breast

1 1/2

cups

halved cherry tomatoes

salt and pepper,

to taste
TOPPING:
1/2

cup

shredded Monterey Jack cheese

1/4

cup

shredded Parmesan cheese

1/2

medium

lemon,

juiced
Instructions
Preheat the oven to 400 degrees F. Spray a 9x13-inch baking pan with nonstick spray.
PREPARE THE SAUCE:
Heat olive oil and butter in a medium skillet over medium heat. Whisk in the flour and stir until lightly browned. Slowly whisk in the milk. Keep whisking until the milk is warmed and has thickened slightly. Whisk in the cheeses, thyme, lemon zest/juice and salt and pepper. Set aside for later.
PREPARE THE VEGETABLES:
While the spaghetti is cooking, prepare the vegetables. In a very large, nonstick skillet heat the olive oil over medium heat. Add the garlic and stir for 1 minute. Add broccoli, carrot, and bell pepper. Stir and cook until slightly softened, 4 to 5 minutes. Turn off the heat. Add spaghetti to the skillet and gently toss the vegetables with the spaghetti. Add the chicken, and then add the sauce. Toss to combine. Transfer the pasta-vegetable mixture to the prepared baking pan, spread the cut tomatoes on top, and sprinkle with salt and pepper. Cover the pan with foil. Bake for 30 minutes. Remove the foil and sprinkle cheeses on top. Squeeze the juice from 1/2 lemon on top of the cheeses. Return to the oven and bake until the cheeses are melted and the tomatoes are wilted- about 10 minutes.

Scoop into dishes and serve immediately.
Nutrition
Serving:
1
serving
,
Calories:
473
kcal
,
Carbohydrates:
54
g
,
Protein:
31
g
,
Fat:
16
g
,
Saturated Fat:
7
g
,
Cholesterol:
71
mg
,
Sodium:
484
mg
,
Potassium:
433
mg
,
Fiber:
1
g
,
Sugar:
10
g
,
Vitamin A:
2155
IU
,
Vitamin C:
71.3
mg
,
Calcium:
333
mg
,
Iron:
3
mg
Disclosure:  This post was originally sponsored by Barilla.  This is a brand that I know and love and use often in my cooking.  All opinions shared about this product are my own.