These Inside-Out Fish Tacos turn out to be more like an enchilada-style fish taco casserole.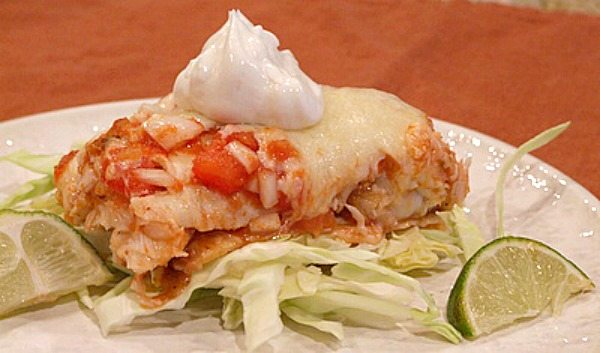 Inside-Out Fish Tacos
Yield:
6 servings
Prep Time: 30 min
Cook Time: 30 min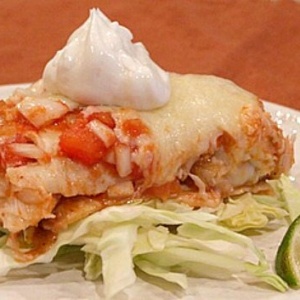 Ingredients:

1/2 cup dried breadcrumbs
1 teaspoon chili powder
1/2 teaspoon salt
1/2 teaspoon freshly ground black pepper
1/4 teaspoon ground cumin
1 1/2 pounds firm white fish, such as halibut, sea bass or orange roughy
6 medium flour tortillas
1 large tomato, sliced
1 medium yellow onion, chopped
salsa
12 ounces shredded Monterey Jack cheese
shredded cabbage
Ranch dressing or sour cream

Instructions:

1. Preheat oven to 350 degrees.

2. Mix together bread crumbs, chili powder, salt, pepper, and cumin. Cut fish into 6 serving-size pieces. Dip each piece of fish into breadcrumb mixture. In a skillet, heat some oil. Fry 5 minutes on each side, or until golden brown.

3. Spray 9x13-inch baking dish with cooking spray. Place a layer of three tortillas in bottom of dish. Arrange fish on top of tortillas. Place sliced tomatoes, chopped onion, and some salsa on top of fish. Sprinkle with 4 ounces of cheese. Cover with three remaining tortillas. Place another layer of tomatoes, onion and salsa on top. Sprinkle with remaining cheese. Bake for 20 minutes.

4. Cut into 6 servings. Place shredded cabbage on plate and top with a serving of fish taco. Serve with ranch dressing or sour cream. Serve with additional salsa, sliced avocados or guacamole and warm flour tortillas.

Tips:

*This dish may be prepared earlier in the day, covered and refrigerated until baking.