This Easy Taco Casserole is a great, family-friendly meal. It's always a big hit with the kids!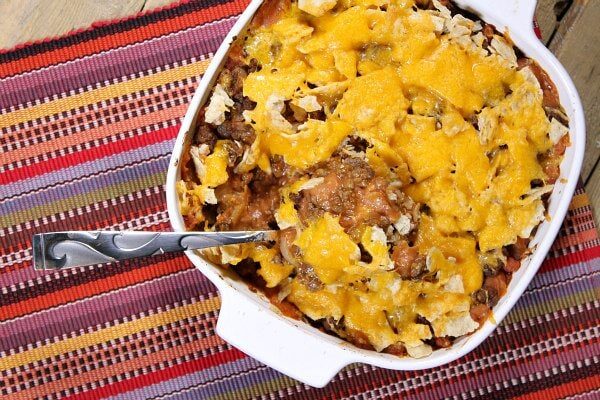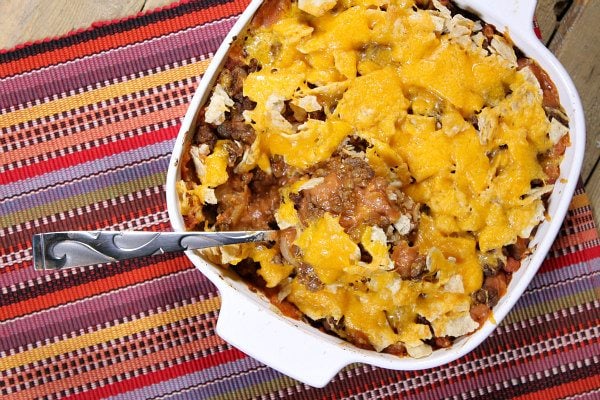 I don't know about your family, but my family is always asking for tacos for dinner.  We have some great places here in Arizona where we can grab tacos easily enough.  And they're very good tacos at that!
But tacos are not too difficult to make at home.  I make them often!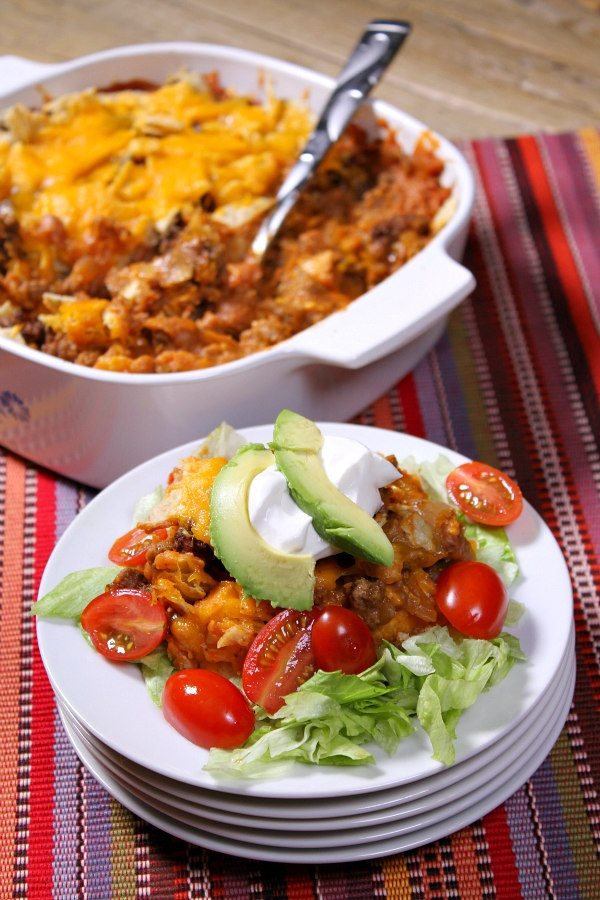 This recipe is a mish-mash of taco-type ingredients baked in a casserole dish.  I find that sometimes it's easier to just throw it all together instead of preparing the filling and the tortillas, etc.
Everyone seems to like a casserole, so this dinner recipe is always welcome.
We like to scoop our taco casserole on top of chopped iceberg lettuce.  We garnish with fresh tomatoes.  When I'm feeling really energetic, I even provide sour cream and fresh avocado!
By the way, I don't really ever buy and eat iceberg lettuce.  I love it with this sort of recipe though because the crunchy texture is nice!
Easy Taco Casserole
Yield:
6 servings
Prep Time: 25 minutes
Cook Time: 45 minutes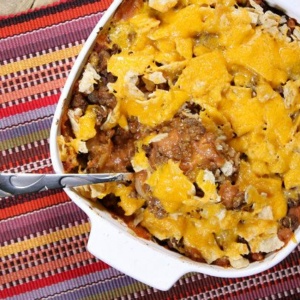 Ingredients:

1 pound ground beef
3/4 cup chopped onions
1 1/4 ounce package taco seasoning mix
3/4 cup water
One 16-ounce can refried beans
One 8-ounce jar taco sauce
2 1/2 cups crushed tortilla chips
1 3/4 cups shredded cheddar cheese
1 1/2 cups shredded lettuce
1/2 cup chopped tomatoes

Instructions:

Preheat oven to 400°F.
In a medium skillet, cook ground beef and onions over medium-high heat until beef is thoroughly cooked; drain. Stir in taco seasoning mix and water; simmer 10 minutes.
In medium bowl, combine refried beans and taco sauce. In ungreased 8-inch square (2 quart) baking dish, layer 1/2 the bean mixture, 1/2 the beef mixture, 2 cups tortilla chips and 1 cup of the cheese. Top with remaining bean mixture and beef mixture.
Bake for 25 minutes. Remove from oven. Top with remaining tortilla chips and cheese. Return to oven; bake an additional 3 to 5 minutes or until cheese is melted. Serve with lettuce and tomatoes.
SOURCE: RecipeGirl.com
Here are a few more taco recipes you might enjoy: