Here's a recipe that makes good use of leftover ham > HAM AND CHEESE BAKED GNOCCHI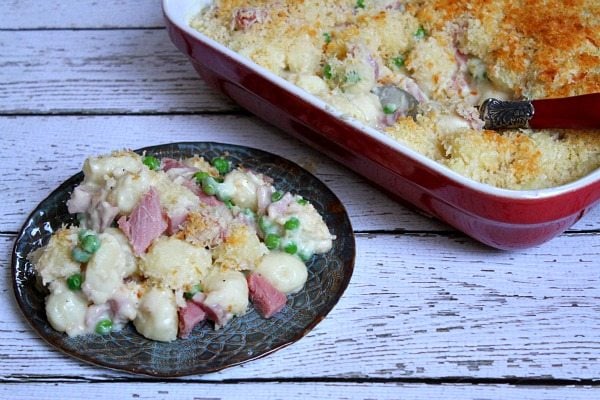 Who's having ham this Easter Sunday?  Me!  Me!  Me!  Ham is my favorite main dish to serve on Easter Sunday.  It's so easy to get one already spiral-cut… just heat it up, add the glaze, and it's good to go!  So easy to prepare and serve, so you can focus on getting the rest of the dinner ready.  Smithfield Ham recently sent me one of their spiral hams to try- and it was absolutely fabulous.  We served it with roasted asparagus and cauliflower puree for a big family dinner- and it was almost entirely gobbled up.  Good thing we had some leftovers so we could use that leftover ham in this Ham and Cheese Baked Gnocchi.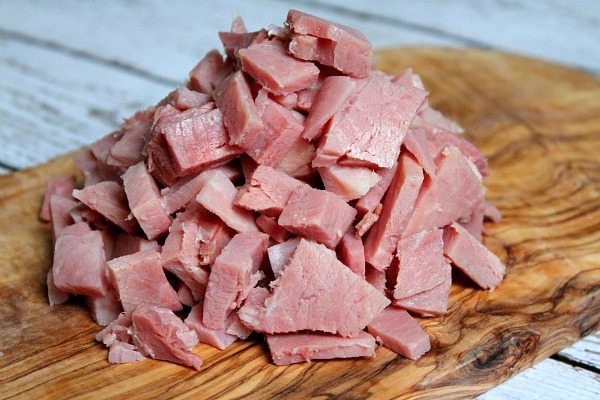 My son Brooks (almost 13) is a ham fanatic.  I make him a ham and cheese sandwich for lunch every single day.  When I was making this recipe, his little fingers kept sneaking in to grab pieces of ham to nibble on.  I had to keep cutting more for my recipe!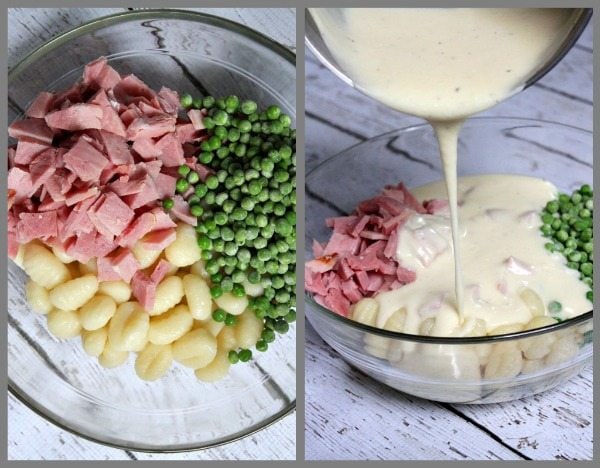 This recipe is extremely simple to make.  Gnocchi, ham and peas are mixed with an easy-to-make, homemade cheese sauce.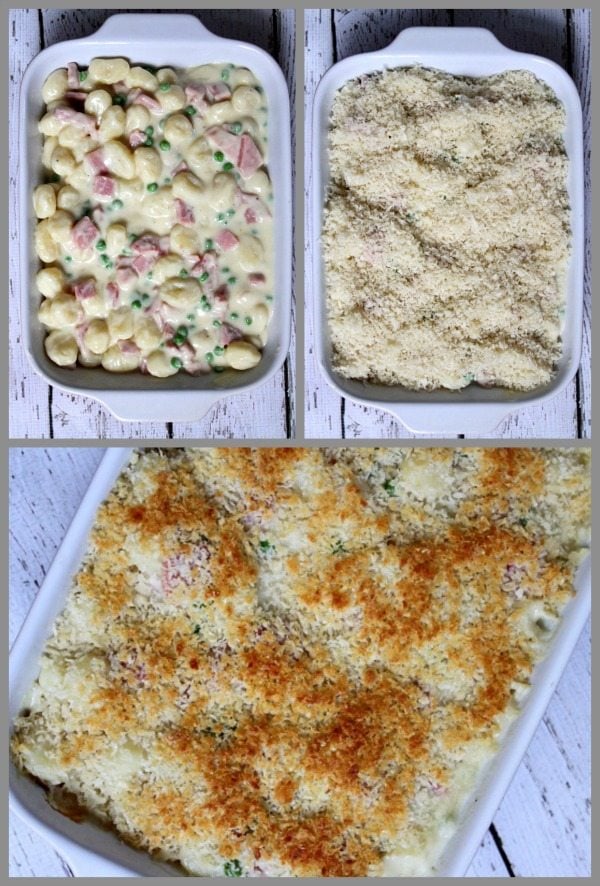 The gnocchi- cheese mixture is spooned into a casserole dish and topped with buttery breadcrumbs, then baked until golden brown and bubbly.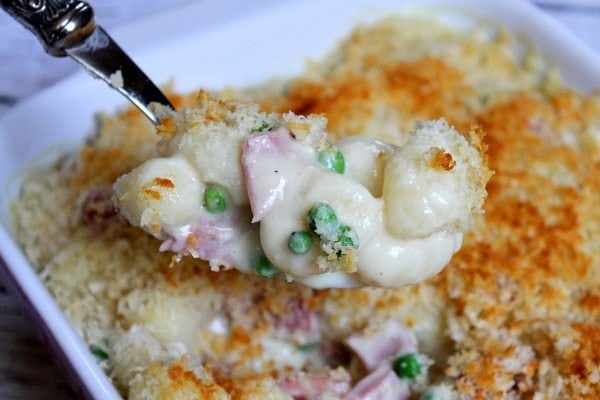 Here's a spoonful for you to taste.  See all of that creaminess??  It's perfect with the crispy buttered breadcrumbs.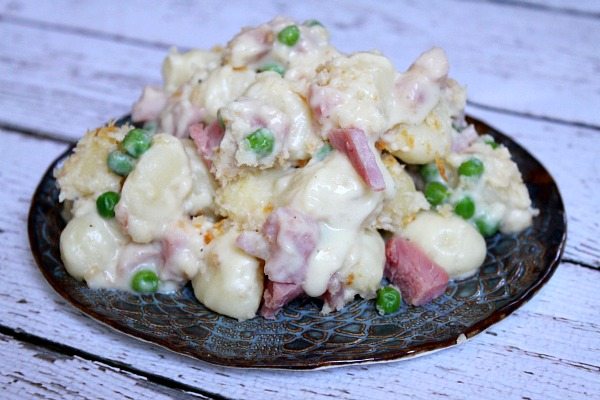 The addition of ham to the gnocchi dish gives it some added protein, and it's a major flavor anchor.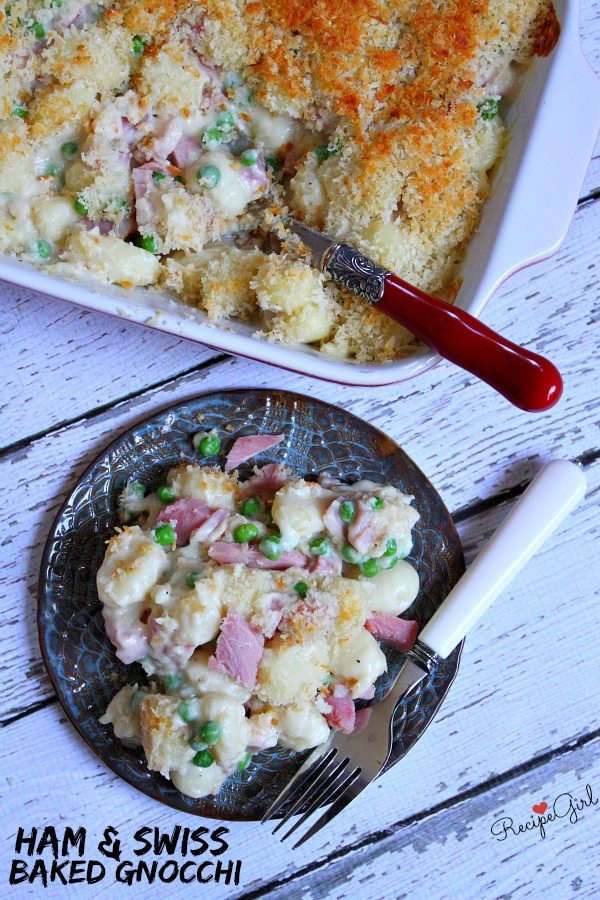 It's comfort food at its finest, and it's such an easy dinner to make with your ham leftovers.  I'm going to have to add that it's family-friendly too, since my kiddo cleaned his plate and then asked for more!  Enjoy.  And Happy Easter!
Ham and Cheese Baked Gnocchi
Yield:
6 to 8 servings
Prep Time: 25 min
Cook Time: 30 min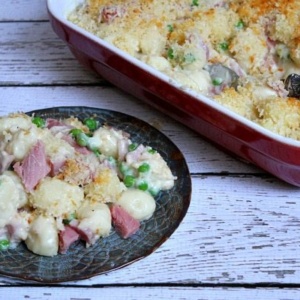 Ingredients:

SAUCE:
2 1/2 cups nonfat milk
3 tablespoons Gold Medal® All-Purpose Flour
1 tablespoon Dijon mustard
1/2 teaspoon salt
1/8 teaspoon freshly ground black pepper
3 ounces shredded Swiss cheese

MAIN:
2 pounds gnocchi (about 5 cups), cooked according to package directions- then drained
1 3/4 cups chopped ham
1 cup frozen peas

TOPPING:
1 cup panko breadcrumbs
1/3 cup finely shredded Parmesan cheese
2 tablespoons butter, melted

Instructions:

1. Preheat the oven to 400 degrees F. Spray an 8x10-inch pan (or 8 1/2 x 11 is okay too) with nonstick spray.

2. Prepare the sauce: In a medium saucepan, whisk together the milk, flour, mustard, salt and pepper. Heat over medium-heat, stirring constantly, until the mixture comes to a low boil. Continue to stir until the sauce is thickened, about 3 to 4 more minutes. Remove from heat and whisk in the Swiss cheese. Stir until melted.

3. In a large bowl, combine the gnocchi, ham and peas. Add the sauce and stir to combine. Spoon the mixture into your prepared pan.

4. Prepare the topping: In a medium bowl, combine the breadcrumbs, cheese and butter. Sprinkle the topping over the gnocchi mixture in the pan. Cover with foil.

5. Bake, covered, for 10 minutes. Remove foil and bake an additional 15 minutes, or until the cheese sauce is bubbling and the topping is golden brown. Serve immediately!
More recipes using leftover ham… >>
Ham and Swiss Griddle Cakes by RecipeGirl
Cheesy Ham and Potato Bacon Casserole by Oh Sweet Basil
Smoked Ham Soup with White Beans by RecipeGirl
Ham  and Egg Breakfast Quesadillas by Closet Cooking
Cheesy Broccoli Rice with Ham by Buns in My Oven
Disclosure:  I've partnered with Smithfield to create a recipe using leftover ham.  All opinions shared are my own.