Here is a delicious Mandarin Orange Green Salad recipe: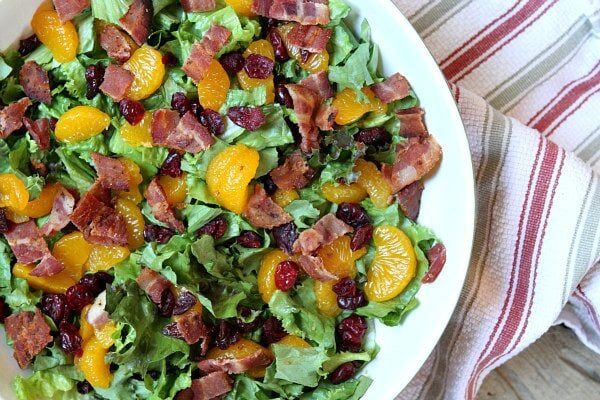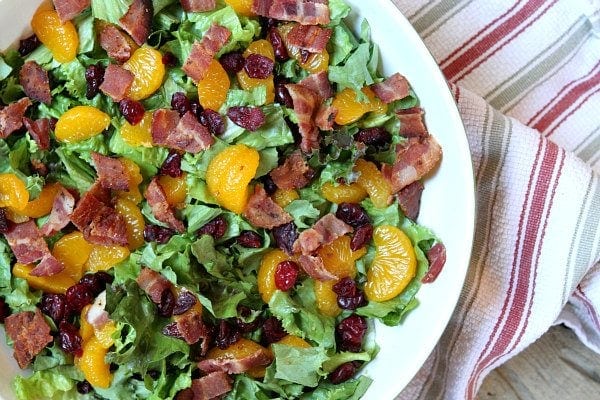 This salad recipe is all-kinds-of-awesome because it includes two goodies that pretty much everyone on the planet loves wholeheartedly:  mandarin oranges and bacon!  Dried cranberries are thrown in there too… because they're always wonderful in a salad, so why not?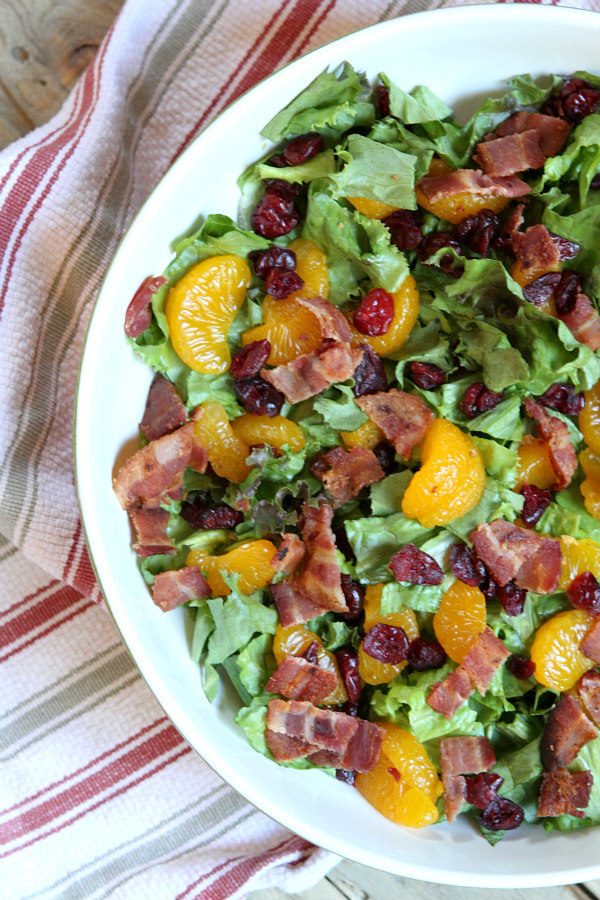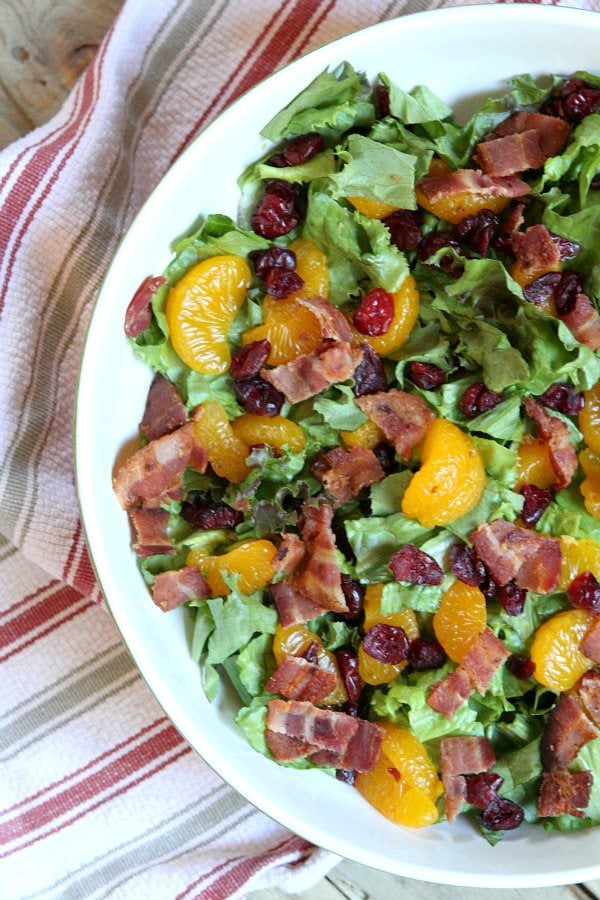 Here's what I have to say about bacon in salad:  "The more the merrier!"  Oh, and toasted almonds too.  This salad pretty much has all of my favorite things in it.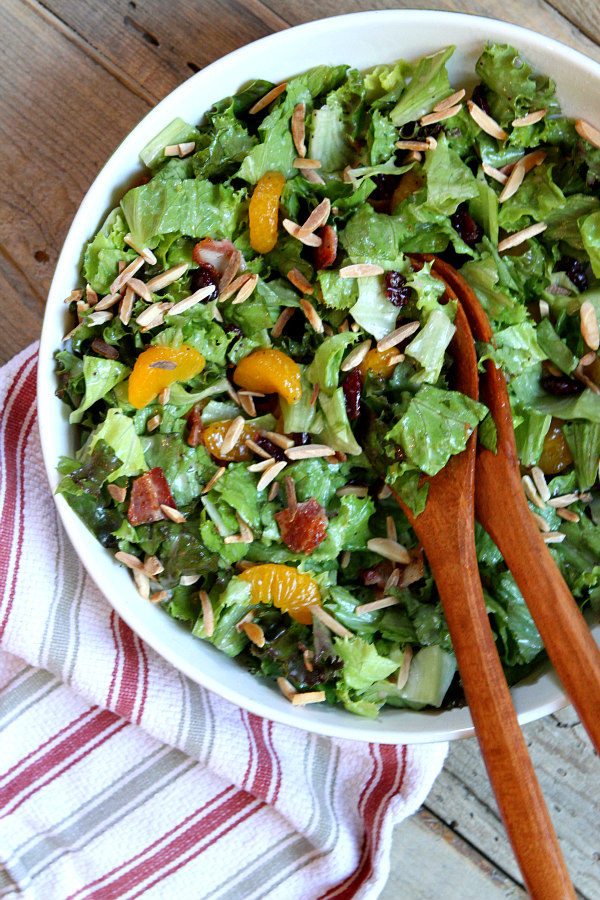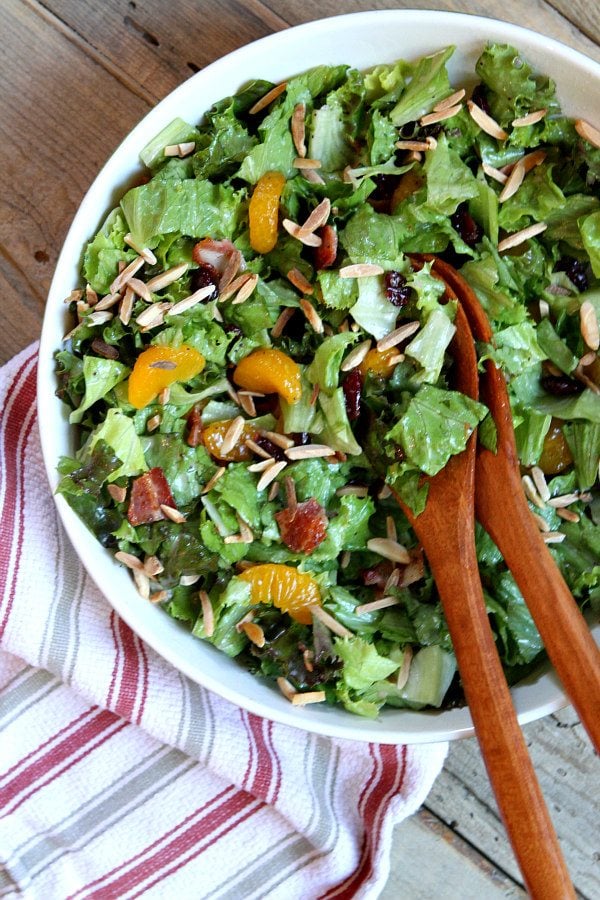 The dressing for this salad is a super simple, slightly creamy, tangy and sweet poppy seed dressing.  It's a perfect pairing with the sweet fruit in the salad.  My family happily demolishes this salad.  It turns out that when you add a bunch of yummy things to a bowl and mix it with lettuce… people tend to like it!
Mandarin Orange Green Salad with Poppy Seed Dressing
Yield:
8 servings
Prep Time: 20 minutes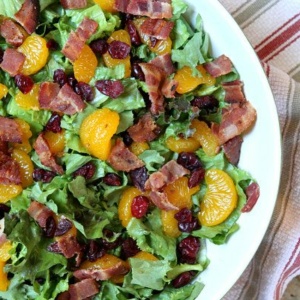 Ingredients:

1/3 cup apple cider vinegar
1/3 cup granulated white sugar
2 tablespoons finely chopped red onion
1/2 teaspoon dry mustard powder
1/4 teaspoon salt
1/2 cup vegetable or canola oil
1 teaspoon poppy seeds
10 cups chopped Romaine or green leaf lettuce
6 slices bacon, cooked and crumbled
One 10-ounce can mandarin orange segments, drained
1/2 cup dried cranberries
1/4 cup toasted slivered almonds

Instructions:

Add the vinegar, sugar, red onion, mustard powder and salt to a blender.  Cover and puree on high until smooth.  Keep the blender processing on low and slowly drizzle in the oil.  Blend until incorporated and the dressing is creamy.  Stir in the poppy seeds; set aside.
To serve: toss the lettuce with the bacon, oranges and enough dressing to lightly dress the salad.  Toss in the toasted almonds too!
SOURCE:  RecipeGirl.com (adapted from AllRecipes)
Here are a few more mandarin salad recipes you might enjoy: