This is a fantastic potato side dish. The mushroom and dill are nice flavors to add to classic scalloped potatoes.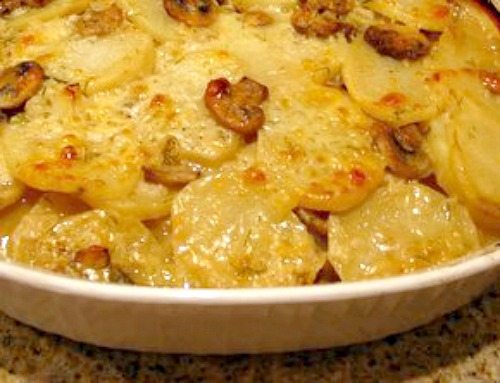 Mushroom- Dill Scalloped Potatoes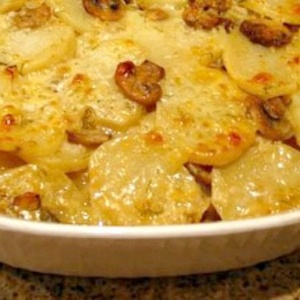 Yield:
6 to 8 servings
Prep Time: 30 min
Cook Time: 1 hour 45 min
Ingredients:
1 1/2 cups sliced mushrooms
3/4 cup sliced onion
1 teaspoon canola or vegetable oil
1/4 cup all-purpose flour
2 cups milk
1 tablespoon minced fresh dill
1 teaspoon worcestershire sauce
1/4 teaspoon salt
1/4 teaspoon pepper
1/2 cup shredded Swiss cheese
4 large potatoes, peeled, washed and sliced into 1/4-inch thick rounds
Directions:
1. Preheat oven to 350 degrees F. Spray a 9x13-inch (or something similar) casserole dish with nonstick spray.
2. In medium saucepan, sauté mushrooms and onion in oil. Stir over medium-heat until tender (about 5 min.)
3. Sprinkle flour over vegetables. Stir until vegetables are coated with flour. Gradually stir in milk. Cook until mixture is thick and bubbly, about 5-6 minutes, stirring often.
4. Add dill, Worcestershire, salt, pepper and cheese. Cook 1 more minute, until cheese is melted. Remove from heat.
5. Spread 1/3 of the potatoes over the bottom of the prepared casserole dish, followed by 1/3 cheese sauce. Repeat layering 2 more times. Cover and bake 1 1/2 hours. Remove from oven and let stand for about 15 minutes before serving.