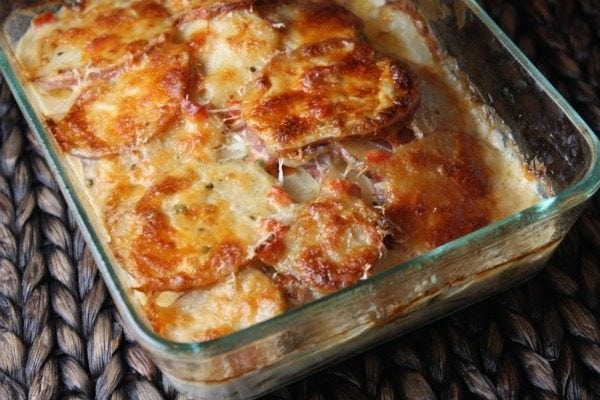 Scalloped Potatoes with Peppers and Swiss Cheese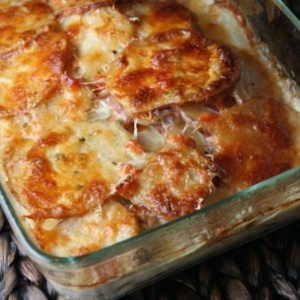 Yield:
2 to 3 people
Prep Time: 30 min
Cook Time: 1 hour 5 min
Ingredients:
1 pound red potatoes, unpeeled
1 1/2 tablespoons butter
2 tablespoons chopped green onions
2 tablespoons chopped red bell peppers
1 small clove garlic, minced
pinch of ground red pepper
3/4 cup whipping cream
1/3 cup milk
1/4 teaspoon salt
1/2 cup shredded Swiss cheese
2 tablespoons grated Parmesan cheese
Directions:
1. Preheat oven to 350 degrees F. Spray a small baking dish (about 5x7-inches) with nonstick spray.
2. Cut potatoes into 1/8-inch-thick slices; set aside.
3. Melt butter in saute pan over medium-high heat; add green onions, red bell pepper, garlic and pinch of ground red pepper. Cook, stirring constantly, 2 minutes. Add whipping cream, milk, and salt, stirring well.
4. Add potato slices; bring to a boil over medium heat, and cook, stirring gently, 15 minutes or until potato slices are tender. Spoon into prepared dish; sprinkle with cheeses.
4. Bake 45 minutes or until bubbly and golden brown. Let stand 15 minutes before serving.
Tips:
*Double the recipe to make in a 9x13-inch pan