A simple side dish recipe:  Scalloped Garlic Potatoes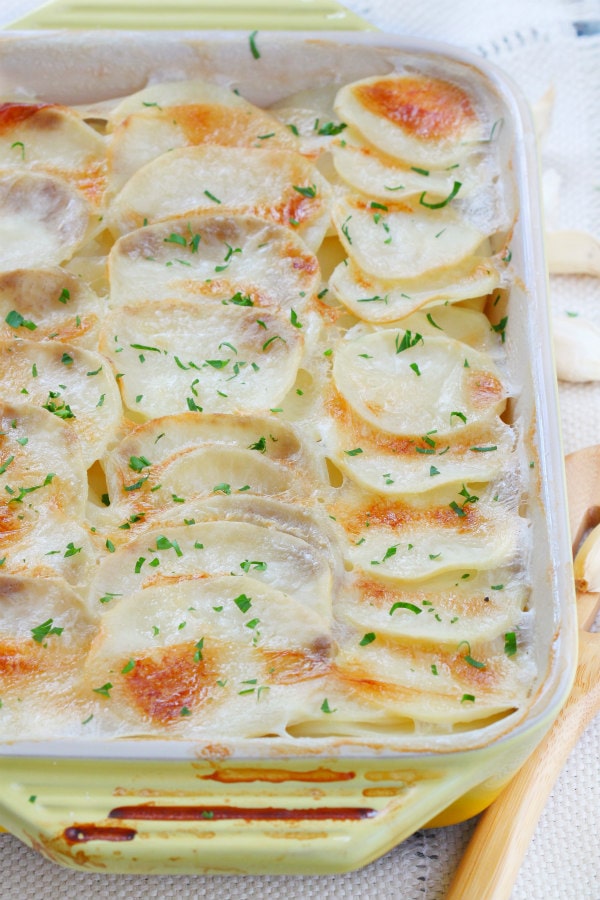 Scalloped Garlic Potatoes
Unlike most scalloped potato recipes, this one does not contain any cheese. It's just a simple, creamy scalloped potato recipe.  Sprinkle a little cheese in if you'd like!
Yield:
6 servings
Prep Time: 25 minutes
Cook Time: 1 hour, 30 minutes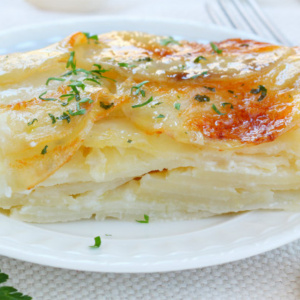 Ingredients:

5 medium Russet potatoes
salt, to taste
4 large garlic cloves, chopped finely
1 1/2 cups milk
1/3 cup heavy whipping cream
chopped parsley for garnish, if you'd like

Instructions:

Preheat the oven to 325 degrees F. Butter an 8x8x2-inch baking dish. (photo above shows the recipe doubled in a larger 9x13 pan)
Peel and slice the potatoes (about 1/4-inch thick). Place one layer of potatoes in the baking dish; lightly season with salt and sprinkle with some garlic. Repeat layering with remaining potatoes and garlic. Pour milk evenly over the potatoes. Bake, covered, for 45 minutes.
Remove the cover, drizzle the cream over the potatoes, then return to the oven and bake 45 minutes longer (uncovered).
Serve hot; or if not serving right away, cool potatoes, cover snugly with foil and freeze until needed.  Garnish with parsley, if desired.

Nutrition:
TIP: Leftovers are good with breakfast as a side to eggs!
SOURCE: RecipeGirl.com
Here are a few more scalloped potato recipes you might enjoy: