Nice to find a delicious lower-fat version of scalloped potatoes. These are delicious…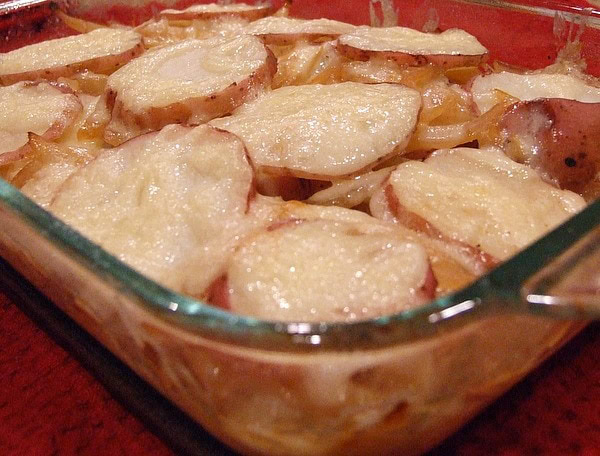 Beer- Baked Scalloped Potatoes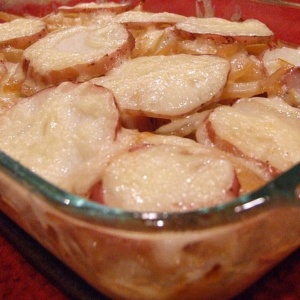 Yield:
6 Servings (Serving Size 1 cup)
Prep Time: 30 minutes
Cook Time: 1 hour, 15 minutes
Ingredients:
1 teaspoon vegetable oil
1 1/2 cups vertically sliced onion
1 cup beer
2 pounds medium red potatoes, peeled & cut into 1/8-inch slices
1/2 teaspoon salt, divided
1/4 teaspoon pepper, divided
2 Tablespoons all-purpose flour
1/2 cup nonfat milk
1/2 cup (2 ounces) grated Swiss cheese
Directions:
1. Preheat oven to 350°F.
2. Coat a large skillet with cooking spray; add oil, and place over medium heat until hot. Add onion, and sauté 5 minutes. Add beer; cook 12 minutes or until liquid evaporates, stirring occasionally. Remove onion mixture from heat, and set aside.
3. Cook potato slices in boiling water for 8 minutes or until crisp- tender; drain. Rinse under cold water, and drain well.
4. Place one-third of potato slices in an 11x7-inch baking dish coated with cooking spray, and sprinkle with half of salt and half of pepper. Spread half of onion mixture over potato slices. Repeat procedure with the remaining potato slices, salt, pepper and onion mixture, ending with potato slices.
5. Place flour in bowl. Gradually add milk, stirring with a wire whisk until blended. Pour milk mixture evenly over potato slices. Cover with aluminum foil, and cut 3 (1-inch) slits in foil. Bake 45 minutes. Uncover; sprinkle with cheese, and bake an additional 10 minutes or until cheese melts.
Nutrition:
Nutritional Information- Per Serving of 1 Cup
Calories 217, Calories from Fat 36, Total Fat 4g, Sat Fat 2g, Cholesterol 11mg, Sodium 235g, Potassium 934mg, Carbohydrates 36g, Dietary Fiber 3g, Sugar 3g, Net Carbs 33g, Protein 7.5g

WW POINTS per serving of 1 cup:
Points Plus Program: 5 Old Points Program: 5.5