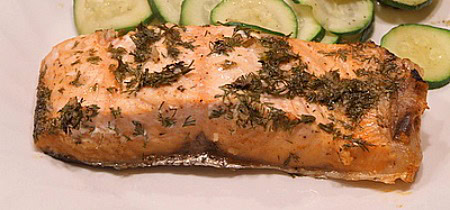 Lemon- Dill Marinated Salmon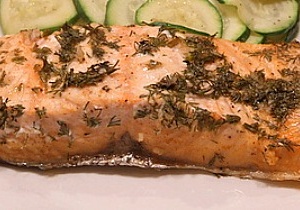 Fresh, easy recipe with great flavor...
Yield:
4 servings
Prep Time:10 min + marinating time
Cook Time:12 min
Ingredients:
4 fillets salmon (5 to 6 ounces each)
1/2 cup fresh lemon juice
1/4 cup chopped fresh dill
2 cloves garlic, minced
2 teaspoons granulated sugar
1/2 teaspoon paprika
1/4 teaspoon salt
1/4 teaspoon pepper
Directions:
1. Arrange salmon over bottom of 13x9" baking dish. Combine remaining ingredients in small bowl and pour over salmon Turn salmon to coat with marinade. Cover and refrigerate for 30 minutes.
2. Meanwhile, preheat oven to 425°. Drain off excess marinade from salmon. Bake 10-12 minutes, depending on thickness of fish. Fish will flake easily and be opaque in center.
Nutrition:
Nutritional Information per serving:
Serving size: 1 fillet
Calories per serving: 218
Fat per serving: 7.4g
Saturated Fat per serving: 1.59g
Sugar per serving: 2.87g
Fiber per serving: .3g
Protein per serving: 31.38g
Cholesterol per serving: 39.12mg
Carbohydrates per serving: 5.2g
WW POINTS per serving:
Points Plus Program: 5 Old Points Program: 5