I love this really unique way to serve salmon:  Pistachio Baked Salmon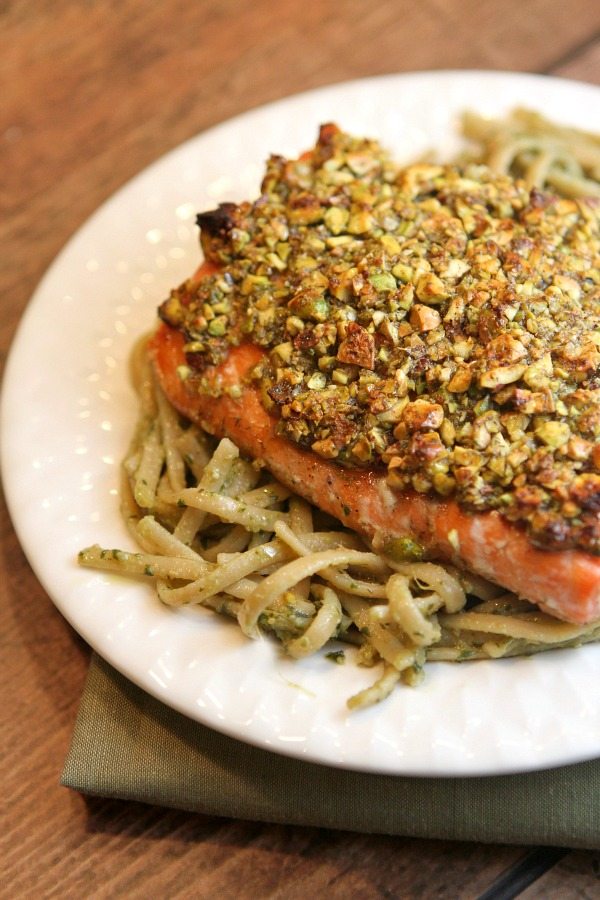 Pistachio Baked Salmon
This recipe is unique and so good! The next day, serve the leftovers over a bed of lettuce for an awesome cold salmon salad!
Yield:
6 servings
Prep Time: 15 minutes
Cook Time: 12 minutes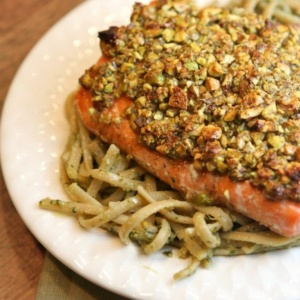 Ingredients:

1 cup salted dry-roasted pistachio nuts, chopped finely
1/2 cup packed brown sugar
3 tablespoons freshly squeezed lemon juice
1 teaspoon dried dill weed
1 teaspoon coarsely ground black pepper
Six 6-ounce skinless salmon fillets
1/4 cup purchased basil pesto and hot, cooked linguine noodles (optional)

Instructions:

Preheat oven to 425°F.
In a small bowl, combine pistachio nuts, brown sugar, lemon juice, dill weed, and pepper; set aside.
Place salmon fillet in a greased, foil-lined 15x10x1-inch baking pan. Measure thickness of fish. Spoon pistachio mixture evenly on each fillet. Gently press in place to form a crust.
Bake 6 to 8 minutes for each 1/2-inch thickness of fish or until fish flakes easily when tested with a fork. Serve over pesto tossed noodles, if desired.
More salmon recipes you might enjoy: