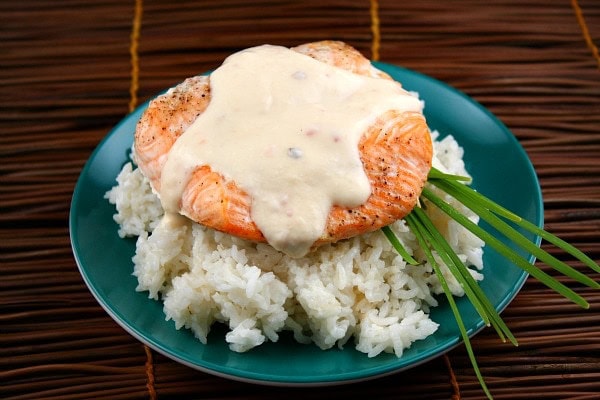 Baked Salmon with Creamy Coconut- Ginger Sauce
This salmon turns out oh-so-tender, the sauce is delicious, and it's wonderful served over Coconut-Ginger Rice.
Yield:
6 servings
Prep Time: 15 min
Cook Time: 20 min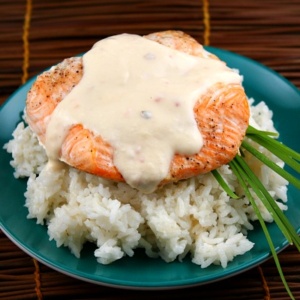 Ingredients:

SALMON:
Six (6-ounce) portions skinless salmon fillets
2 tablespoons extra-virgin olive oil
1 tablespoon chilled salted butter, cut into 6 pieces
sea salt and freshly ground black pepper

COCONUT- GINGER SAUCE:
1 1/2 cups canned coconut milk
1 1/2 teaspoons chili paste
1 1/2 teaspoon grated fresh ginger
3 teaspoons freshly squeezed lime juice
1 1/2 teaspoons fish sauce
3 teaspoons packed light brown sugar

chopped chives for garnish (optional)

Instructions:

1. Preheat oven to 375 degrees F. Spray a 9x13-inch pyrex pan with nonstick spray.

2. Put salmon in the prepared dish, leaving space between each fillet. Drizzle oil on top of fillets. Top each fillet with a piece of butter. Sprinkle salmon generously with salt and pepper. Bake 20 to 30 minutes, or until salmon is cooked through and flakes apart easily.

3. While salmon is baking, prepare the sauce. In a medium saucepan, mix the sauce ingredients together and bring to a boil. Reduce heat to low, and simmer (stirring often) until the sauce has thickened slightly. Remove from heat.

4. Serve salmon with sauce drizzled on top. Add chives too, if using.

Tips:

*Chili paste can be found in the Asian products section of your market. I use "Sambal Oelek." Ask your grocery manager if you cannot find it!